Iger vigorously defends ABC and ESPN against claims of media bias
Disney CEO Robert Iger dismissed claims of media bias against the Trump administration and offered a vigorous defense of ESPN and ABC at the Walt Disney Co. shareholder meeting Wednesday.
"I am going to disagree with just about everything you said," Iger said in response to a shareholder proxy who alleged that Disney-owned ESPN and ABC News were biased in their coverage of the Trump administration.
"The charge that ESPN is exhibiting significant political bias is just a complete exaggeration," Iger said.
Iger said he was "proud of the efforts of ABC News."
He gave an impassioned defense of the role of the free press, saying there has been an unfair "indictment" of some in the media because people simply don't agree with outlets' reporting.
PwC's Oscars fiasco won't hurt its relationship with Disney, Iger says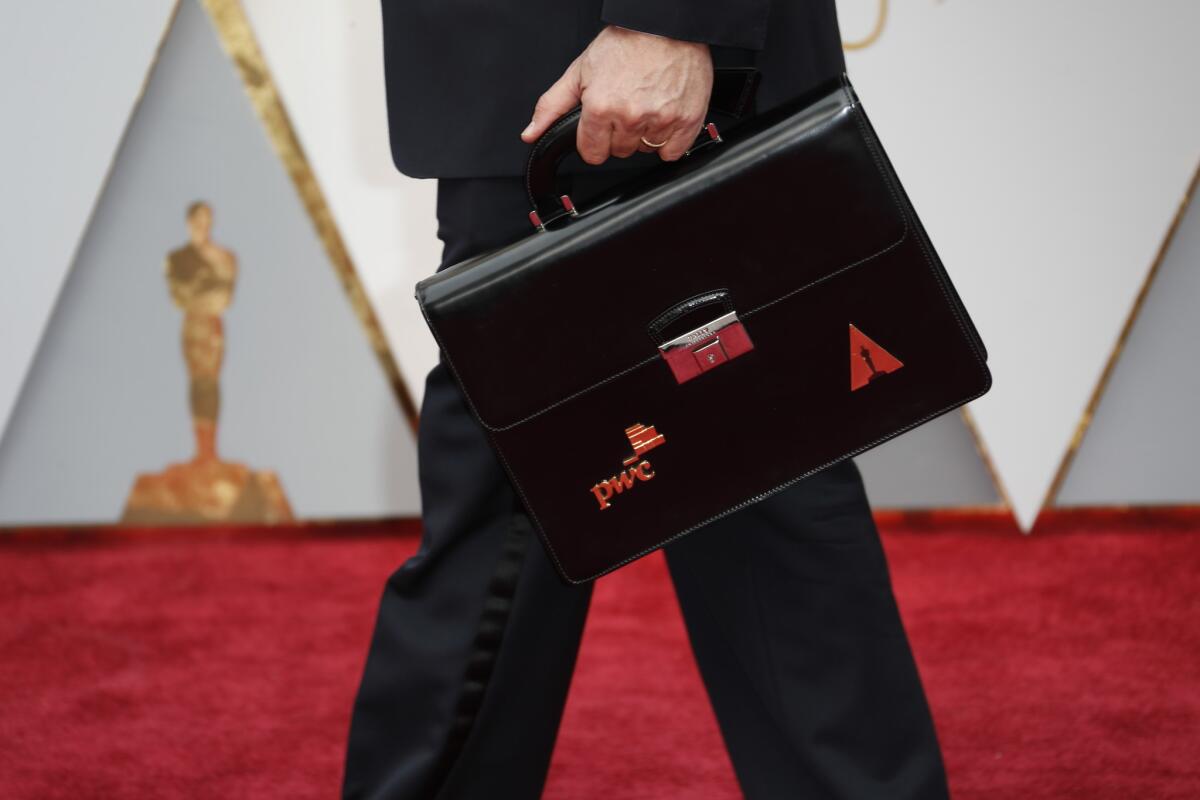 Disney's business relationship with PwC remains strong despite the accounting firm's fiasco at the Academy Awards last month.
At the annual Disney shareholder meeting, CEO Bob Iger said that PwC — formerly known as PricewaterhouseCoopers — called Disney to apologize for the Oscars foul-up, in which the wrong best picture winner was announced.
The #envelopegate snafu "seemed to be an extremely embarrassing human error," Iger told the crowd of stockholders. However, he said, the debacle would not hurt their business dealings.
Quoting 'Hamilton,' Disney CEO defends advising Trump (but criticizes Trump's policies)
Disney CEO Bob Iger quoted the Broadway smash "Hamilton" to defend his involvement in President Trump's business advisory council, saying he wants to be "in the room where it happens."
Iger's remarks at Disney's annual shareholder meeting came in response to an audience member at the Denver confab who criticized his relationship with Trump as a tacit endorsement of the president's policies on issues such as immigration.
But Iger rejected that accusation, referring to the "Hamilton" number "The Room Where It Happens," which is about having influence and access to closed-door meetings where policy is set.
Iger said the council gives members an opportunity to express opinions to the president that otherwise might not get a hearing from the administration. He adamantly insisted his involvement does not imply support for any specific policies and reiterated he does not intend to step down from the council position.
"I made a decision I thought was in the best interest of our company and the industry," Iger said. "I think it's a privileged opportunity to be in the room."
Iger, a Democrat who supported Hillary Clinton in the presidential election, has been criticized on social media for not quitting the panel. He's the lone entertainment executive among the group. Uber CEO Travis Kalanick left the panel under intense public pressure following the rollout of Trump's initial travel ban.
In response to a grilling from shareholder representatives over Trump's policies, Iger offered a vigorous argument for the business benefits of allowing people into the country to work. He added the he is against policies that single out particular religious groups, a reference to the Trump administration's moves that some have said discriminate against Muslims.
"I happen to believe this company has benefited over the years in so many different ways, as has this country, [because of] an open and fair and just immigration policy," Iger said. "We are who we are as a country because of great immigration."
He cited Disney's 2016 animated hit "Zootopia" as evidence of the company's humanitarian values. "Zootopia," which grossed more than $1 billion, is about an advanced society of animals that deals with prejudice between its herbivore and carnivore populations.
"You don't make a movie [like] 'Zootopia,' which is preaching tolerance...unless you believe fundamentally in that ideal and that value," Iger said.
[12:15 p.m.: This post was updated to include additional quotes from Iger.]
'Star Wars: The Last Jedi' clip reveals what happened right after that 'Force Awakens' cliffhanger with Luke
A bit of "Star Wars" news dropped Wednesday at Disney's annual shareholders meeting in Denver: We've seen what happens after Rey (Daisy Ridley) visits Luke (Mark Hamill) at his secluded cliffside hangout.
Los Angeles Times reporter Daniel Miller was at the meeting and viewed the first clips from director Rian Johnson's new film "Star Wars: The Last Jedi." But first, it all started off with a joke ...
Bob Iger, Walt Disney Co.'s chairman and chief executive, also took a moment to remember original "Star Wars" cast member Carrie Fisher, who died last year.
"Carrie Fisher has been an iconic part in this franchise from the very beginning," he said. "We all miss her. She has great talent and wit. We're proud that this movie coming up is part of her legacy."
Iger described "The Last Jedi" as "a perfect chapter in the iconic Skywalker family drama." So all you "Who's Rey's father?" conspiracy theorists, consider your flame officially fanned.
Disney parks' 'Star Wars' expansions will put visitors in First Order-Resistance battle
The new "Star Wars" expansions at Disneyland in Anaheim and Walt Disney World in Orlando, Fla., will put visitors in the middle of a battle between the resistance and the First Order.
During Wednesday's shareholders meeting, Disney Chairman and Chief Executive Bob Iger called the 14-acre expansions at each park a "jaw-dropping" experience for visitors.
Disney has released artist renderings of the new attractions, showing a wooded land, dotted with towering spires and domed buildings, on the shores of a river or lake.
Although the images may resemble scenes from the last year's Star Wars movie, "Rogue One: A Star Wars Story," Disney officials said the expansions won't depict scenes from "Rogue One." They would not offer more details.
Iger said the expansion will put visitors "in an epic battle between the First Order and the resistance" and will allow guests to pilot the Millennium Falcon, the spaceship flown by Han Solo (and others) in the movies.
Construction of the new $1-billion expansion at Disneyland began in April and is expected to be completed by the end of 2019. It will feature two attractions, but officials have only described the Millennium Falcon ride. Iger told shareholders that he has experienced a virtual reality version of the ride at Disney's Imagineering headquarters in Glendale.
[For the record, 11:02 a.m.: An earlier version of this post said the new "Star Wars" expansions would be based on "Rogue One: A Star Wars Story." In fact, they will not be based on that film.]
Bob Iger gives updates on ESPN, 'Ant-Man' and 'Cars'
Disney CEO Bob Iger told shareholders:
"We are happy to report that fiscal 2016 was the sixth consecutive year of record results."

Development and early production are underway on "Ant-Man & The Wasp."

BamTech-made ESPN streaming service will launch by year's end. "Even in this evolving marketplace, the connection between ESPN and sports fans is stronger than ever."

"Cars 3" will feature the franchise's first female racer, named Cruz Ramirez.
Investors also were shown several renderings of "Star Wars" lands in Florida and Anaheim. The projects will open in 2019.

Investors lobby for Disney CEO Bob Iger to stay at the helm longer
It has been nearly a year since Disney launched a search for a successor to CEO Robert Iger. Will Iger remain on the job when his contract expires in June 2018? Many insiders think the board will extend his contract, and Iger himself has been open to the idea. The question of Iger's future — and Disney's CEO succession plans — are sure to be on investors' minds when they gather in Denver for the company's annual meeting.