'Customer service keeps getting worse': Tight job market means workers can be less patient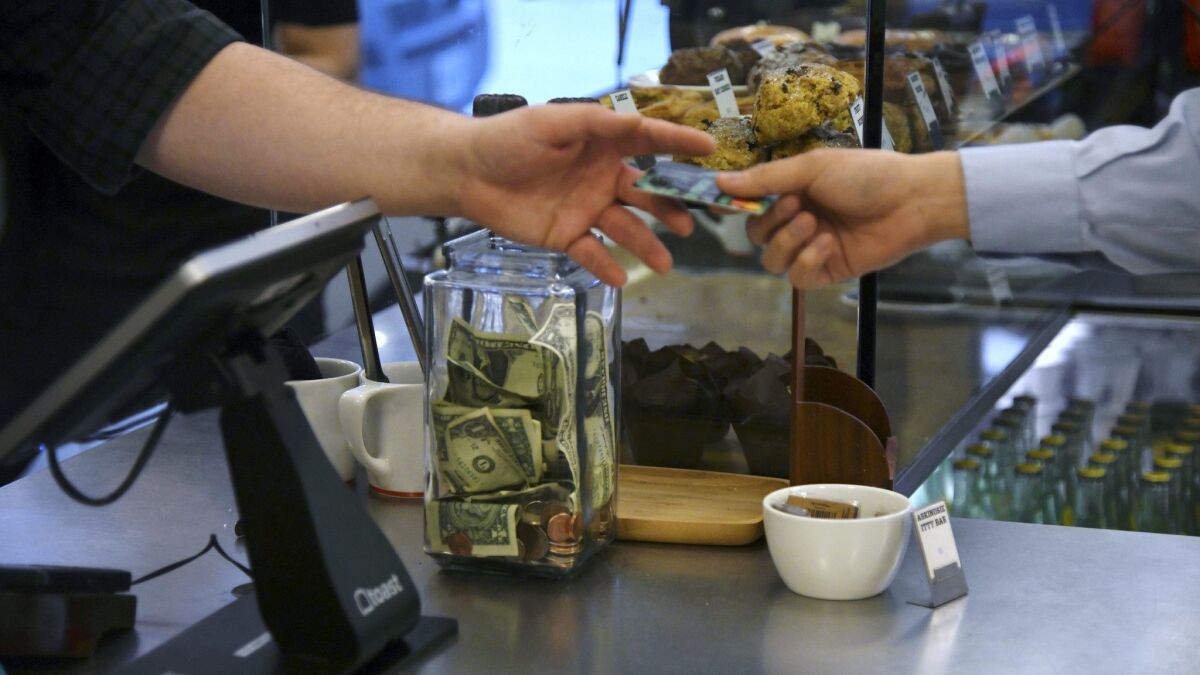 The Washington Post
For evidence that it's tough to find good help these days in a tight U.S. job market, try ordering a chicken sandwich.
That's according to Marcus Boyd, 40, a Maryland resident who sought one recently at a Bethesda chicken joint. He recalls waiting for the cashier to correct a flubbed order, straining to make eye contact. Ten minutes passed. No food or refund came.
Hungry and irritated, Boyd just left. "Customer service keeps getting worse," he said.
For three straight months, the number of vacancies at businesses nationwide has topped the number of unemployed people. This trend has wrought more than pay bumps and bonuses.
Shifts go unfilled, analysts say, and managers are lowering hiring standards to keep the doors open. At the same time, workers are quitting at the highest rate in 13 years for better opportunities — another sign the economy is favoring employees amid a scarcity of applicants.
As the competition for labor intensifies, the quality of service at businesses tends to deteriorate, said Forrest Morgeson, director of research for the American Customer Satisfaction Index, which crunches more than 200,000 consumer survey responses each year.
With more job hoppers, "you're getting new employees in customer-facing positions who don't have as much experience or education," Morgeson said.
The ACSI's national measure of consumer happiness, which ranks moods on a scale of 1 to 100, has slid from 77 in the first quarter of 2017 to 76.7, where it has sat all year — the longest period of stagnation since 1993.
This halt in improvement follows a steady rise in satisfaction since 2016, a result, analysts say, of the proliferating technology designed to ease commercial friction: smart order pads and improved data collection to hone employee training.
Seventy-one percent of respondents in a June survey of 2,002 Americans from Medallia, a customer experience software firm, said they started avoiding a store, restaurant or service provider this year because of a negative interaction.
This discontent coincides with growing expectations, said Emma Sopadjieva, Medallia's head of research: Twenty-six percent of U.S. consumers said they have "higher customer experience expectations" than two years ago, largely thanks to online options.
"It's make-or-break time now," Sopadjieva said. "One bad experience can really hurt your brand."
Under this pressure, companies face a special challenge: They're striving to perform at a higher level with a shrinking pool of available workers.
This summer, the nation's jobless rate hit an 18-year low (3.9%), and by June, job openings in the United States reached 6.66 million, while only 6.56 million people sought work, according to the latest government figures.
The share of people who quit their jobs in June, meanwhile, rose to 2.3% from 2.2% at the same time last year, according to the Bureau of Labor Statistics.
Still, wage growth has remained sluggish since the Great Recession. Economists say that could be dragging down employee loyalty.
Workers who realize they can ditch long hours and rude customers for better prospects may be quicker to let the cheerful facade crack, said Martha Gimbel, the research director for the Hiring Lab at Indeed, an employment website. "Workers are going to be less willing to put up with situations that aren't ideal," she said.
As service workers find more options, employers are casting a wider net for talent.
Keith Station, director of business relations at Heartland Workforce Solutions, which connects job seekers with companies in Omaha, said businesses in his community are suffering from a drastic labor shortage.
Omaha's unemployment rate slid to 3.1% in June. Vacancies sit open for months. Production slows. And these tough conditions persist, Station said, even after businesses lift wages and boost benefits.
"Employers are sometimes willing to just get warm bodies," Station said. "We have cases where workers don't come back the second day after lunch."
Station advises local businesses to invest more in training, increase compensation and outline meaningful career paths so people feel personally invested in the work.
"It's time for everyone to be more intentional," he said, "about addressing the retention issue."
That could include counseling supervisors to defend employees from abrasive customers.
Jeff, 35, a server at a seafood restaurant in Charleston, S.C. (jobless rate: 3.1%), said diners occasionally test his patience. He spoke on the condition that his last name not be used because he feared getting in trouble at work.
One woman, he said, began to hand him a cash tip — and then pulled it away, telling him he should have poured more refills. (After the speech, she gave him the money.) He overheard another customer recently yelling at his co-worker, prompting his co-worker to shout back.
Through it all, Jeff grins and thinks: The bad ones will be gone in an hour. Plus, some weeks, he makes $800 — a solid living. But if that ever changed — "You can always find a restaurant who needed somebody yesterday," he said.
Of course, service jobs offer no obvious upward mobility. Some workers turn to eateries or clothing stores or call centers to make ends meet until the next best opportunity comes along.
In this economy, Terry Britton, 54, a leadership consultant in Woodbine, Md., said she would prefer to spend her money at "higher-level places" — restaurants where she's paying for more than just the meal: courteous greetings, careful attention, a human touch that enhances the experience.
Britton said she noticed a profound decline in customer service this year. Perhaps it's a generational thing, she figured. Or maybe the job market is so hot that workers with people skills are getting vacuumed into higher-paying roles.
Either way, she has quit certain fast-casual chains.
A cashier at a place known for burritos recently took the order of the man ahead of her and then skipped to the person behind her, Britton said.
Feeling overlooked in that crowded line, she thought: "I'm done."
Paquette writes for the Washington Post.
---
Sign up for the California Politics newsletter to get exclusive analysis from our reporters.
You may occasionally receive promotional content from the Los Angeles Times.