Jeans brand Diesel USA files for Chapter 11 bankruptcy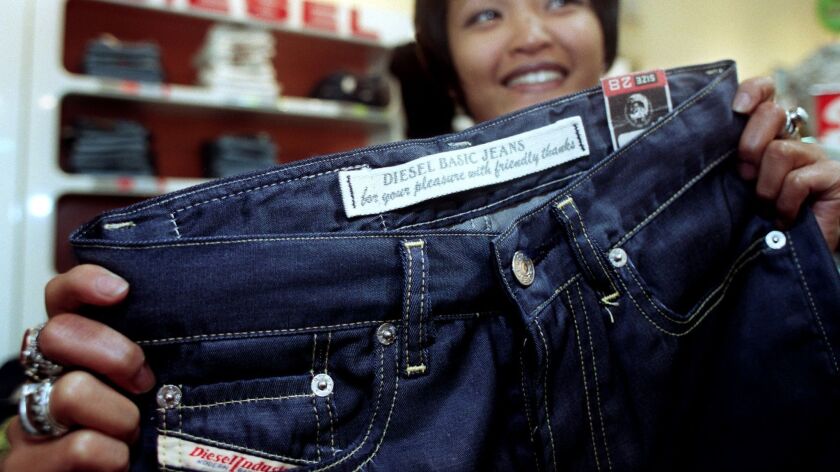 Diesel USA Inc., the premium denim and accessory brand whose five-pocket pants dominated pop culture in the 1990s and early 2000s, filed for Chapter 11 bankruptcy protection in Delaware on Tuesday. The unit of Italy's Diesel blamed plummeting sales, a botched turnaround, pricey leases and unwavering landlords — plus several instances of cyber fraud and theft.
The Chapter 11 petition — filed with a three-year plan to correct a strategy that had it leasing expensive stores in premium locations — estimates up to $100 million in assets and as much as $50 million in debt.
Diesel USA doesn't plan to follow in the footsteps of some other retailers that have announced massive store closures. Instead, its court papers described a plan to restore the Diesel brand in the United States, including opening new stores and retrofitting some old ones to make them cheaper to operate.
The U.S. division, which listed $7.4 million in unsecured obligations to trade creditors, has 380 employees and 28 retail stores in the United States, as well as relationships with department stores and specialty retailers.
Diesel USA's bankruptcy filing comes at a time when several chains that survived the first retail apocalypse are back in the spotlight. Shoe store Payless Inc., which filed for bankruptcy last month, is abandoning 2,500 stores. Mall staples Victoria's Secret and Gap are among retailers planning to reduce their footprints.
Diesel is best known for its high-end denim and was vital to the rise of premium jeans. Designer denim had a resurgence in the early 2000s as shoppers flocked to brands including Diesel, 7 For All Mankind and True Religion to shell out $200 or more on a pair of fashion-forward jeans. Profitable until 2008, Diesel USA was just recovering from the recession when certain decisions made by prior management started to catch up with it, according to court papers.
"Prior management began employing a real estate strategy that involved substantial investments in its retail stores," chief restructuring officer Mark Samson said in a court declaration filed Tuesday. In an effort to put stores in "premium" locations, it entered into leases — such as one for its flagship store on Madison Avenue in New York — at an inopportune time, just as its sales "dropped precipitously," he said. Prior management spent $90 million in capital expenditures across the business between 2008 and 2015, primarily to brick-and-mortar stores.
The company tried to renegotiate leases with landlords starting more than a year ago but has only managed to secure a single rent concession, Samson said. On top of that, the company said it was the victim in multiple incidents of theft and fraud, resulting in additional losses of $1.2 million over the last three years, including from internet "spoofers" who sent false invoices that the company paid.
Its turnaround plan calls for it to collaborate with social media influencers, enhance its denim collection for female customers and relocate some stores to smaller cost-effective locations with reduced rent.
The New York-based company lists the U.S. Customs and Border Protection agency in Atlanta as its single biggest unsecured creditor. Diesel USA didn't immediately return a call for comment. Diesel's bankruptcy counsel didn't immediately return a call for comment.
The denim category has been battling a fashion shift in the United States toward more sporty looks such as leggings, which the industry has dubbed "athleisure." Imports of elastic knit pants surpassed those of denim for the first time in 2017. But recently there have been some signs of hope that denim is coming back into vogue, and jeans rival Levi Strauss & Co. recently announced a plan to go public.
---
For reporting and exclusive analysis from bureau chief John Myers, get our California Politics newsletter.
You may occasionally receive promotional content from the Los Angeles Times.