Escape rooms are becoming a breakout form of entertainment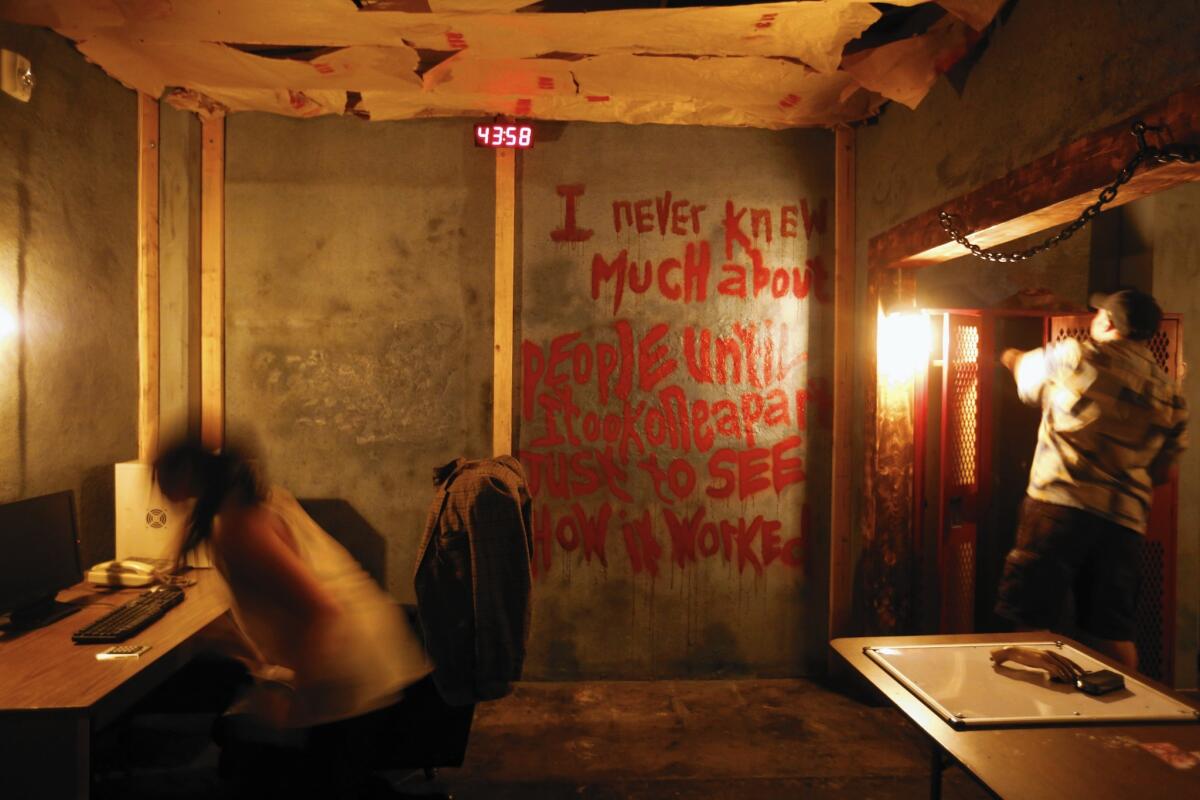 With black hoods over their heads, five people trapped in a chain-link enclosure listen to an ominous monologue.
"Hello, my delicious friends," the voice purrs. "I've lived here for five years, and I've spent much of that time collecting delicate morsels like yourselves to help me with my little experiments."
Edward Tandy, the homicidal cannibal who has caged this group in his basement, lays out the rules of his game: They have 45 minutes to solve the puzzles inside and escape. Once time runs out, gas will be pumped in, putting the captives to sleep.
"Then the feast will begin," he whispers. "I'll be counting the seconds."
It sounds like the beginning of a horror flick, but these five brave souls have paid $30 each to get locked in an escape room, a fast-growing entertainment where players in elaborately decorated prisons must find clues to free themselves before time runs out. Corporations have discovered escape rooms for team-building and communication exercises.
Escape games, which first gained popularity in Japan, are based on video or online games such as Zelda, Myst and Crimson Room.
In Los Angeles, dozens have popped up as entrepreneurs hustle to deck out empty warehouses and offices. Some spots, which hover around $30 for an hour of puzzlement, are like intricate movie sets crossed with the mind games and trickery of TV shows such as "The Mole" and "Survivor."
::
The lights go on, and the players — three women and two men — quickly find the first key tucked inside a thermostat. They spill out of the cage and scatter into a gloomy room that is the stuff of nightmares.
A toaster resting on a bookcase holds a gory severed hand. Macabre paintings of dead animals hang over a desiccated body tucked into a bed. Scrawled in red — is it blood? — the words: "I never knew much about people until I took one apart just to see how it worked."
::
Escape rooms feed a taste for real-life diversion that tech-addicted millennials can enjoy with friends and strangers.
"There is a growing consumer demand for social play experiences that are live and unique and can't be repeated," said Sam Roberts, assistant director of the Interactive Media and Games division at the USC School of Cinematic Arts. "You can charge premium prices for it."
Roberts predicts that immersive entertainment will be the next frontier of gaming — "the future of play spaces," as he puts it.
There is a growing consumer demand for social play experiences that are live and unique and can't be repeated. You can charge premium prices for it.
— Sam Roberts, assistant director of Interactive Media and Games division at USC School of Cinematic Arts
"Virtual reality is a literal gold rush," he said. As for escape rooms, "there is a growing belief it is financially viable to do this stuff."
Kayden Ressel, co-owner of the Basement Escape Room, the cannibal-themed version in Sylmar, said some people see this as the latest "get-rich-quick scheme."
"It's a brand-new industry and nobody knows exactly what it is," he said. "They are all sensing opportunity."
::
As the clock counts down, the five players struggle to figure out clues scattered behind paintings, in pieces of clothing and in drawers.
"Those are our kids!" says Karen Beck, plucking up a black-and-white photo of her smiling family with Xs marking out their faces. "They have photos of us! Holy crap!"
::
John Hennessy, owner of Escape Room L.A., has been in the business of pulling people away from screens for more than a decade, when he founded Race/LA to stage scavenger hunts and races.
Two years ago, he and a friend invested $30,000 to transform a space atop a downtown building into a detective's office straight out of a 1940s noir film. The room, called "The Detective," was followed last year by "The Theatre" (haunted by ghosts), "The Cavern" (exploring a lost civilization) and "The Alchemist" (finding the philosopher's stone).
Hennessy, who has a theater background, said many customers are looking for an out-of-the-norm diversion where collaboration is key. Each room comes with a costumed actor to keep an eye on the time, give instructions and prod players who need a hint.
"People really want to have an experience that doesn't involve staring at a screen or computer monitor," Hennessy said. About 800 players stream through the rooms a week, with an average of 96 games taking place.
Jeff Hsin, a former IBM engineer, programs most of the intricate puzzles for Exit Game in Monterey Park with a small team of friends and employees. Pressure-sensor floors and motion-triggered lasers, a la "Mission: Impossible," amp up the atmosphere.
In the latest room, called "The A.I.," a robot gives hints. Hsin said he has brought on video-game designers to make the experience more immersive.
"You can tell we're all gamers at heart," Hsin said.
::
The group finds a doggie door leading to a tunnel. Karen Beck's husband, Jeremy, crawls through first; he yelps as a gust of wind blows, followed by the sound of unseen guard dogs barking ferociously.
The tunnel ends in a darkened bathroom. Inside, a young woman chained to the floor screams. Her face is marred by bloody cuts. She's clad in filthy hospital scrubs, and her curly mane hasn't come close to a comb, possibly in years.
"Get me out, please get me out," she shrieks.
The small room tightens as everyone crowds inside. Frantic hands scour walls and exposed pipes for a key.
Jeremy Beck finds it taped under the sink, but in the chaos, he rushes out without unlocking the captive.
He realizes his mistake and runs back to free the woman. She scurries out of her prison, crab-like.
::
Escape games are becoming an unconventional training tool.
Ressel has devoted about a quarter of the 6,000-square-foot warehouse to a VIP area where corporate clients enjoy squishy red couches, big-screen TVs and iPads.
Along with catering, the corporate package comes with actors, some with MBA degrees. In the escape room, they serve as deranged captives. Afterward, they deliver a consultant-style critique of group dynamics.
"They give analysis on team strengths and weakness, and how to apply that to the business world," Ressel said.
Sales representatives from Caldera Medical, an Agoura Hills medical device company, had an "awesome" team-building exercise there, said Casandra Pohlert, an executive assistant who organized the outing.
"All of our reps are extremely competitive and type-A personalities," she said. "As a bonding experience, it was great. We talked about it for days."
And the critique — "not yelling over each other and listening to each other" — was spot on, Pohlert said.
::
Back in the original room, Jeremy Beck and Bob Yoraway, Karen Beck's brother, open a wardrobe and push aside the clothes. It has a false back, and they stumble into yet another room. This one apparently is intended for kidnapped children, filled with stuffed animals and crayon drawings on the walls.
With 15 minutes to go, an alarm sounds and the room fills with unearthly screams and barking. The clanging sets off the captive, who bangs on the chain-link fence while shrieking "hurry up!"
The group finds a Bible and a verse from the Book of Job, which contains their captor's account password. That unlocks his computer, which supplies the final code. The door to freedom swings open.
Twitter: @ByShanLi
Here is a sampling of some escape rooms in the Los Angeles area:
The Basement Escape Room
Where: Sylmar
Theme: Get out of various elaborate traps set by an unseen kidnapper/ murderer/cannibal.
Countdown Live Escape Adventures
Where: University Park
Theme: Escape a rocket before it launches, a Tiki room before the volcano blows, the Krampus' lair.
Enigma Escape Rooms
Where: Hollywood
Theme: Puzzle themes include murder solving, bomb defusing and secret society eluding.
Escape Room L.A.
Where: Downtown
Theme: Freedom requires cracking a detective's case, setting a ghost free, exploring a lost civilization or performing alchemy.
Exit Game
Where: Monterey Park
Theme: Options include a self-destructing secret lab, a hidden bank vault and a jailbreak.
Maze Rooms Los Angeles
Where: Multiple
Theme: Escapes include a pirate den and a lunar station, some with virtual reality elements.
PanIQ Room Hollywood
Where: Universal City
Theme: Pick between a terrorist-themed torture chamber and a mystery in a mental institution.
Real Escape Room
Where: Little Tokyo
Theme: Escape a sinister magician; outsmart a hidden captor from the Zero Escape video game series.
Room Escape Adventures
Where: Pico-Union area
Theme: Trapped with a hungry zombie, participants must escape before becoming lunch.
The Virus
Where: Burbank
Theme: Find a cure for a virus ravaging the planet before the lab's slowly moving walls crush you.
ALSO
The final frontier: cheap space travel
Sport Chalet will close all stores and stop online sales
The new corporate workplace: Beers on tap, bring your dog to work and a short-term lease