Facebook's Sheryl Sandberg is still a role model, many women in tech say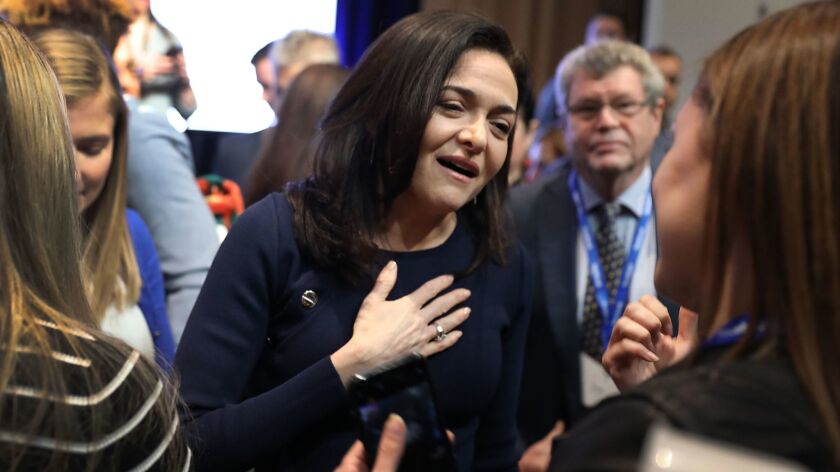 Bloomberg
For the last decade, the gathering of the global elite in Davos, Switzerland, has been a safe space for Sheryl Sandberg. This year, though, fresh off a bruising 2018, the Facebook chief operating officer arrived in the Alps on the defensive, apologizing over and over again for Facebook's privacy and ethical slip-ups.
She was notably absent from the conference's main equality and gender discussions; she was fighting a cold and her voice was a rasp.
Over the last few months, the Sandberg brand has taken a beating, and news about Facebook's misdeeds — and her reported role in them — is unrelenting. Questions about privacy, Russian election hacking and unsavory targeting of opponents dominated the end of 2018, and the new year began with new reports of questionable data collection practices that led Apple to ban some of Facebook's internal apps.
Through it all, pundits dissected Sandberg's "fall from grace," employees blamed her for the company's woes and a stunning stock slide, and critics called for her resignation. Corporate feminism fell out of favor, #MeToo exposed the weaknesses of "leaning in" and Sandberg's own fallibility cast her feminist empowerment side-project in a newly harsh light.
But there are signs that Sandberg's reputation is on the mend. Both the company and Lean In say they're committed to Sandberg's leadership, and from Switzerland to San Francisco, women, particularly those working in technology, are coming out in support of the embattled COO.
"I still look up to her," said Annie Hsieh, an engineering manager at Square Root, an Austin, Texas-based tech company.
Like more than a dozen women interviewed by Bloomberg, Hsieh said she doesn't think Sandberg acted to the highest moral and ethical standards, but she also knows how hard it is to make it to the top in the tech world. "She's just another human and she's not a superhero. I think some of the criticism is valid and a lot of it is unfair."
Sandberg, for her part, started off the new year on an image rehabilitation tour. On Jan. 20, she made her first public appearance in the new year at the DLD conference in Munich, Germany. "As we listen to people around the world, they tell us that they want an internet where people speak up but they're not spreading hate," she said.
"We know we need to do better," she went on. "We need to stop abuse more quickly, and we need to do more to protect more people's data."
At Facebook, Sandberg directly oversees the parts of the business that have been most embroiled in scandal, such as policy and content operations. But the company says if there's a problem, it believes in Sandberg's ability to address it.
"Under Sheryl's leadership, we now have more than 30,000 people working on safety and security, we've cracked down on fake accounts and misinformation, and we've set a new standard for ads transparency," the company said.
It helps to understand how rare Sandberg's accomplishments are. Women make up about a quarter of the computing workforce but just 11% of leadership roles, according to a study by McKinsey and Co.
So while there are plenty of examples of powerful men logging all manner of successes and failures, Sandberg has come to stand in for all women in technology. Her very existence has opened up streams of funding, said Lisa Falzone, chief executive and co-founder of Athena Security. She started her first company in 2010 — before Facebook went public and before Lean In — and it was hard to get venture capitalists to take her seriously. Now, she says, things have changed, and that's a credit to Sandberg.
"You have to have more successful women that people can point to so VCs will give more women money," Falzone said. "If they've never seen a woman be successful before, they're not going to invest in women."
Many women working in tech told Bloomberg they dislike Lean In's message of do-it-yourself women's empowerment. Most of them denounced Sandberg's recently reported involvement in covering up Russian interference on Facebook (if true). But most also said she's been held to an unfair standard, and overall, they believe she's done more good than bad.
"She has done a lot for women in tech, we shouldn't forget that," said Gillian Tans, CEO of Booking.com. "It takes three to four times the effort for a woman to achieve the level of success that many of us who are here have achieved. Yet it takes one misstep to fall off your pedestal."
---
Your guide to our new economic reality.
Get our free business newsletter for insights and tips for getting by.
You may occasionally receive promotional content from the Los Angeles Times.