Overseas stocks slide on uncertainty over U.S.-China trade truce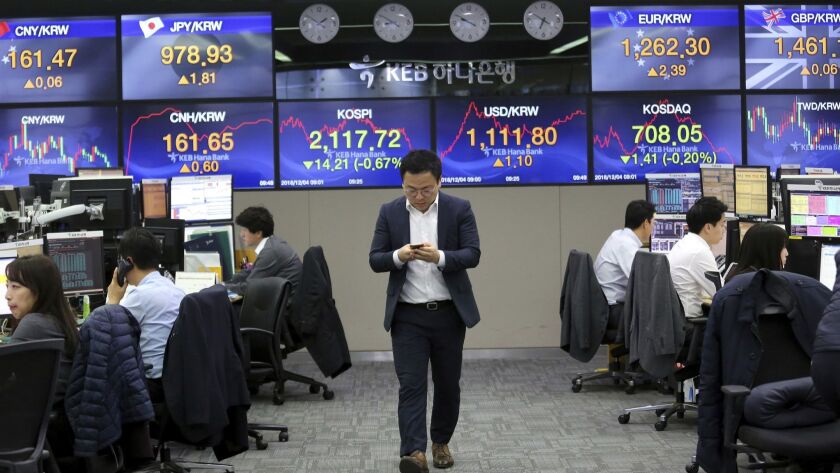 Overseas stock prices fell Wednesday, though not as much as Wall Street had the day before, amid confusion about what the U.S. and China agreed to in a tariff cease-fire.
In Europe, London's FTSE 100 index fell 1.4% to close at 6,921.84 and Germany's DAX lost 1.2% to 11,200.24. France's CAC 40 retreated 1.4% to 4,944.37. U.S. stock trading was closed to mourn the death of former President George H.W. Bush.
Hong Kong's Hang Seng index fell 1.6% to 26,819.58, and the Shanghai Composite Index declined 0.6% to 2,649.81. Tokyo's Nikkei 225 lost 0.5% to 21,919.33, and Sydney's S&P-ASX 200 shed 0.8% to 5,668.40. Seoul's Kospi gave up 0.8% to 2,101.31, and India's Sensex was 0.6% lower at 35,902.74.
Investor confidence in the U.S.-China agreement faltered after confusing and conflicting comments from President Trump and some senior U.S. officials. That revived fears the disagreement between the world's two biggest economies could slow global growth.
Trump previously said the agreement would lead to sales of American farm goods and cuts in Chinese auto tariffs, but Beijing has yet to confirm that. Trump renewed threats of tariff hikes on Tuesday, saying on Twitter that Washington would have a "real deal" with China or else would charge "major tariffs" on Chinese goods. That cast further doubt on the weekend agreement.
Markets also got a jolt from remarks by the president of the Fed's New York regional bank. John Williams said that, given his outlook for strong economic growth, he expects "further gradual increases in interest rates will best sponsor a sustained economic expansion." That seemed to counter comments by Fed Chairman Jerome H. Powell last week.
The jitters helped drive demand for government bonds. The yield on the 10-year Treasury note fell to 2.91%, from 2.99% late Monday, a large move.
"Positive sentiment from the China-U.S. trade war truce dissipated quickly," Eugene Leow and Radhika Rao of DBS Group said in a report. "Questions on trade, worries about U.S. growth and perceived dovishness on the Fed all play a part in explaining these market moves. Concerns were also compounded by increasing news narrative on inverted curves and risks of a recession."
Benchmark U.S. crude fell 0.7% to settle at $52.89 per barrel in New York. Brent crude, used to price international oils, declined 0.8% to close at $61.56 per barrel in London.
Representatives of oil-producing nations are set to hold a highly anticipated meeting Thursday in Vienna, with analysts predicting that they will agree on a cut of at least 1 million barrels a day in an effort to bolster prices.
Russian President Vladimir Putin boosted expectations for a deal when he said at the G-20 summit over last weekend that Russia and Saudi Arabia have agreed to extend an attempt by OPEC to balance oil supply and demand, although he provided no figures.
Crude prices began falling in October and continued to plunge last month due to oversupply and fears that weaker global economic growth would dampen energy demand.
In other energy futures trading Wednesday, wholesale gasoline added 0.2% to $1.45 a gallon. Heating oil slid 0.6% to $1.89 a gallon. Natural gas picked up 0.3% to $4.47 per 1,000 cubic feet.
The dollar gained to 113.19 yen, from Wednesday's 112.82 yen. The euro held steady at $1.1342.
Gold fell 0.3% to $1,242.60 an ounce. Silver slid 0.4% to $14.58 an ounce. Copper added 0.5% to $2.77 a pound.
---
UPDATES:
12:50 p.m.: This article was updated with closing oil, dollar and metals prices.
Noon: This article was updated with closing stock prices in Europe.
This article was originally published at 10 a.m.
---
Be your money's boss! Learn how to make a budget and take control of your finances with this eight-week newsletter course.
You may occasionally receive promotional content from the Los Angeles Times.