Fiat Chrysler plans to invest $1 billion in 2 U.S. factories as it expands its Jeep lineup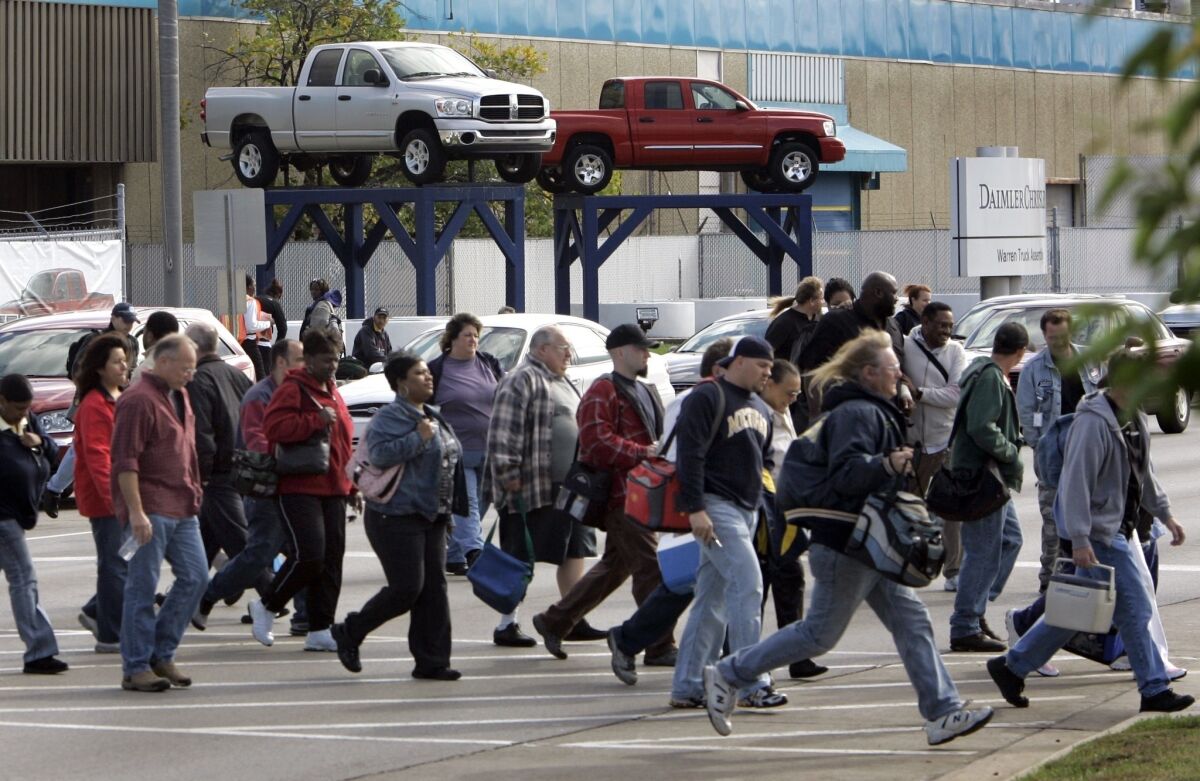 Fiat Chrysler will add three new Jeeps to its lineup including a pickup truck as it invests $1 billion in two U.S. factories, furthering its effort to increase production of hot-selling SUVs and pickup trucks and get out of producing small and midsize cars.
The Italian-American automaker said Sunday it will modernize a factory in the Detroit suburb of Warren to make the new Jeep Wagoneer and Grand Wagoneer large SUVs. A factory complex just south of there in Toledo, Ohio, also will get new equipment to make the new pickup.
The company wouldn't provide details of the new products, but said the factory work would be done in 2020. The expansion is expected to create 2,000 new jobs.
Consumers worldwide have gravitated toward SUVs and trucks while turning away from passenger cars. Last year in the U.S., car sales fell 7% while truck and SUV sales rose 8%.
Last year, Fiat Chrysler announced plans to stop production of the slow-selling Dodge Dart and Chrysler 200. Factories that make those products in Sterling Heights, Mich., and Belvidere, Ill., will get new trucks and SUVs as the company searches for an automaker that would build small cars under contract.
The factory upgrade in Warren also would allow the plant to make heavy-duty Ram pickups that now are produced in Saltillo, Mexico. But Fiat Chrysler would not say if it has plans to shift production to the north.
Producing vehicles in Mexico and shipping them to the U.S. has become a thorny political issue with the election of Donald Trump as president. Trump has criticized Ford, General Motors and Toyota for building small cars in Mexico and shipping them across the border. He has threatened to impose a big border tax on the companies.
The issue is so sensitive that General Motors Chief Executive Mary Barra, at an event before the Detroit auto show Sunday, said that her company has no plans to change production plans despite Trump's criticism.
Barra, who is part of a group of CEOs that will advise Trump on economic issues, noted that capital decisions in the auto business are made two to four years in advance.
Fiat Chrysler's decision to expand capacity is "enabling us to meet growing demand here in the U.S., but more importantly to increase exports of our midsize and larger vehicles to international markets," Chief Executive Sergio Marchionne said in a statement.
He added that those markets "have historically been denied product due to (factory) capacity constraints."
The new Jeep pickup, which could be a version of the Wrangler SUV, would be the company's first pickup since the mid-1990s.
The moves cap a series of factory changes that Fiat Chrysler announced starting in July, when the company said it would sink $1.5 billion into the Sterling Heights plant so it can be equipped to make Ram pickups. The 3,000-worker plant made the Chrysler 200 midsize car, but it closed as production ended last month.
The Warren plant will keep making Rams until the Sterling Heights factory is updated, then it will close temporarily so it can be retooled to make the large SUVs.
The company also said last summer that it would spend $1 billion to retool the Toledo factory for production of a new Jeep Wrangler. That plant's Jeep Cherokee will move to Belvidere, which stopped making the Dodge Dart compact car and Jeep Compass and Patriot small SUVs last year.
Fiat Chrysler said the investments are subject to negotiations and approval of tax incentives by local and state governments. The company would not say how much would be invested in each plant or how many new jobs would go to each.
---
UPDATES:
6 p.m.: This article was updated with additional details about the production plans and a comment from General Motors Chief Executive Mary Barra.
This article was originally published at 2:45 p.m.
---
Sign up for the California Politics newsletter to get exclusive analysis from our reporters.
You may occasionally receive promotional content from the Los Angeles Times.