Does Gap have an identity problem? Why the retailer's sales keep dropping
At the height of Gap's popularity, the brand's catchy commercials implored shoppers to "fall into the gap."
Now the clothing company can't seem to pull itself out.
Gap Inc., the San Francisco retailer that defined 1990s buttoned-down khaki culture, has suffered five straight quarters of falling sales at stores open at least a year. The Gap flagship brand has been battered even longer, its comparable sales dropping for the past nine quarters. Closing 175 of its namesake stores last year did not help its bottom line: Its fiscal 2015 profit was $920 million, a 27% decline from the previous year.
The long-suffering company, which also owns Banana Republic, Old Navy and Athleta, has been slow to identify and roll out new trends. It has lost sales to fast-fashion chains such as H&M and Zara. And it has struggled to retain its designers and executives.
Even Old Navy, which has been the one bright spot at Gap, has not been immune recently. Comparable sales slipped 6% in March, and then plunged 10% in April.
Gap declined to comment, citing a quiet period before its first-quarter earnings report is released Thursday.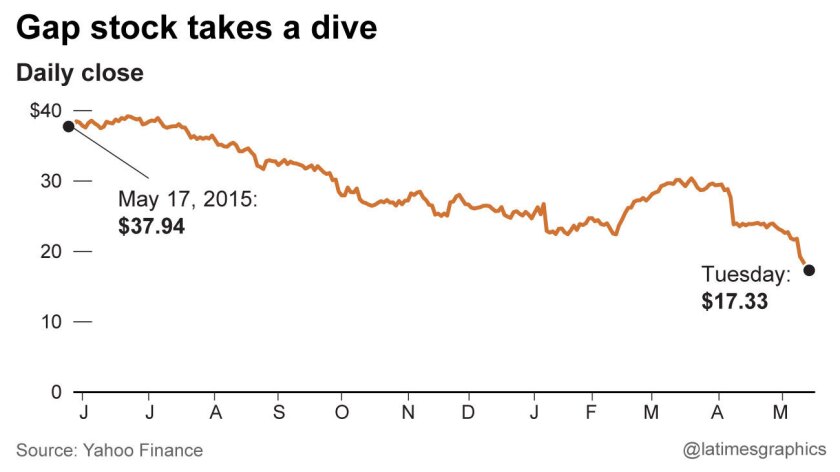 But investors aren't happy. Since August 2013, Gap shares have fallen nearly 63%, closing at $17.33 on Tuesday.
Many of Gap's problems are those facing other retailers as well, analysts said. Shoppers are reluctant to spend on clothing, and many aren't rushing to the mall -- this time of year is particularly slow for retailers. Last week Macy's, Kohl's and Nordstrom all reported disappointing first-quarter results.
But Gap has one problem that it can't blame on economics: bad fashion. Its clothing has failed to entice shoppers, swinging from uber-trendy to boring basics, analysts said, and the company no longer seems to know what sets it apart from competitors.
"It's almost a brand in search of an identity," said Neil Saunders, chief executive of research firm Conlumino. "They either try things that are extreme, and it jars. Or they do it in a half-hearted way and it loses impact."
Some of that confusion can be blamed on turnover at the top, analysts said.
Last year Stefan Larrson, president of Old Navy, left to become chief executive of Ralph Lauren. The company got rid of Rebekka Bay, creative director at Gap for about three years; it also moved Marissa Webb out of the same position at Banana Republic, where she had served for less than two years.
"These people they bring on don't get the freedom to run the brands," Saunders said.
Its advertising has reflected the creative confusion. In 2014, Gap debuted the tagline "Dress Normal," jumping on the normcore trend that has made Birkenstock sandals, plain turtlenecks and mom jeans not only acceptable but trendy among fashionable women. Then last year, Gap came out with a series of videos on Instagram proclaiming that "Spring is Weird."
Those kinds of wild swings in message reflect a deeper problem at the core of Gap, said Betty Chen, a managing director at Mizuho Securities in San Francisco.
"I'm not sure they know who their customer is anymore," she said. "It's definitely been a tough time for fashion retailers in general. Gap Inc. has been struggling more than others."
Gap has fallen a long way since the 1980s and '90s, when its jeans were highly coveted and its TV commercials featured diverse casts of beautiful young people dancing and singing in corduroy and khaki pants.
But Gap never evolved beyond its reputation as a place for clean-cut basics. While other retailers such as J. Crew (under the direction of former Gap CEO Mickey Drexler) and Urban Outfitters updated their aesthetic to keep up with changing times, Gap never successfully managed to modernize.
"When you go into a Gap store, you know almost exactly what is in there -- it's going to be navy or beige chinos and v-neck sweaters," Saunders said. "It's the same old sort of stuff, and that's why people got bored with it."
Some shoppers such as Wintila Moreno, 31, said they only go into Gap to take advantage of heavy promotions -- the brands often do 40%-off-everything sales. The La Puente resident said she has always associated the brand with a "very Rhode Island, preppy look." Instead, she prefers the prices and fashions at H&M and Zara.
Gap "is not my style and has never been my style," the paralegal said. "It's very bland, no color. And it's pricey for the quality."
If Gap were to take a step forward on its fashions, it could also risk alienating longtime fans. When Webb took over at Banana Republic, sales dipped after the brand introduced more fashion-forward styles.
Shopper Chris Vi, 32, likes the way things are at the Gap. The brand, he said, fits in perfectly with his own practical style, and he frequently stops at the Gap in Old Town Pasadena to check out its latest men's clothing.
"I like it because it's a classic store and it doesn't change its fashion," said the Whittier resident, who had just picked up a pair of Gap jeans for $59. "I don't do fast fashion. I like quality clothes that last."
Last year, newly appointed CEO Art Peck said spring 2016 would be Gap's "no excuses moment" as the company focuses on fixing its fashion.
But so far, its efforts seem to be missing the mark. Gap said last week that its first-quarter earnings would be in the range of 31 to 32 cents a share, well below analysts' estimates of 44 cents. It also warned that it had "more inventory than planned" going into April due to "weaker than expected traffic." That means deep discounts will likely continue into the coming months, and could spell trouble ahead for its fall and winter collections as well, analysts said.
At Gap's annual shareholder meeting Tuesday, Peck said the company might think about joining forces with companies such as Amazon.com to reach more shoppers.
Besides changing up its merchandise mix, the company is also looking at its international business. Gap said it was "evaluating" its Banana Republic and Old Navy brands, mostly outside of North America, in order to "focus on geographies with the greatest potential."
------------
FOR THE RECORD
May 18, 11:09 a.m.: A previous version of this story incorrectly stated that Gap was looking to grow Banana Republic and Old Navy outside of North America. The company actually said it was evaluating these brands to see in which areas they had the "greatest potential."
------------
See more of our top stories on Facebook >>
MORE FROM BUSINESS
Warner Bros. shuffles its DC film executive ranks after 'Batman v Superman' criticism
Consumer watchdog turns its attention to auto-title loans
Obama administration announces final overtime rule, boosting pay for millions
Follow @ByShanLi on Twitter
---
Your guide to our clean energy future
Get our Boiling Point newsletter for the latest on the power sector, water wars and more — and what they mean for California.
You may occasionally receive promotional content from the Los Angeles Times.