GE's Jeff Immelt is stepping down; he shook up the business but not its stock price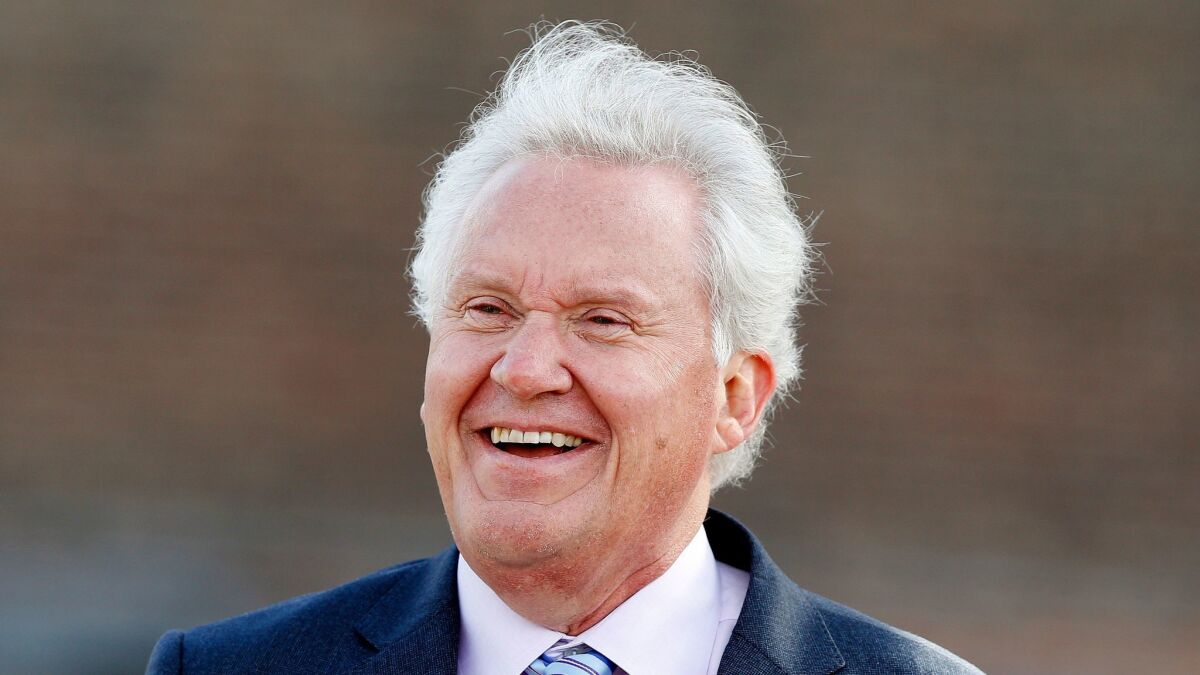 General Electric Co.'s Jeff Immelt is stepping down after 16 years as chief executive of the giant conglomerate, having succeeded in repositioning the company as a producer of large industrial products but failed to fully revive its lagging stock price.
John Flannery, president and CEO of GE's healthcare unit, will take over as CEO in August, the company said Monday.
Immelt took the helm in 2001 from legendary CEO Jack Welch. After the financial crisis, he sharply pared down the financial services business that Welch had built up and went on a spending spree to acquire businesses in the power and oil and gas sectors. During his tenure, Immelt also disposed of GE's appliance unit and the NBC television business.
The 61-year-old Immelt will stay on as chairman until his retirement from the position at the end of the year, with the 55-year-old Flannery stepping into the role after that.
GE traces its roots to 1878, when inventor Thomas Edison formed Edison Electric Light Co. in New York City after having opened his famous laboratory in Menlo Park, N.J. The next year, Edison invented the first successful incandescent electric lamp.
Recent reports say GE is considering selling the lighting business, which could fetch about $500 million.
Although GE credits Immelt with improving its financial performance and its focus, GE's stock price has lagged behind the market during his time as CEO.
The stock was worth a bit less than $40 on Immelt's first day in 2001, with the U.S. in the middle of a recession. The stock briefly rose above $40 in 2007, just ahead of the economic crisis. It sank to as low as $6.66 in March 2009 in the depth of the crisis, and closed at $27.94 a share Friday.
Analyst Robert McCarthy at Stifel Nicolaus wrote in a note to clients that the timing of the change in leadership was "unsurprising since the serial underperformance of the stock." GE said the moves were part of its succession plan.
An investor who bought $1,000 in GE stock when Immelt took over would have about $1,243 now, including dividends. The same amount invested in the Standard & Poor's 500 index would be worth $3,206.
GE's stock rose 3.6% to $28.94 on Monday.
Immelt spent the second half of his time as CEO returning the company to its less-risky industrial roots. In 2007, GE's finance arm accounted for about 55% of its profits, but its large exposure to commercial real estate left it vulnerable during the financial crisis.
Immelt instead focused on products such as energy-generating windmills, gas turbines for power plants, online medical records and energy-saving equipment for electrical grids as sources of new profits.
GE made big acquisitions under Immelt to bring new business and technologies to GE. The company acquired the power business of France's Alstom three years ago. On Monday, GE received U.S. antitrust approval to combine its oil and gas operations with Baker Hughes, potentially creating an oil services powerhouse with more than $32 billion in revenue. The approval is conditioned on GE selling its Water and Process Technologies business.
GE also remains one of the world's biggest producers of jet engines.
Flannery is a longtime General Electric executive, starting his career at GE Capital in 1987. He became president and CEO of the company's equity unit in 2002 and joined the healthcare division in 2014, focusing on advanced technologies.
Also on Monday, Chief Financial Officer Jeff Bornstein was named vice chair and Kieran Murphy was named president and CEO of GE Healthcare to succeed Flannery.
---
UPDATES:
4:45 p.m.: This article was updated throughout with additional information.
This article was originally published at 4:05 a.m.
---
Sign up for the California Politics newsletter to get exclusive analysis from our reporters.
You may occasionally receive promotional content from the Los Angeles Times.