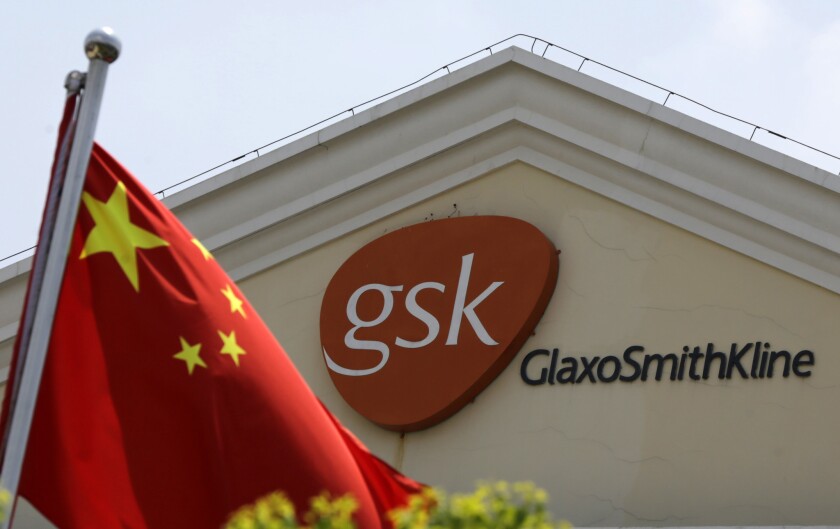 The former head of GlaxoSmithKline in China was charged with corruption by local authorities after a probe that resulted in accusations that the drug maker ran a wide-ranging bribery scheme that included payoffs to doctors.
Chinese police alleged that William Mark Reilly, once the top executive for the British pharmaceutical company in China, pushed his team "to bribe hospitals, doctors and health institutions through various means," the official Xinhua news agency reported.
Reilly and two other Chinese executives are also suspected of bribing government officials in Shanghai and Beijing, the report said. Police have wrapped up their investigation into GlaxoSmithKline and handed the case over to prosecutors, Xinhua said.
The wide-ranging bribery probe came after Chinese authorities accused some of the drug maker's employees of using a network of travel agencies to bribe hospitals and doctors to prescribe the company's drugs.
Last year, the company said some of its executives in China appeared to have broken the law. Then in December, GlaxoSmithKline said it would stop paying doctors to promote its products and also stop linking the amount that its representatives earn to the number of prescriptions that doctors write.
The charges are some of the most serious facing a Western company operating in China.
GlaxoSmithKline said it was trying to "reach a resolution that will enable the company to continue to make an important contribution to the health and welfare of China."
"We take the allegations that have been raised very seriously," the company said in a statement. "They are deeply concerning to us and contrary to the values of GSK."
---