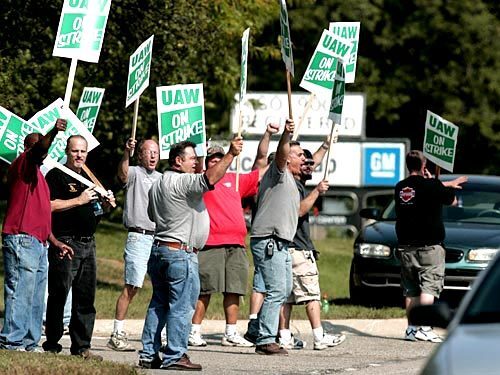 8 Images
GM autoworkers strike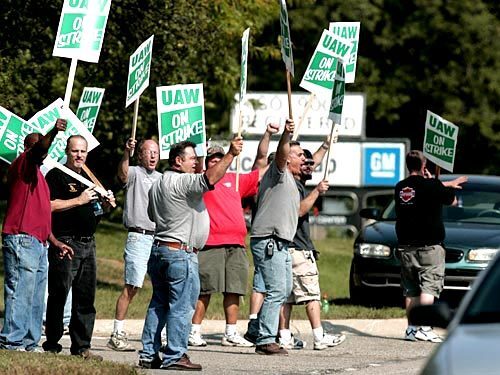 Auto workers picket outside General Motors' truck assembly plant in Pontiac, Mich. The strike by the United Auto Workers union, which represents 73,000 GM employees at 82 U.S. facilities, was the first major work stoppage to hit the industry in nine years.
(Jeff Kowalsky / EPA)
Workers picket at GM's metal-casting plant in Saginaw, Mich. The nationwide strike threatens the company's fledgling turnaround and adds another challenge to the weakening U.S. economy. A key point of contention has been figuring out how to pay for GM's ballooning retiree healthcare benefits, which cover about 339,000 former workers and spouses.
(Jeff Schrier AP/The Saginaw News)
Randy Scott takes part in a protest outside the GM powertrain facility in Warren, Mich. Some analysts speculated that the strike could be a bargaining tactic to force concessions from the company and might last only a day or two.
(Paul Sancya / AP)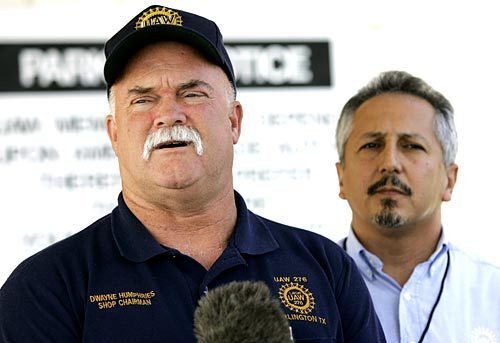 UAW Local 276 President Enrique Flores Jr., right, looks on as Shop Chairman Dwayne Humphries responds to a reporter's question outside their union hall in Grand Prairie, Texas.
(Tony Gutierrez / AP)
UAW President Ron Gettelfinger speaks at a news conference in Detroit. "We were very disappointed in this round of negotiations to discover as we moved forward that it was a one-way set of negotiations," he said.
(Paul Sancya / AP)
Retiree Junior Baker pickets in front of the GM assembly plant in Arlington, Texas. GM, Ford and Chrysler have a combined $90.5 billion in unfunded retiree healthcare obligations on their books. A key goal of the automakers in the current talks is to set up a fund that would take over those obligations and make the union responsible for future benefits.
(Tony Gutierrez / AP)
Members of UAW Local 31 began picketing shortly after 10 a.m. in Kansas City, Kan. The strike affects production of several well-known vehicle nameplates, including Chevrolet, Buick, GMC, Cadillac, Saturn and Pontiac.
(Dick Whipple / AP)
UAW pickets stand in front of a truck attempting to enter a GM plant in Pontiac, Mich. "The problem is that nobody ever envisioned the cost of healthcare going through the roof years ago when they did these contracts," one analyst said.
(Todd McInturf AP/The Detroit News)