Don't have a ticket to 'Hamilton' yet? It's going to cost you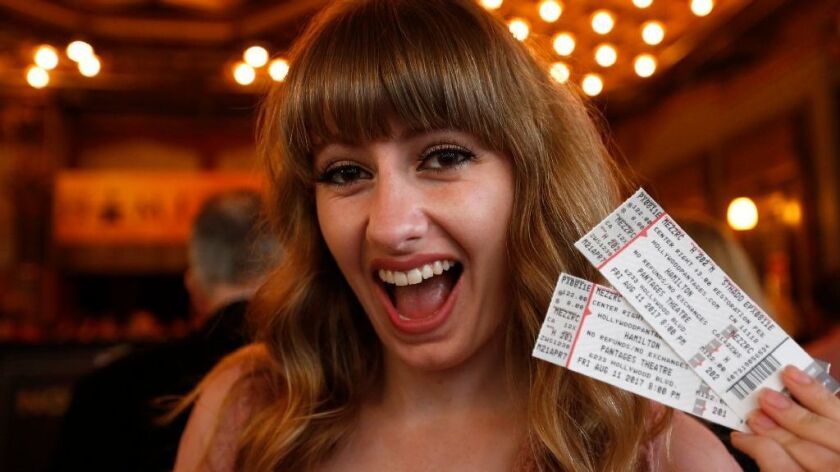 "Hamilton" holds the title of most expensive show ever at Pantages, and that's for the authorized tickets sold directly through the theater and Ticketmaster.
But those tickets are long gone, having sold out shortly after they went on sale in April.
All that's left are resale tickets sold through secondary ticket sellers such as Stubhub and VividSeats, and sites such as Craigslist and EBay (or, if you're very, very lucky, a small handful of tickets sold through an authorized daily online lottery).
That means the price that many audience members will ultimately pay will hugely exceed what's listed on their ticket -- typically by hundreds of dollars. And it's perfectly legal.
Although many people believe scalping is banned, it's allowed in California as long as sellers don't hawk tickets on the venue's premises. So if you want to be in the "room where it happens," expect some major price gouging thanks to scalpers who bought tickets in bulk and are now listing them online at notoriously high prices.
Resale websites StubHub, SeatGeek and VividSeats report that secondhand tickets to Lin-Manuel Miranda's smash Broadway hit, which opened Aug. 11 and runs through Dec. 30, are selling for $467 to $510 a ticket, on average. That bests the 2013 Pantages run of "The Lion King," which had an average ticket resale value of $209.
In comparison, "Hamilton" tickets through Pantages were priced as low as $85 for mezzanine seats; orchestra seats started at $125.
Benny Aguayo, Pantages' assistant marketing director, said the theater limited buyers to six tickets total to cut down on scalping. But that didn't deter scalpers from using different email addresses and credit cards to purchase tickets.
One part-time reseller on StubHub and Craigslist, called PDX DealsGuy, said resellers have crafted their own strategies to maximize profits.
"For a show like 'Hamilton,' I try to limit risk by buying the best possible tickets in the lower price ranges, for the dates one would expect to be in highest demand," said the blogger, who asked to be identified by his online pseudonym only.
For "Hamilton's" opening night, tickets were sold on StubHub for as high as $10,000, a figure that company spokesman Cameron Papp acknowledged was "a little ridiculous."
Papp said resellers can set whatever price they want, and sky-high asking prices are effectively attempts at "trying to win the lottery."
Scalping has plagued "Hamilton" since its debut on Broadway in 2015, and has followed the touring production of the show from Chicago to San Francisco and now L.A.
Last year Katie Leavens, 26, was desperate to watch the Broadway production before many members of the original cast departed. So she shelled out $900 for a ticket from a scalper, as much as she hated doing so.
"I definitely don't think it's a fair system that the profit margin is going to a group of people who did nothing more than buy at the right time or use bots to get tickets for resale only," said the LACMA employee, who bought her ticket off resale website TicketNetwork. "But I wouldn't trade my experience for anything."
Although L.A. resale prices don't yet match the exorbitant numbers for "Hamilton" on Broadway, they'll still cost you more than a few, well, Hamiltons.
Ticket prices are the most expensive in August, selling for an average of $624, but they drop 26% in September to $458, according to SeatGeek. Prices fall further as the holiday season approaches, with tickets selling for an average of $335 for December shows.
Not surprisingly, weekend shows are in high demand: Saturday tickets are the most expensive, at about $554, followed by Sunday at $544. Wednesday tickets are the cheapest, on average, at $399.
StubHub, SeatGeek and other sites said it was not up to them to rein in what resellers do with their tickets on the secondary market.
"We believe in a free marketplace and that the more inventory there is available online, the more sellers are competing and being transparent," Papp said.
But at those prices, many loyal fans of the musical will simply be shut out.
"I really don't think it's fair for people that want to buy tickets to a show to have to pay double the value," said Molly O'Grady of Mission Viejo, who bought three tickets for a November "Hamilton" show at face value. She said if she hadn't scored tickets directly, she probably wouldn't be able to see the musical.
"I wouldn't buy from StubHub for those type of prices," O'Grady, who is currently unemployed, said. "If it's too high, I don't buy it."
---
Your guide to our clean energy future
Get our Boiling Point newsletter for the latest on the power sector, water wars and more — and what they mean for California.
You may occasionally receive promotional content from the Los Angeles Times.