Sanrio looks to give Hello Kitty, at 40, new life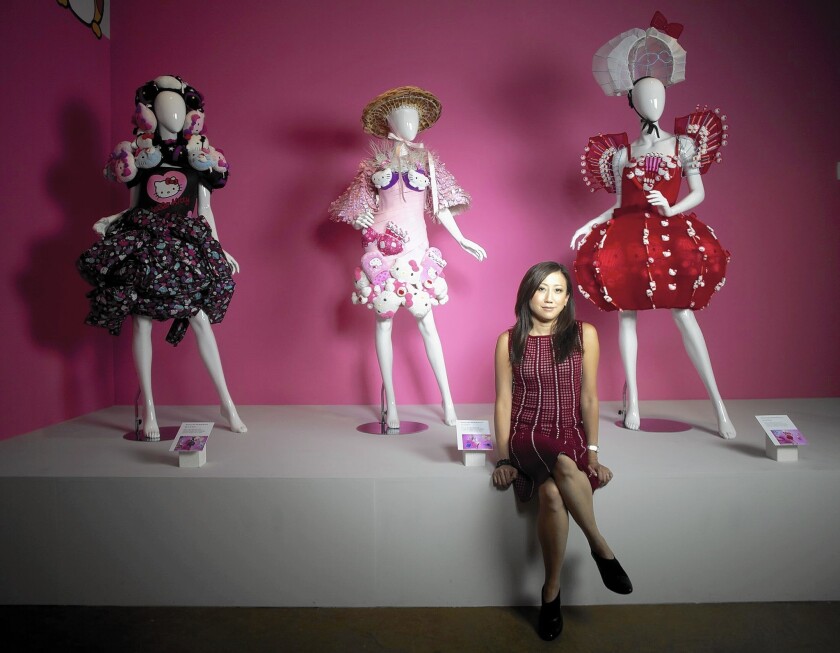 At age 40, Hello Kitty has enjoyed a career that any Hollywood movie star would envy.
Lady Gaga and Katy Perry count themselves among her admirers. She's endorsed everything from motor oil to diamond necklaces. Baseball fans have cheered her at Dodgers games (also San Francisco Giants games — but don't judge).
Next week, thousands of devotees will descend on downtown Los Angeles to attend the first convention celebrating all things Hello Kitty. In anticipation of an audience significantly older than the usual cartoon crowd, activities at Hello Kitty Con 2014 include the opportunity to get a permanent tattoo of the aging pop icon.
"She is not just a commercial object," said Christine Yano, an anthropologist and co-curator of the recently opened retrospective titled "Hello! Exploring the Supercute World of Hello Kitty," which is bringing record crowds to the Japanese American National Museum in Little Tokyo. "We have to think of her as a phenomenon."
Despite all the hoopla, Hello Kitty may be entering her fifth decade in a midlife malaise.
Hello Kitty for years reigned as Japan's top-grossing character, according to research firm Character Databank. She now weighs in third, behind No. 2 Mickey Mouse and No. 1 Anpanman, an anime superhero whose head is a jam-filled bun.
"I don't think this can go on forever," said Tom Looser, an associate professor of East Asian studies at New York University. "The fact there is nostalgia among fans indicates you are already seeing some of the limits, that she is dated."
Sanrio doesn't break out sales trends for its cornerstone personality, which is featured on 50,000 or so products. The only hint the company would give: Hello Kitty accounts for about half of sales at Sanrio stores, said Janet Hsu, president and chief operating officer of Sanrio's North American arm, based in Torrance.
But the Tokyo company's concern about Hello Kitty's future is reflected in recent financial presentations.
Sanrio, which is traded publicly in Japan, has assured investors that it doesn't plan to bet on just one character to maintain its business of creating and licensing cuteness.
Sanrio noted in a May earnings statement that "we have strengthened licensing for corporate promotion as well as developing characters beyond the previous product licensing range centered on Hello Kitty."
In the U.S., Sanrio employs 115 people, primarily in Torrance and South San Francisco. Worldwide, the tally rises to more than 2,000 employees; revenue hit $749 million for its fiscal year ended March 31. More than 500 Sanrio stores operate around the globe, including 48 U.S. shops run by licensed partners.
Hello Kitty and other characters sell $8 billion worth of merchandise a year for Sanrio and the companies that license the images for their products, Hsu said. That total makes Sanrio the world's sixth-largest licensing firm, according to trade magazine License Global.
In search of the next cute sensation, in-house designers have been busy churning out new characters; none has yet to approach Hello Kitty's success.
Now, the company is focusing on adding more activities to its lineup beyond licensing characters and selling products, bringing to the West some of what's already on tap in Asia. Next year, Sanrio will revamp its licensed stores in the U.S. and introduce a Hello Kitty cafe in Southern California. Sanrio recently said it is launching a brand next year called Hello Kitty Men.
"For future growth, we are bringing more experience and entertainment initiatives that will keep the brand evolving," Hsu said.
Although she's starred in TV shows over the years, Hello Kitty has remained the Greta Garbo of the cartoon world — mysterious, one-of-a-kind and silent.
Artists at Sanrio created her in 1974 in a design competition. She made her retail debut a year later on a tiny coin purse.
Some observers point to her minimalist design as the key to her longevity. Her face lacks a mouth, an expression and a personality. Many fans imagine whatever they want about her.
"Hello Kitty is almost like a perfect blank slate on which viewers can project their own emotions," said Roland Kelts, author of "Japanamerica: How Japanese Pop Culture Invaded the U.S."
"If you had a lousy day … you come home to Hello Kitty on your sofa, and she sympathizes," Kelts said. "On the other hand, if you got a raise or met someone and hit it off, Kitty feels good for you."
Her rise in the U.S. coincided with the Western embrace of sushi, anime and all things Japanese. Some scholars consider her the No. 1 representation of kawaii — a kind of cuteness and vulnerability that has seeped into many aspects of popular culture in Japan and elsewhere.
Sanrio executives said they took the long view with their star attraction. Instead of pouring money into advertising, it relies on word-of-mouth publicity and giving merchandise to big-wattage stars.
The company worked with Lady Gaga on a 2009 photo shoot in which she wore an eye-popping gown made entirely of Hello Kitty plush toys. Britney Spears and Mariah Carey have sported Hello Kitty accessories in public. Singer Avril Lavigne even named a song after her.
"If Lady Gaga wants a pair of Hello Kitty shoes, we will make sure she gets them," said David Marchi, Sanrio's senior director of brand management and marketing. "But we won't cut a check for her to wear them."
Every so often, Sanrio tries to bolster the Kitty brand by putting together events for fans like the museum exhibition and Hello Kitty Con starting Oct. 30 at the Geffen Contemporary at MOCA.
Demand has been so strong that the museum had to hire extra staff. Tickets have sold out for the four-day convention, which features workshops such as flower arranging, scrapbooking and creating Kitty-shaped musubi snacks using Spam.
Like many high-profile celebrities, Hello Kitty has passionate critics.
Some say she is anti-feminist — a girl with no opinions who physically can't talk back. Others bemoan her commercial saturation around the world. One anonymous blogger, who writes on his site KittyHell.com, chronicles the invasion of Hello Kitty on the most unlikely objects.
"There are some combinations that just should never go together," he wrote, citing the appearance of Hello Kitty on men's underwear and a chain saw.
Longtime fan Gianfranco Ocampo of Pasadena brushes off the Kitty bashers, volunteering that he collected Hello Kitty figurines as a kid. The 23-year-old art student has also nibbled on crumpets at Hello Kitty-themed tea parties thrown by a local Sanrio store.
"They had strobe lights and a real DJ wearing Hello Kitty headphones," Ocampo said inside the museum exhibition. "There was a bunch of little girls buying products, and I didn't care. It was cool."
Replicating that kind of devotion, and the exact ingredients that propelled Hello Kitty into A-list stardom is difficult, Sanrio's Marchi said.
"If I could explain it," he said, "we would have 30 huge characters."
Twitter: @ByShanLi
---
Your guide to our new economic reality.
Get our free business newsletter for insights and tips for getting by.
You may occasionally receive promotional content from the Los Angeles Times.