Herbalife chief Richard Goudis resigns over comments he made before taking the job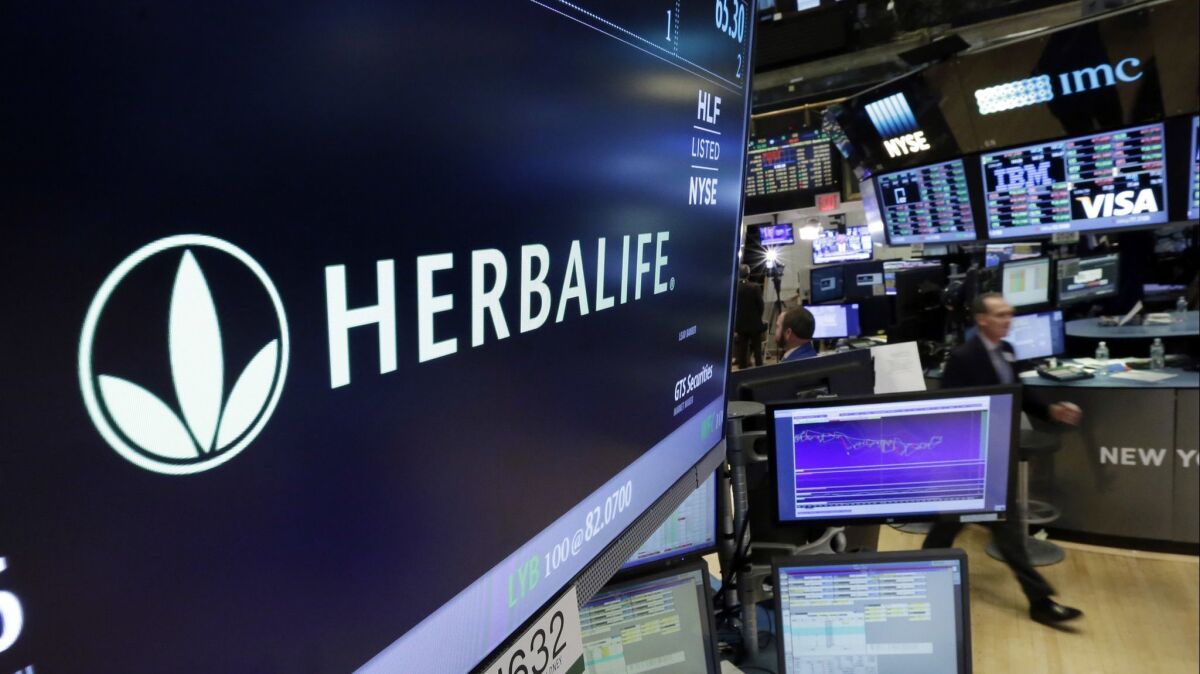 Herbalife's chief executive has resigned over unspecified comments he made before taking leadership of the Los Angeles supplement maker.
Richard Goudis, who became chief executive in June 2017 after having served as chief operating officer, will be replaced on an interim basis by the company's former chief executive, Michael O. Johnson, Herbalife said in a news release Tuesday.
Johnson, the company's executive chairman, will take over immediately, and the board expects a permanent replacement to come from the company's current leadership team, which includes two co-presidents.
The sudden leadership change comes as Herbalife, still operating under federal oversight, has tried to move past controversies over its business practices, fueled in part by allegations from activist investor Bill Ackman.
Herbalife said in the news release that Goudis' departure was "not due to any issues regarding the company's financial reporting, but pertains to comments which recently came to light" that he had made before taking over as chief executive "that are contrary to the company's expense-related policies and business practices."
Herbalife also said that the comments "were inconsistent with Herbalife Nutrition's standards and do not reflect the company's culture."
The company provided no additional information about the comments. Goudis has been an executive at Herbalife since 2004, first as chief financial officer and then from 2010 to 2017 as chief operating officer. He will not go home empty-handed.
The company will pay him $3.5 million, dependent on compliance with the payment's requirements, which include not making negative comments about the company or suing it. Goudis could not be reached for comment.
His interim replacement, Johnson, is a former Disney executive who served as CEO from 2003 to '17, guiding Herbalife through a Federal Trade Commission investigation that stemmed from allegations by Ackman in 2012 that the company was operating a pyramid scheme.
Ackman's hedge fund had bet $1 billion that Herbalife's stock would plummet, which didn't happen.
However, in 2016, Herbalife agreed to pay $200 million to settle FTC claims that the company misled people into becoming distributors for its weight-loss shakes, protein powders and other products by telling them they could get rich quickly.
Herbalife also agreed to change its business practices as part of the settlement. Separately, the company agreed to pay $3 million to settle an investigation by the Illinois attorney general's office.
Last February, Ackman gave up most of his investment position in Herbalife. Shares fell 29 cents, or half a percent, to $58.10 on Wednesday.
Herbalife remains under investigation, though, by the U.S. Securities and Exchange Commission and Justice Department for alleged corruption in China. The probe, disclosed in January 2017, is focused on entertainment and gift expenditures. The company is conducting its own internal review that has already resulted in firing employees in China, according to a filing.
Jefferies' Akshay Jagdale, who has a buy rating on the stock, said in a note that "CEO transitions are seldom smooth; however, continuity should not be an issue" at Herbalife given the interim CEO ran the company previously and "the new CEO is expected to come from company's strong/long tenured bench."
Pivotal Research Group analyst Timothy Ramey, who also rates the shares a buy, said in a note that probably one of its two co-presidents — John DeSimone or John Agwunobi — will get the job, with DeSimone the more likely of the two.
Ramey said he's confident that the board "acted reasonably," but was "shocked and saddened" to learn of the departure. Goudis, whom he called a "friend to this analyst," drove innovation and new product development at the company and was the "force behind the accelerated pace and transition of the business to a faster, more responsive, more growthy business model."
This article included reporting from Bloomberg.
---
Sign up for the California Politics newsletter to get exclusive analysis from our reporters.
You may occasionally receive promotional content from the Los Angeles Times.