How I Made It: An interest in model airplanes paved the way for Ben Diachun of Scaled Composites
Ben Diachun, 42, is president of Scaled Composites, the Burt Rutan-founded aerospace design and manufacturing firm based in Mojave, Calif. The company is known for creating unconventional aircraft such as SpaceShipOne, the privately funded space plane that won the $10-million Ansari X-Prize in 2004 by reaching space twice within two weeks.
Scaled Composites, which has 494 employees, was acquired by aerospace giant Northrop Grumman Corp. in 2007.
---
Hooked on planes
Growing up in Lexington, Ky., Diachun became fascinated by the spacecraft and aircraft he saw on television and in pictures. One standout was the Starship, a small, composite plane designed by Scaled Composites in the early 1980s that had a small wing toward the nose of the aircraft and a longer wing at the back.
After getting a ride in a family friend's twin-engine Beechcraft Baron plane at age 14, Diachun was hooked. "From a very young age, I knew I had an interest in what's possible in aerospace, what's possible with aviation," he said. "I want to be part of something bigger than myself."
He got his pilot's license on his 17th birthday and was customizing his own radio-controlled airplanes from their original kits by changing out engines and adjusting flight controls to get more performance. "There was some trial and error," he said.
Problem solving
After graduating from high school, Diachun moved on to Purdue University, eager to expand his skills and get the technical knowledge needed to actually create the planes he dreamed of. While there, he learned how to tackle problems step by step — first identifying the goal, then gathering known information, determining assumptions that can be made and figuring out other needed details.
It was a skill he would use later in his career at Scaled. "Whenever you're trying to do something that's never been done before, that can create challenges and difficulties," Diachun said.
Slight deviation
Diachun graduated from Purdue in 1999 with a bachelor's degree in mechanical engineering, but flew straight into an aerospace downturn.
He relied on some computer programming classes he had taken during college to land a job as a business analyst at Andersen Consulting, which would later change its name to Accenture. But he just couldn't shake his love for aviation, and went to Stanford University to get a master's degree in aeronautical and astronautical engineering.
"My flying experience kept me in the aviation field," Diachun said.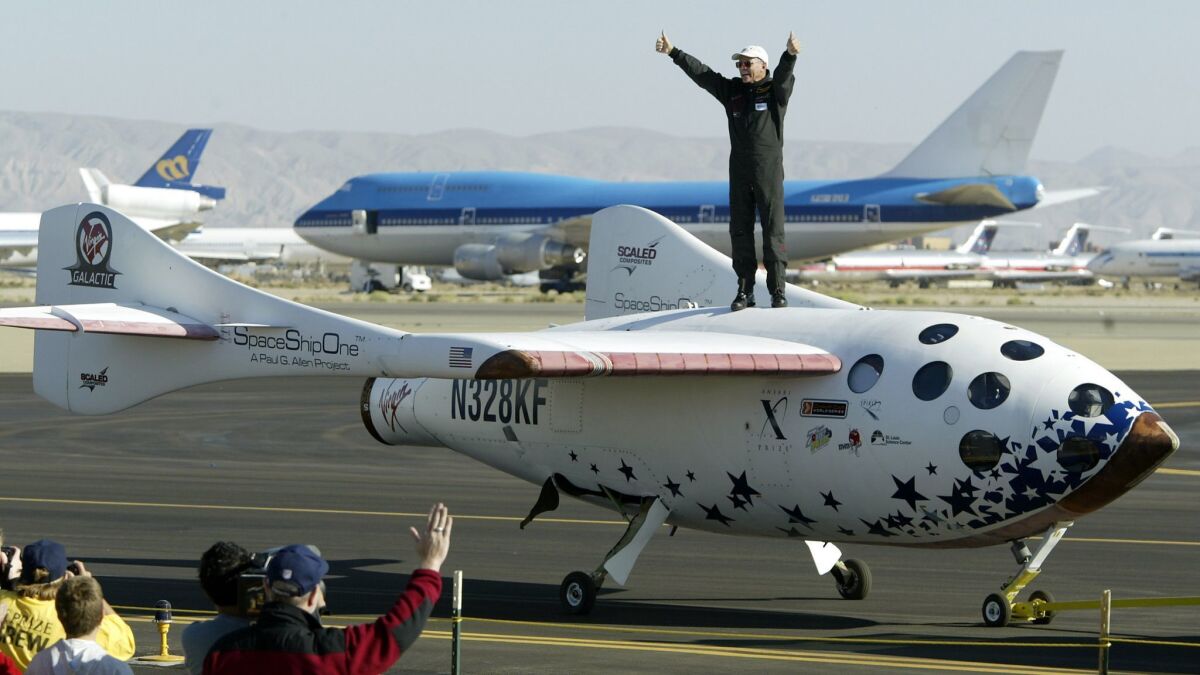 New opportunities
After graduating from Stanford in 2003, Diachun sent an email to Scaled Composites to apply for a position as a design engineer. He got the job and worked on three different projects in his first year. One of them was SpaceShipOne.
Diachun says the three major challenges of building the space plane were creating a low-cost and reliable avionics system that could work both in and out of the Earth's atmosphere, devising a safe and reusable rocket motor, and coming up with a way for the space plane to reenter the atmosphere after reaching space.
Rutan ultimately devised a concept that would allow the space plane to safely reenter the atmosphere. SpaceShipOne's wing would fold up to a 60-degree angle, changing the configuration so the plane's greater surface area would create more drag and slow it down during reentry. Diachun stood on the tarmac at the Mojave Air and Space Port, just outside his office, to watch SpaceShipOne's 2004 record-setting flights during the X-Prize competition.
"It was truly demonstrating something new," he said. "You could see it release to an air launch from the mother ship, light the rocket motor and boost into space. And that tingles down your back."
Moving up
Diachun served as a design engineer for about five years before taking on new responsibilities related to business management and cost estimates, tasks he enjoyed because he was able to preview potential future projects. Over time, close relationships with co-workers spurred a desire to focus on helping Scaled employees do their best. He worked his way up, eventually becoming president of the company in 2015.
"Every year, we do a first flight of a new aircraft type, and to be able to see that cycle all the way through the design and fabrication and the testing and flight testing … it's fantastic," Diachun said. "That's where my passion is."
Building big planes
One of Scaled's 15 current projects is building Stratolaunch, a plane with an all-new composite airframe, a 385-foot wingspan, six Boeing 747 engines and two fuselages. The aircraft takes off from a runway and launches satellite-carrying rockets from under its wing.
The Stratolaunch's sheer size presented some challenges, especially in manufacturing massive parts efficiently and at low cost. Scaled's team crafted a jig from the tools used to build the aircraft parts to assemble those parts in their final configuration, Diachun said. The aircraft is currently undergoing taxi tests, with the first flight test scheduled for August.
"We're still exploring what is possible in aerospace," he said. "We're going to keep going."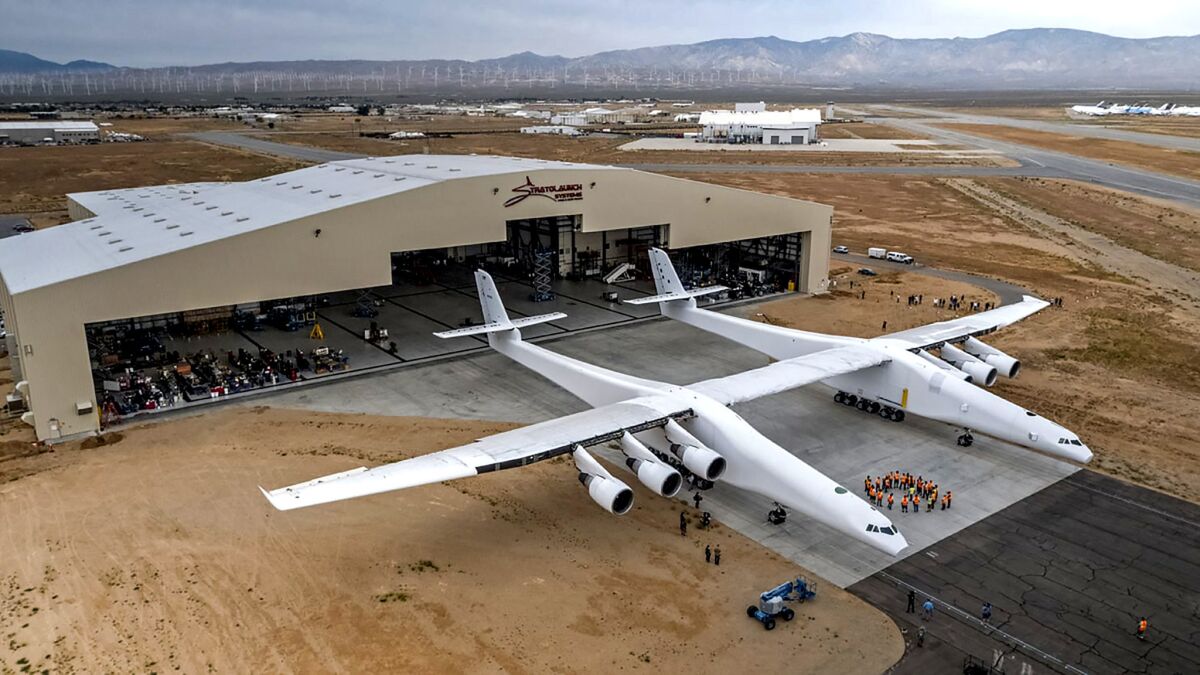 Personal life
Diachun lives in Lancaster with his wife, Elizabeth, and his two children, 8 and 10. He serves on the industrial advisory council for Purdue's School of Aeronautics and Astronautics. In his spare time, he likes to compete in triathlons and has completed about one a year for the last 10 years.
Twitter: @smasunaga
---
Sign up for the California Politics newsletter to get exclusive analysis from our reporters.
You may occasionally receive promotional content from the Los Angeles Times.