How I Made It: Steve Fifield rides the ups and downs of real estate development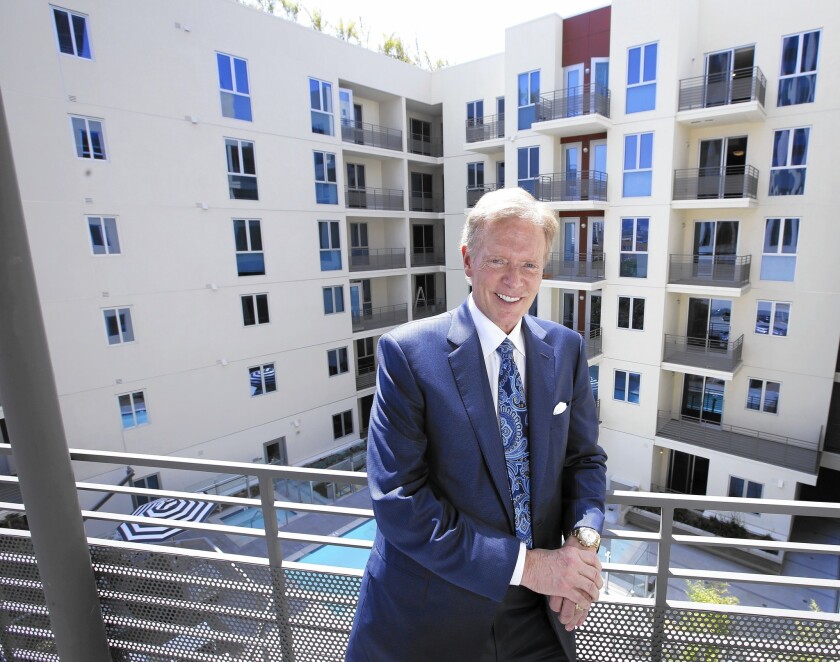 The gig: Steve Fifield, 68, is co-founder and principal of Century West Partners, a Los Angeles developer that has nearly 1,500 luxury apartment units under construction across the region. Century West is particular active in Koreatown, a neighborhood awash in new apartments, restaurants and bars. Before starting the firm in 2010, the Indiana native was well known in Chicago, where under the Fifield name he built high-rise office towers. To date, Fifield's companies have constructed more than 6 million square feet of offices and more than 7,000 residences nationwide.
Ground floor: Fifield grew up in Gary, Ind., where his father and grandfather built houses. To help out, he manned heavy equipment and dug foundations by hand. Working with his dad gave Fifield a sense of how to shepherd a development from start to finish. But he wasn't a fan of manual labor. "It really makes you serious about going to college," he said. "I wanted to do something where I could use my brain not my hands."
Tough equation: Instead of home building, Fifield wanted to make math his life's work. The first step in becoming a professor was Indiana University Bloomington, where he took graduate-level math classes while earning bachelor's degrees in mathematics and economics. Although he excelled in math previously, he struggled in higher-level courses. So instead, he went to business school — putting him on a path that would lead back to real estate.
Getting started: While getting his MBA in the early 1970s at the University of Chicago, Fifield said his math skills convinced his professor to introduce him to Philip Klutznick, a Chicago shopping center developer who would later serve as commerce secretary in the Carter administration. While still in school, he worked part time as an analyst for Klutznick and afterward got a full-time job at Klutznick's Urban Investment & Development Co. He soon went off on his own, with the goal of putting together real estate deals to make a fortune.
First profit: Fifield says a $50,000 loan from his father helped him acquire his first property: a roughly 50-unit apartment building in Chicago. He thought the investment might go sour, but then got lucky. A boom in condo conversions had begun, and some investors offered him a hefty price so they could turn the units into for-sale residences. "We sold the building and my dad made a nice profit and we went from there," he says. "That's what I have been doing in most respects ever since."
Riding high: By the late 1980s, Fifield had built a Chicago real estate empire, predominantly of high-rise office buildings as white-collar job growth exploded. It was a "heady time," he says. He recalls flying commercially to Italy to pick out granite slabs from quarries and zipping around the country on his private jet. "It was sort of a status thing," he says of the jet. Indeed, he remembers a common question among successful developers was: "What sort of jet do you have?"
Money flies: Helping drive the excess, he says, were the big banks — which in a frenzy over an office boom — were willing to lend his company all the money it needed. "We had banks coming to us saying, 'Whatever you are working on we will give you ... 100% financing," he says. "People were throwing money at us, and we kind of went crazy." And so Fifield built. But he was over-leveraged and soon it all came crashing down.
Losing it all: The early 1990s recession decimated Fifield Cos. When the market tanked, Fifield says, he owed money to 17 banks and had millions of square feet of offices that just opened or were under construction. "We were building four or five buildings at a time, and all of a sudden the demand was only for two or three." To survive, he sold office towers and vacation homes, while working out deals with his lenders. "It was horrible, because I was working to put myself out of business," noting he sold his company's management and brokerage arms to get cash. At the end it wasn't enough. "I had a net worth of negative $3 million. I owed more money than I had."
Rebuilding: After taking some time off, Fifield took a second shot at real estate investment. In 1994 — with the office market still struggling — he persuaded investors to partner with him and buy the Civic Opera Building, a half-empty office tower that also housed the Lyric Opera of Chicago. For his share, he said he borrowed $1 million from his children's trust fund. The deal worked. Fifield said he pushed the building's occupancy to 97% and in 1997 sold it at a handsome profit. In 2006, Fifield opened his first project in Los Angeles — a 23-story luxury condo tower on Wilshire Boulevard dubbed the Californian. In 2010, he co-founded Century West Partners with L.A. investor Michael Sorochinsky.
Debt lesson: Don't get over-leveraged. Today, Fifield says he is careful to put more of his money into deals — a strategy that he says helped him weather last decade's financial collapse. "We had big partners and so when the going got rough it was just we didn't make money on this deal, but we didn't go broke."
Integrity lesson: When the early 1990s downturn hit, Fifield says, he worked to finish projects under construction to minimize losses for his lenders. The strategy, he says, helped him during his comeback. "I was trying to win the battle for the banks so I could come back to them another day," he says.
Twitter: @khouriandrew
ALSO
Delta Air Lines reports revenue uptick from no-frills tickets
How regulators plan to use pay rules to rein in risk-taking by big banks
Uber drivers welcome that $100-million settlement, but here's what they're still missing
---
Your guide to our new economic reality.
Get our free business newsletter for insights and tips for getting by.
You may occasionally receive promotional content from the Los Angeles Times.