How I Made It: Jen Gotch wants Bando to be about more than cute accessories -- like mental health advocacy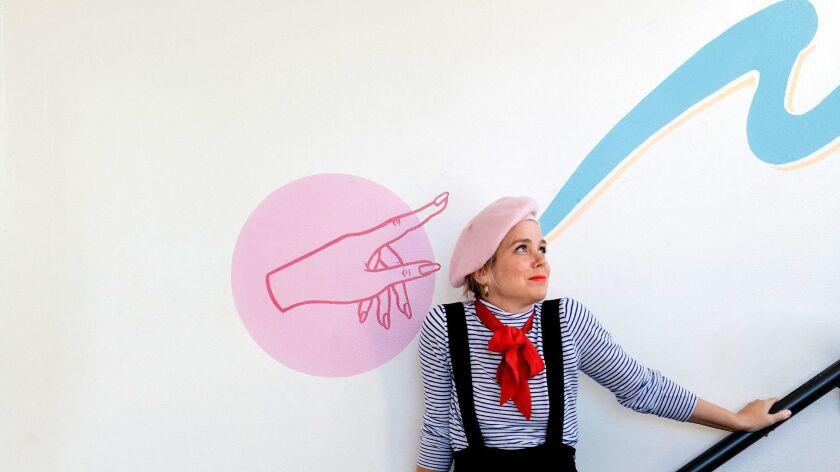 Jen Gotch, 47, is co-founder and chief creative officer for Ban.do, a 10-year-old lifestyle brand that, as Gotch describes it, "sits at the intersection of fun and happiness." The Los Angeles company, which employs about 30 people, designs clothes, accessories and gifts, among other things. Products change often and can range from $3.95 for enamel pins and luggage tags to $279 for pink roller skates by Moxi, one of the third-party brands carried on Bando.com. Ban.do's own products can be found at more than 3,000 department stores and boutiques around the world in addition to the company's website.
Advocacy
Mental health advocacy is very important to Gotch. To that end, the company launched a collection of nameplate necklaces with jeweler Iconery that proclaim not a name or an astrology sign but a mental health issue such as anxiety or depression. The necklaces, which cost $48 apiece, have been a top seller, and all of the net proceeds go to a nonprofit called Bring Change to Mind, which promotes discussion and education about mental health. "It's been really very exciting for us and personally very fulfilling for me," she said.
Finding her way
Gotch obtained degrees in English and philosophy from Florida State University, graduating in 1993, but from there she struggled to find her niche. After three years of Latin with a goal of becoming a lawyer, Gotch decided that path was not for her. "I didn't feel any camaraderie with the people in those classes," Gotch said. She wound up taking a few temporary jobs. "That let me know I did not want to be a temp," Gotch said.
Undiagnosed
Mental health issues have been an important theme in Gotch's life, one that hit home with a serious episode not long after graduation, when she was 23 and living in Atlanta. "I had my first experience with bipolar when I was 7," Gotch said. "I just didn't have a name for anything that was going on until I was 23. I had experience with depression, anxiety. It was undiagnosed."
Meaningful bottom
Many people would have considered the timing horrible. Gotch looks back on it in a far different way. "Every step along the way is a step in the right direction," Gotch said. "I think losing it enough where I had to go home and deal with it and actually get really low set me on a really great course for the rest of my life."
Getting to 'normal'
The New York native's business life had to develop alongside her search for the right mental health professional and the correct medications. "I think the idea that something for depression is a happy pill is absolutely not what it's supposed to be. The first time I got on something that worked, I just felt normal," Gotch said. "I think I probably went from age 23 to 31 before I actually got the right combination of medications."
The big clue
It was when she went to work for B-movie king Roger Corman in the late 1990s that something began to click. From set design, she went into prop styling. "More than anything else I was beginning to create a personal aesthetic," Gotch said. "It was about understanding how to execute on an idea that was in my head and turn it into something that other people could experience."
Starting small
With just $300 each, Gotch and co-founder Jamie Coulter started Ban.do in 2008. The pair, both stylists, scoured swap meets and estate sales for their original inspirations. "It was all hair accessories," Gotch said. "Some of them were like combs with flowers on them, some were headbands, some were wire halos."
Help wanted
A little more than three years into the business, Gotch said, the company had reached about $200,000 a year in sales; the fact that neither Gotch nor Coulter had training or experience in running a business was showing. "I didn't really have a lot of people around me that were in the business field," Gotch said of those early years. "And I didn't really know how to ask for help or what help we needed."
Mentors, and buyers
Six years ago, the entrepreneurs sold Ban.do to Todd and Kim Ferrier, who run Lifeguard Press, a stationery and gift company that has produced and distributed products for licensed brands and artists such as Kate Spade, Lilly Pulitzer and Jonathan Adler. "Todd especially became a huge mentor for me in business," Gotch said, "because really at that point, we had a 'business,' but it was really very small and it was more of a creative outlet than anything else."
Creative space
After the sale, Gotch was able to focus more on what interested her most. "It wasn't about not wanting to run the company, but when we sold, the support that was brought in allowed me to lean into the creative side even more, and that is certainly where I am most comfortable."
Advice
Know your customers, Gotch said. In Ban.do's case, that means generally youngish shoppers (women 18 to 34) attracted to a product mix that leans toward colorful, sparkly, snarky and nostalgic. "When you're a smaller business, you lead a lot of the decision making for your customer. As you grow, you learn about who you've attracted. You understand their likes and dislikes and what they respond to. And in order to fortify that relationship, you have to listen to them."
Media platforms
To connect with customers, Gotch spends a lot of time on podcasts and on social media, where she has more than 225,000 followers. "I act as the primary brand ambassador, using platforms like my podcast, speaking engagements, my Instagram and my upcoming book to raise awareness about mental health, about Ban.do and me personally. It's sort of an autobiographical podcast about my dealings with mental health and creative entrepreneurship." Gotch's podcast, "Jen Gotch Is OK … Sometimes," can be found on Girlboss.com. "With me it's hard to tell a business story without a little bit of mental health just because they're very intermingled."
---
Must-read stories from the L.A. Times
Get the day's top news with our Today's Headlines newsletter, sent every weekday morning.
You may occasionally receive promotional content from the Los Angeles Times.