How I Made It: Global executive picks L.A. as world center for urban mobility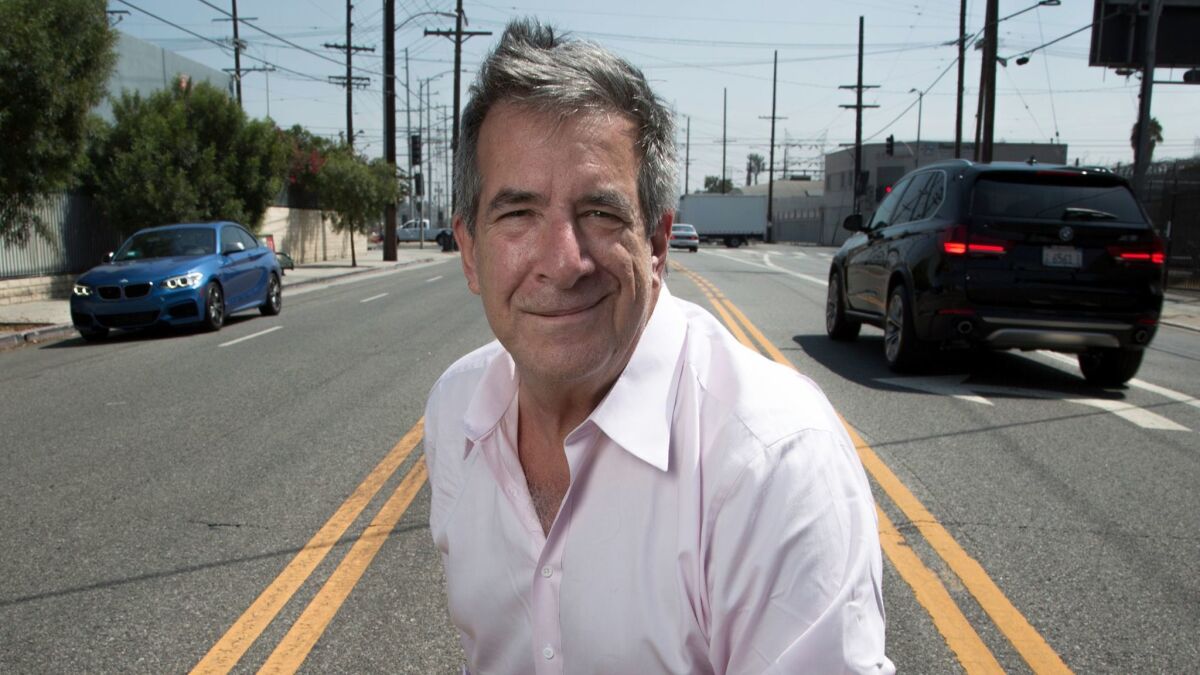 John Rossant is founder and chairman of the nonprofit NewCities foundation and creator of LA CoMotion, a big urban mobility conference and festival that's attracting an international crowd to the Arts District Nov. 15-19.
A former journalist who has organized and produced conferences around the world, including the World Economic Forum in Davos, Switzerland, Rossant, 62, intends to make LA CoMotion a world-scale annual event. He recently moved with his family from New York to Los Angeles.
---
More success stories from How I Made It »
Family influence
I grew up in Manhattan. My father was a journalist at the New York Times. We would religiously read the New York Times at the breakfast table. It was a very bookish household. My outlook on life was formed by early reading.
When I was 17, I applied to the University of Wisconsin, where my girlfriend was going. I fell in with students from completely different backgrounds than my own. I think people who grow up in New York often forget how insular New York is to the rest of the country and the rest of the world.
After my freshman year, my dad ended financial support following a big disagreement — and I probably deserved the punishment. I had to drop out for a year, lived in a cold water flat in New York. I worked as a messenger on Wall Street and cleaned mouse cages at a lab. I was on my own financially. Not fun, but it taught me how to survive on my own.
The Cairo spark
When I returned to college, I saw signs for an Arabic course. The calligraphy was beguiling and I said, why not. When I graduated, I won a U.S. State Department fellowship for intensive training in classical Arabic in Cairo. I found myself in this huge, very foreign, exotic, wonderful city. This was clearly the spark that ignited my fascination with cities and how cities are organized.
If the ultimate iconic car culture city could change, any city in the world could change.

— John Rossant on Los Angeles
My first job was in Saudi Arabia, at the English-language Arab News. It was a truly alien place for a journalist back then: an absolute monarchy, a tribal system. Nobody quite understood what a Western journalist did, and I think most people thought I was a CIA operative.
Copines Françaises
Back in New York after a year and a half in the Arabian desert, BusinessWeek called me up one day and said they were opening a Paris office. Would I be interested? I said, "ummm … yes …"
The editor asked me if I spoke French. I told him yes, of course. He said OK, you're heading to Paris next week. Let's just say my French was pretty basic so I had to learn on the fly. I had French girlfriends and I forced myself to go to lots of French movies. That worked.
Later BusinessWeek moved me to Rome to cover Italy and the Middle East. I had to learn Italian, of course, and that's where I was lucky enough to meet my wife. In 1991, I covered the first Gulf War.
After that I was back in Paris as Europe editor. I was at a working lunch in Paris with Maurice Levy, the legendary CEO of Publicis, the big French advertising and public relations firm. He invited me to his office. We had a long discussion of French history and American relations.
Levy was clearly looking for someone who could speak French, who knew about communicating with the Anglophone world. The digital onslaught was just beginning and I didn't see a bright future for print so I made the decision to leave BusinessWeek. I was made head of communications and public affairs at Publicis.
Digital tsunami
The very week I joined Publicis, Rupert Murdoch made a prescient speech in Washington where he told assembled newspaper and magazine editors: "You're all going to be out of a job. There's a digital tsunami coming."
I immediately recommended that Publicis launch a high-level conference on the future of media. I cut a deal with Prince Albert of Monaco to create the Monaco Media Forum. I developed a real passion for bringing smart people around a table to talk about issues.
For several years I was in charge of producing the famous World Economic Forum in Davos — and I started to gain a reputation as someone who could put together these kind of events.
At the same time, I was more and more fascinated and preoccupied by cities, the development of cities. A majority of the human population was moving to cities. At the same time, the digital revolution and the Internet held out the promise of radically reorganizing cities. For the better.
L.A.: Where it's at
I created a nonprofit foundation, the NewCities Foundation. Our big annual meeting has now been held in Paris, Sao Paulo, Dallas, Jakarta, Montreal and Songdo, a very successful new city near Seoul, [South] Korea.
More and more, though, I saw that the huge disruption sweeping over the mobility and transportation sector would impact cities everywhere, and I saw a need for a global gathering on urban transportation.
I read Mayor Eric Garcetti's Mobility 2035 transportation plan and was impressed. If the ultimate iconic car culture city could change, any city in the world could change. So why not anchor a global mobility conference in Los Angeles? L.A. in particular and California in general are emerging as the center of smart thinking about mobility.
Take a leap
When I look back, it's important to trust your instincts and leap into the unknown. You have to kind of just take risks with things. It's a lesson that's hard to impart to your children, because risks sometimes don't turn out so well.
Our six-week newsletter will help you make the right decision for you and your property.
You may occasionally receive promotional content from the Los Angeles Times.