How I Made It: DoorDash's Tony Xu finds uncertainty delivers growth
Tony Xu, 33, is a co-founder and chief executive of the DoorDash on-demand food-delivery start-up. DoorDash, which employs about 350 people, is based in San Francisco. From its humbling start in 2013 — the company got just one order through its app on the first day of business — DoorDash has expanded to 56 metropolitan areas and 600 cities, including Los Angeles, Atlanta, Boston, Chicago and New York. Bigger plans are in the works.
"Four, five years from now," Xu said, "we want DoorDash to be a true logistics platform. When we founded the company, the goal wasn't necessarily to start and end in restaurants. It was a starting point because 85% of restaurants don't deliver, and because people eat 20 times a week. We thought it'd be a good bet, and it has been so far."
Early pattern
Xu's family came to the U.S. from China in 1989 and settled in Champaign-Urbana, Ill. Xu's mother ran a Chinese restaurant to build up the funds to go to medical school. Xu's father waited tables at a University of Illinois on-campus restaurant to defray the costs of his aeronautical engineering studies. "They inspired me to do whatever it takes to become the best version of myself that I could be," he said.
Xu worked at his mother's restaurant between the ages of 9 and 18, learning much about how restaurants struggled to build up a customer base. "It was really whatever my mom asked," Xu said, "so washing dishes, busing tables, sometimes making websites or fixing a payment system or a printer. Nothing glamorous. It's whatever my mom asked me to do to help her execute."
Path of most resistance
After graduating from UC Berkeley with a degree in industrial engineering and operations research, Xu worked as a business analyst for McKinsey & Co., as a corporate strategy consultant for EBay and PayPal and in business development at technology firm RedLaser, each for less than two years.
"I didn't have any business training or background in it," Xu said, "but it was exactly for that reason that I found a place like McKinsey so appealing to work in. I found that it's in places where I am most uncomfortable typically where I can maximize my growth and learning."
Challenge yourself
"As an entrepreneur," Xu said, "every day, every year, there are things that will make you increasingly uncomfortable. If you're willing to bear that uncertainty, I think you'll find a lot of rewards and satisfaction from it. Typically, it's when you experience discomfort that you grow."
More success stories from How I Made It »
Typically it's when you experience discomfort that you grow.

— Tony Xu
Full circle
In 2013, Xu was working on an MBA at Stanford when he and fellow students Andy Fang, Stanley Tang and Evan Moore developed the idea for a food-delivery app, a largely untapped niche at the time. Xu liked that it would help small entrepreneurs like his mom, while employing people who needed extra income on their way to fulfilling their own dreams.
"That's really why we started DoorDash," Xu said. "It's a company that stands for maximizing people's possibility. That's true for the employees, for the Dashers who deliver on the platform. Most of the Dashers' interest goes beyond deliveries, toward college, becoming future doctors and lawyers. And when you think about the merchants, they're really people like my mom."
Patchwork solutions
"We built a site literally on a Saturday afternoon called paloaltodelivery.com. Not a very specific name, but a very available name. We put up a few PDF menus of restaurants, a Google Voice number that you could call to order delivery. This was to test if people wanted to order delivery from restaurants."
Low-cost effort
"We told some friends about it. We emailed some groups on campus. We emailed some dorm list servers, and that's kind of how we got the first few orders running through the system. We were the drivers. We took turns dispatching and took turns delivering."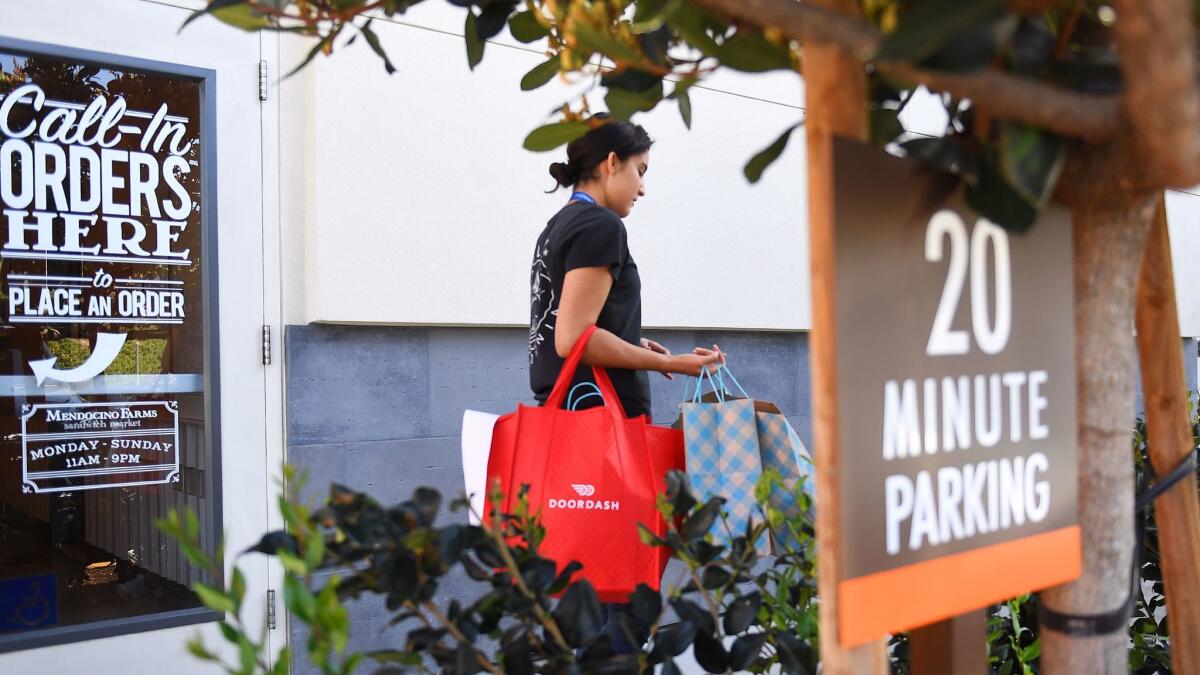 Going national
Xu said the company initially expanded around the San Francisco Bay Area and then to Los Angeles before heading to Boston. "That was a big jump," Xu said, noting it was a chance to apply the company's model to far less-friendly weather conditions and a city that wasn't oriented around cars. "That's why we chose Boston."
DoorDash corps
DoorDash delivery people apply online and undergo a background check before hitting the road, Xu said. "Dashers can pick and choose where they want to drive, how long they want to drive, what types of deliveries they want to accept. It's quite a flexible gig, and it really has become the standard, I would say, for the part-time job of the century."
Growth style
"We try to understand the things that we have learned, then we write them into software or playbooks that we execute. That's really how we rinse and repeat. Every subsequent market, we update to see if we got anything wrong. When we go into new markets, we learn new things. The faster we learn, the faster we can grow."
Personal
Xu got married to his wife, Patti, the same year his business began. "Having two marriages at once is tough," he joked. Once a marathoner, Xu no longer has time for such a demanding avocation, but he still feels the need to unplug and run a few miles as much as he can. "I like to go on runs in nature, absent of technology," he said.
Twitter: @RonWLATimes