Hudson Pacific emerges as leading studio operator with third Hollywood acquisition
Hollywood Center Studios has been acquired by Hudson Pacific Properties, which already owns two other historic Hollywood studios.
(Glenn Koenig / Los Angeles Times)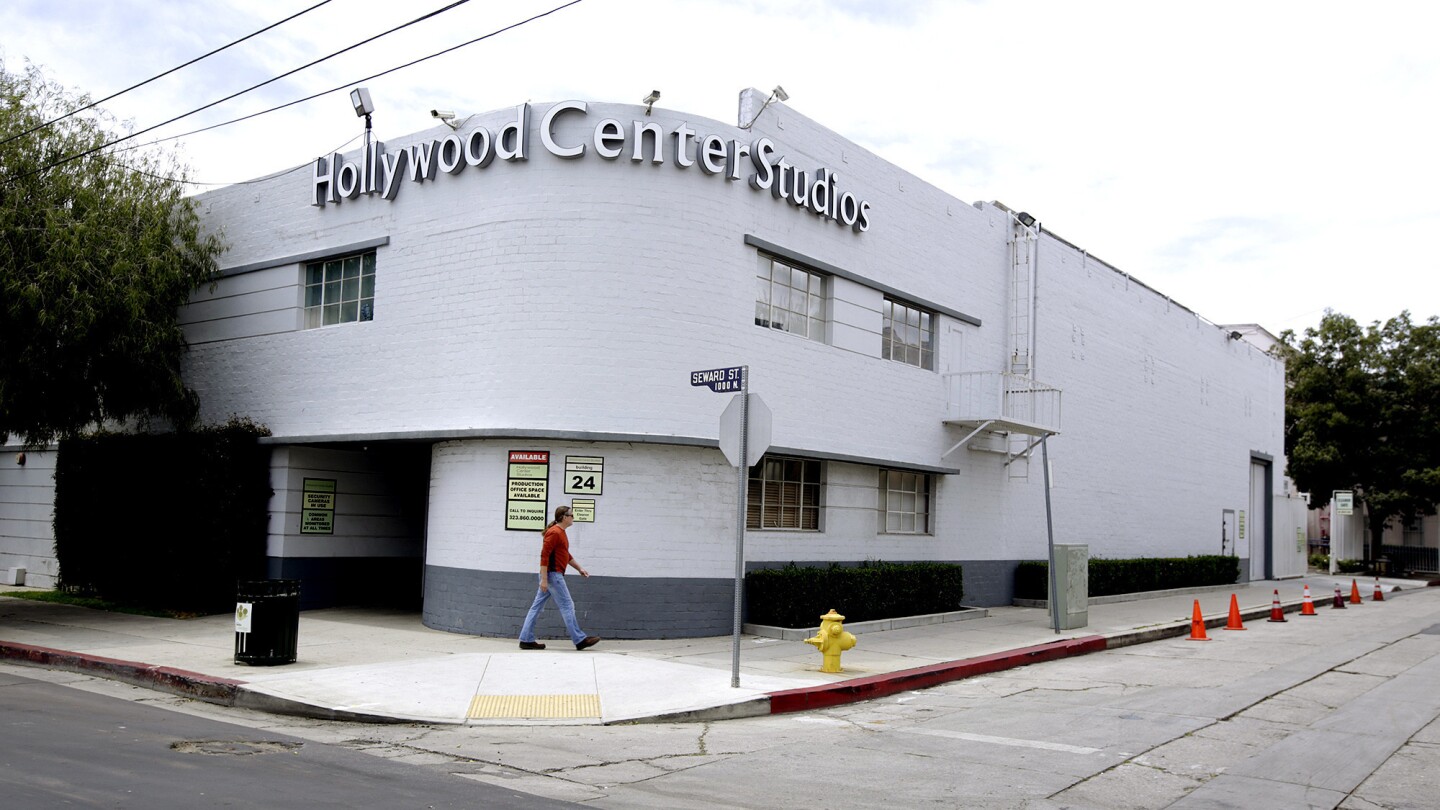 Hollywood Center Studios has been acquired by Hudson Pacific Properties, which already owns two other historic Hollywood studios.
(Glenn Koenig / Los Angeles Times)
Hollywood Center Studios plays the Warner Bros. backlot in the movie "La La Land," starring Emma Stone and Ryan Gosling.
(Dale Robinette / Lionsgate)
Tim Robbins in scene from 1992 movie "The Player." He plays the character of Griffin Mill, a high-powered Hollywood executive.
(©1992 New Line Cinema Corp. / ©1992 New Line Cinema Corp.)
Jack Carter performs at Hollywood Center Studios in Hollywood on July 20, 1989.
(Jeff Kravitz / FilmMagic, Inc)
Alvy Moore, left, Sid Melton and Pat Buttram, background, and Eddie Albert and Eva Gabor, foreground, on the set of "Green Acres" on May 2, 1989.
(Jeff Kravitz / FilmMagic, Inc)
Some of the original bungalows found on the backlot of Hollywood Center Studios and converted to office space are shown Dec. 19, 1990.
(Al Seib / Los Angeles Times)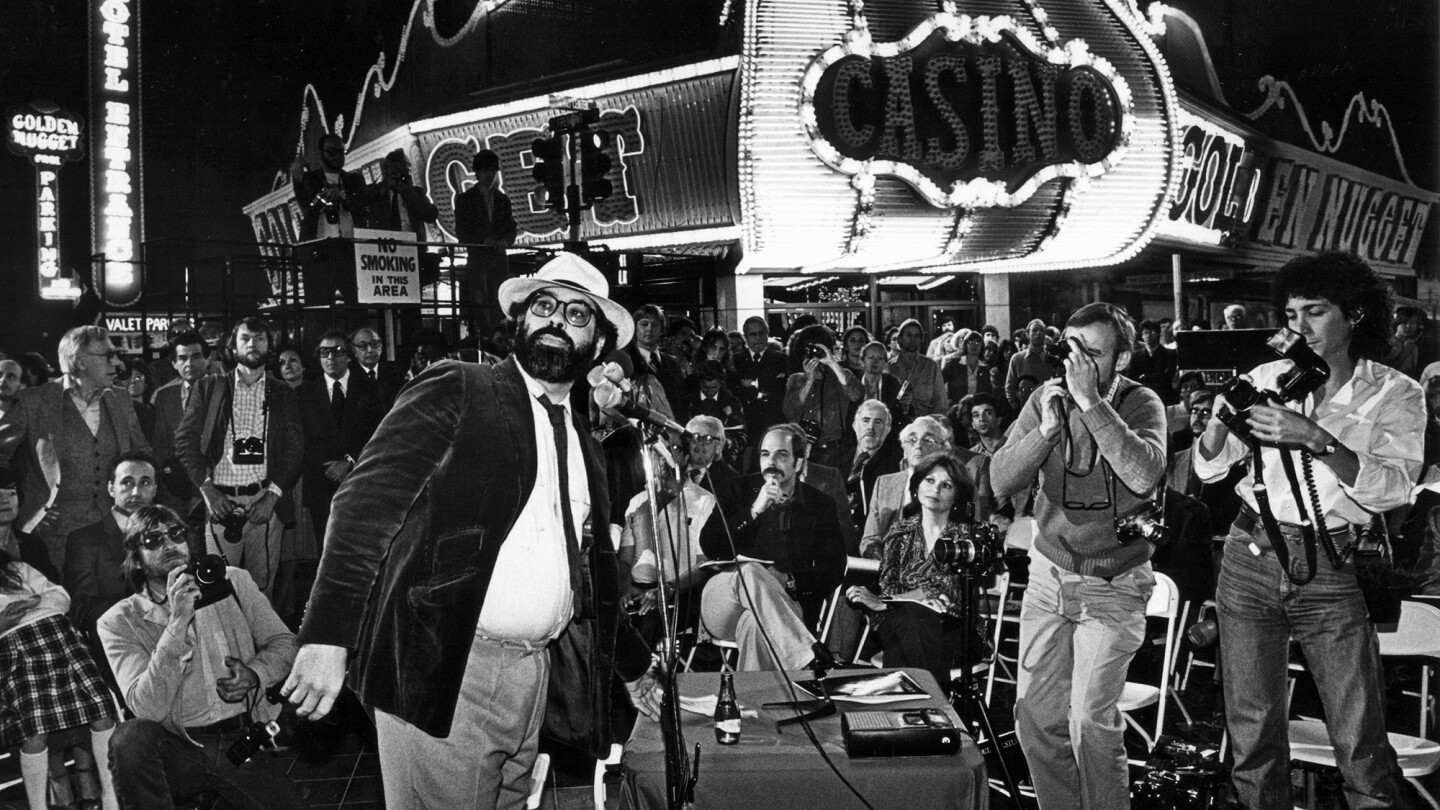 Francis Ford Coppola is shown during a Feb. 4, 1981, news conference on the set of "One From the Heart" at Hollywood Center Studios, then known as Zoetrope Studios.
(George Rose / Los Angeles Times)
Buddy Ebsen, left, as Jed Clampett and Irene Ryan as Granny appear in "The Beverly Hillbillies" in an updated photo.
(library file photo)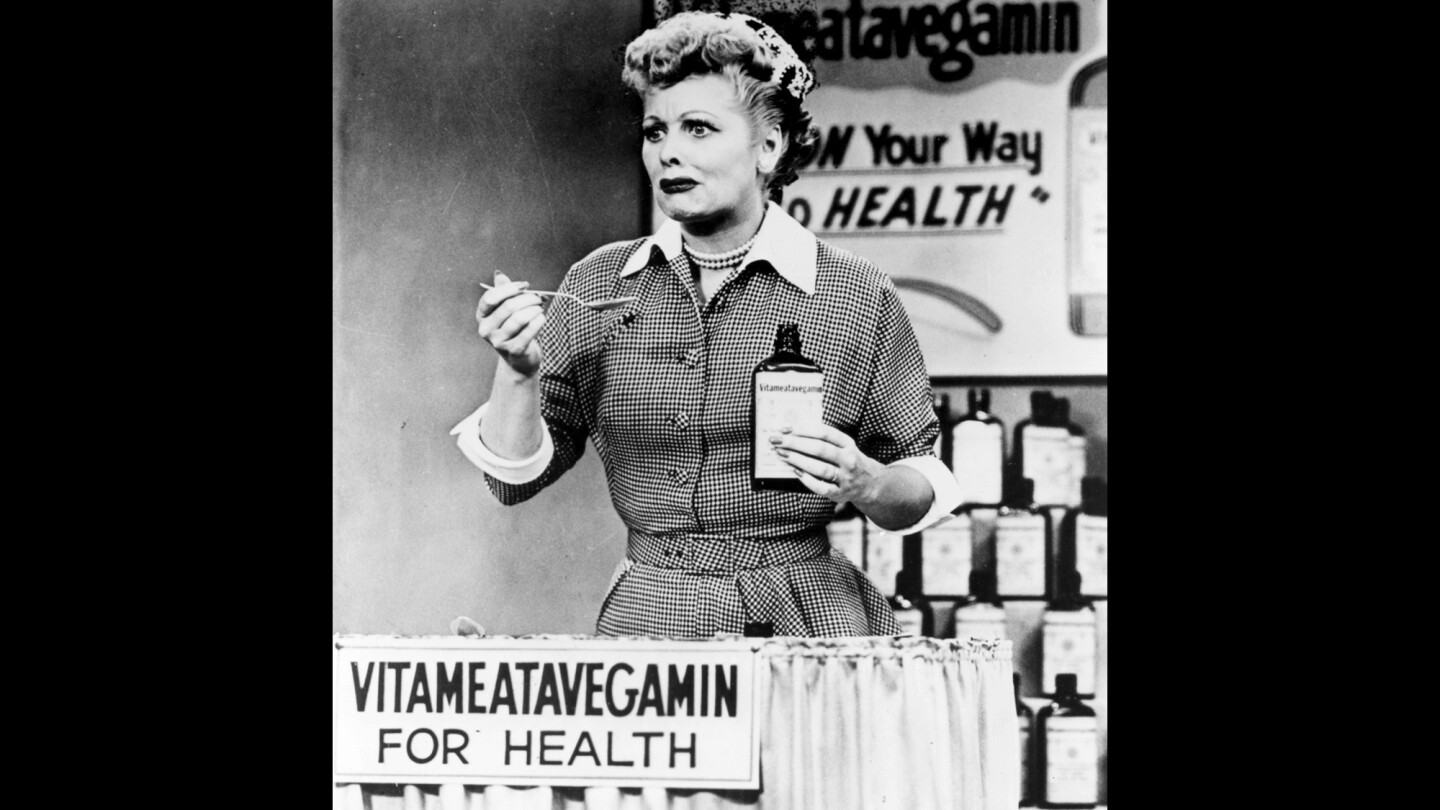 Lucille Ball stars in the classic 1952 "I Love Lucy" episode in which she tries to sell a medicine called Vitameatavegamin, which she believes contains vitamins and minerals but is actually 23% alcohol.
()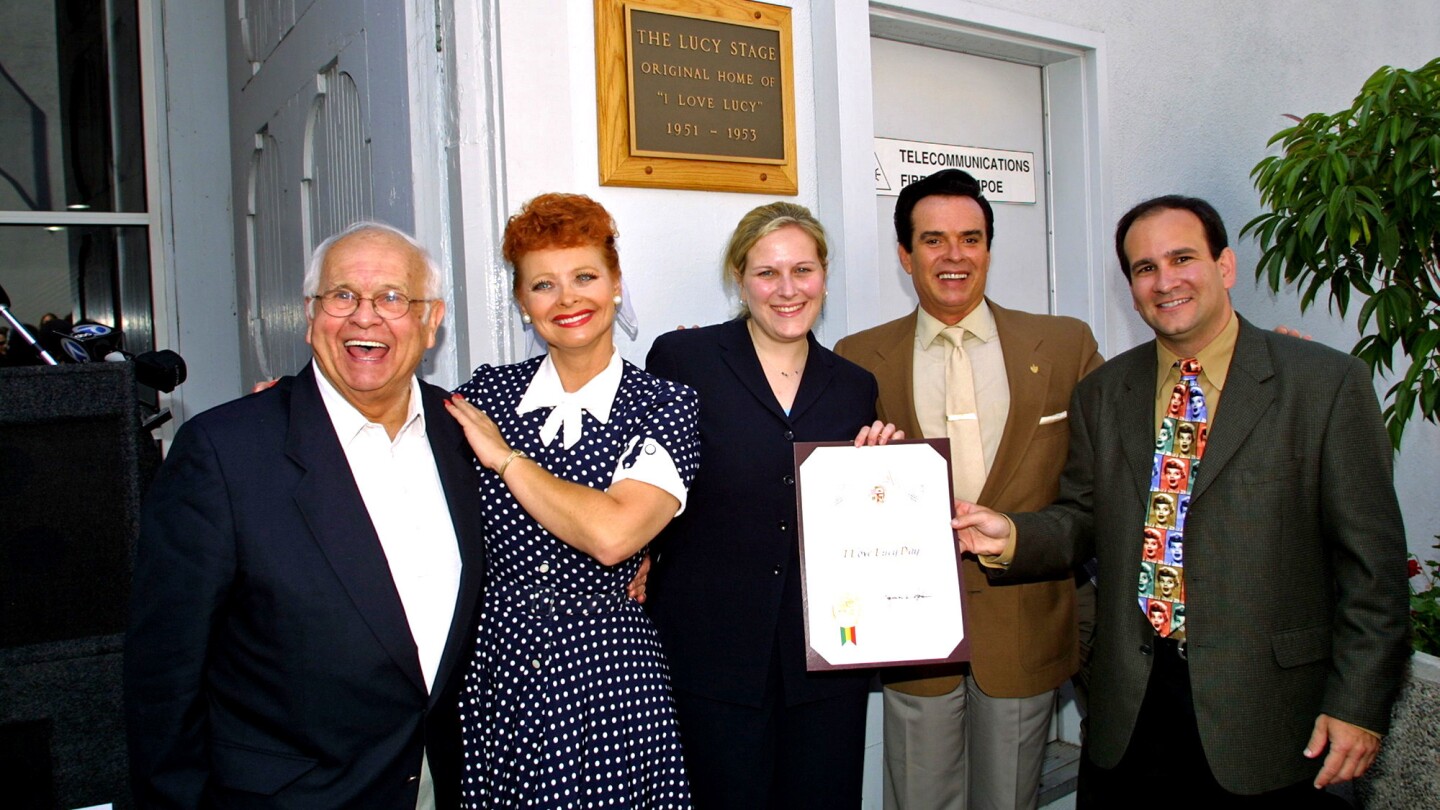 Honorary Hollywood Mayor Johnny Grant, left, Suzanne LaRusch, Jennifer Stein, Adrian Israel and Mike Stern pose for a photo Aug. 16, 2001, at Hollywood Center Studios' Stage 2, which was named the "I Love Lucy" soundstage.
(Jason Kirk / Getty Images)
Los Angeles real estate company Hudson Pacific Properties Inc. has emerged as one of the largest independent studio operators in the country with its $200-million purchase of one of Hollywood's oldest film lots.
Hollywood Center Studios, where comedy daredevil Harold Lloyd and budding tycoon Howard Hughes filmed movies, is the third studio to be acquired by Hudson Pacific, which closed the acquisition on Monday.
The company has renamed the facility Sunset Las Palmas Studios and plans a major expansion on the 15-acre lot in the heart of Hollywood, including offices, parking and infrastructure valued at more than $50 million.
The lot, which opened in 1919 as Hollywood Studios Inc., was the home of director Francis Ford Coppola's Zoetrope Studios in the early 1980s. But for most of its existence it has been an independent operation renting soundstages and other production facilities to the makers of films and television shows.
Hudson Pacific will stick with that business model at the 1040 N. Las Palmas Ave. property, Chief Executive Victor Coleman said.
"We're going to maintain the integrity of its history and maintain studio production," he said.
Hudson Pacific now owns a combined 1.2 million square feet of facilities at its three historic studios, including 35 soundstages on 41 acres. That makes it the nation's largest independent studio operator, Coleman said.
All three lots date to the silent film era. The others are the original Columbia Pictures studio now known as Sunset Gower Studios and the onetime Warner Bros. studio now called Sunset Bronson Studios.
Hudson Pacific is working on a master plan for improving Sunset Las Palmas and intends to start construction by the end of the year on a 100,000-square-foot office building and a 350-space parking garage, Coleman said.
A key infrastructure upgrade will be adding high-speed electronic-data connections to Hudson Pacific's other studios to enhance the ability of film and television producers to work on one project simultaneously at the different locations.
Independent studios have benefited from the growing cadre of television show creators including HBO, Showtime, Starz, Amazon and Netflix that don't have much in the way of production facilities.
"The only place they can do it is independent studios if they want to produce content in L.A.," Coleman said.
Independent studios also handle overflow from traditional studios such as Walt Disney Co. when their facilities are booked tight. Disney's "K.C. Undercover" and "Raven's Home" are already shooting at Sunset Las Palmas.
"There is so much demand, our other two studios are pretty much at capacity," said Bill Humphrey, who oversees Hudson Pacific's three studios. "Our current clients were requesting new stages."
Among the company's biggest clients is Netflix, which leased an entire 14-story office building that Hudson Pacific recently completed on the Sunset Bronson lot. The video-streaming giant also will occupy another five-story building under construction there, as well as multiple stages and production offices.
The sale of Hollywood Center Studios is the latest sign the neighborhood has reclaimed its cachet after some dark decades last century when many show biz-related firms departed because Hollywood was considered unsavory.
"We are definitely seeing a rebirth here," said Lisa Schechter, executive director of the business improvement district of the Hollywood Media District. "This place is not so sleepy anymore."
Among the relative newcomers are numerous post-production businesses that work nearly around the clock but keep a low profile.
"You wouldn't know they're here because they don't put up signs," Schechter said.
Sunset Las Palmas occupies a prime position in the history of Hollywood's movie studios, entertainment industry historian Marc Wanamaker said.
One of its principal founders was John Jasper, who was Charlie Chaplin's general manager and built Chaplin's studios at Sunset Boulevard and La Brea Avenue.
Jasper named his new plant Hollywood Studios Inc. and The Times described it in 1923 as a place "where independent producers can work by renting all studio space, technical equipment and properties necessary to the making of pictures … enabling the independent producer of moderate means to make pictures with facilities equal to those of larger organizations."
Among the well-known early tenants, in addition to Lloyd and Hughes, was United Artists, the company founded by Chaplin, Mary Pickford, Douglas Fairbanks and D.W. Griffith, Wanamaker said.
"It became an annex for larger studios who needed extra space," he said.
Mae West, Bing Crosby, the Marx Brothers, Cary Grant, Stan Laurel and Oliver Hardy were among the stars who made pictures there in the 1930s and 1940s.
In the decades after World War II, the studio evolved into a hotbed of television production. The first two seasons of "I Love Lucy" were filmed there in front of a live audience starting in 1951.
Other shows made there included "Burns and Allen," "Petticoat Junction," "Green Acres," "The Beverly Hillbillies," "The Lone Ranger," "Perry Mason," "Mr. Ed," "The Addams Family" and "Get Smart."
Coppola bought it in 1980 and called it Zoetrope Studios. He turned the entire lot into a giant set for his movie "One From the Heart," but soon fell on hard times. The lot ended up being sold in a 1984 bankruptcy auction to one of Coppola's creditors, the late Canadian real estate developer Jack Singer, for $12.3 million.
The Singer family's business, Studio Management Services Inc., sold the studio to Hudson Pacific. It may not be the last studio that Hudson Pacific takes over, Coleman said.
"We love what we have," he said. "We're not sure how many more there are to acquire, but we're going to keep our eyes open."
Twitter: @rogervincent
---
UPDATES:
3:25 p.m.: This article was updated with a comment from Lisa Schechter, executive director of the Hollywood Media District, Business Improvement District.
This article was originally published at 6:05 a.m.
---
Your guide to our clean energy future
Get our Boiling Point newsletter for the latest on the power sector, water wars and more — and what they mean for California.
You may occasionally receive promotional content from the Los Angeles Times.