Elon Musk defends $4.9 billion in government money for his companies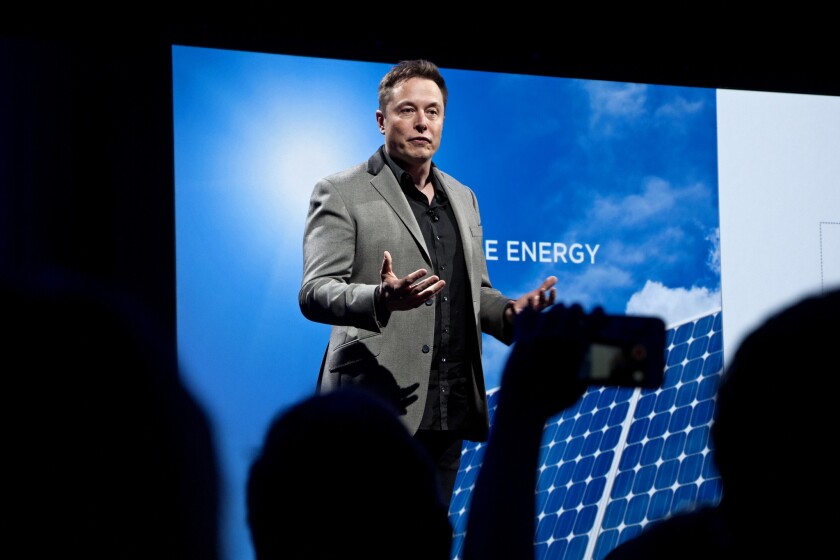 Los Angeles entrepreneur Elon Musk defended his business strategies in an interview with CNBC, noting that none of the government subsidies are necessary, but "they are helpful."
Musk's comments came in response to a Los Angeles Times story that said his companies -- Tesla Motors, SolarCity and SpaceX -- have benefited from an estimated $4.9 billion in government support.
The figure comprises a variety of government incentives, including grants, tax breaks, factory construction, discounted loans and environmental credits that Tesla can sell. It also includes tax credits and rebates to buyers of solar panels and electric cars.
In a telephone interview on CNBC's "Power Lunch," Musk said that his company is not "getting some huge check." Musk noted, as the Times reported, that the company will receive the incentives over many years as it meets certain milestones. He did not dispute the figures in the story.
He said incentives and subsidies are typically and incorrectly characterized as either needed or unnecessary.
"Both of those positions are false," Musk said. "What the incentives do is they are catalysts. They improve the rate at which a certain thing happens."
Musk and his companies declined Times requests for comment.
But Musk's companies clearly spell out the risks they face in required filings to the Securities and Exchange Commission.
In a February filing, SolarCity warned: "The expiration, elimination or reduction of ... rebates, credits and incentives would adversely impact our business."
A recent Tesla filing spoke to the struggle to sustain the business. "We have a history of losses and have to deliver significant cost reductions to achieve sustained, long-term profitability and long-term commercial success."
Musk, who is chairman of the two public companies and SpaceX, which is private, said, "If you add up all the subsidies that SolarCity and Tesla get, it is 1/1000 of what the oil and gas industry get in a single year."
A report late last year by the International Energy Agency said that the fossil fuels industry collects $550 billion a year in global government subsidies. That compares with about $120 billion for renewable energy including wind, solar and biofuels, according to the Paris-based institution.
He also said that the $1.3 billion Nevada is providing in incentives for the construction by Tesla of a giant battery factory near Reno is not one large check from the state's taxpayers.
"The $1.3 billion that Nevada may wind up awarding Tesla is actually spread out over 20 years," Musk said.
Tesla will get the benefits – mostly tax breaks -- over time as it invests in the factory.
"In order for the factory to receive that economic incentive we actually have to have an economic output from that factory of about $5 billion a year," he said.
He said the factory will create 6,500 direct jobs for the state, "and that doesn't count teachers, construction workers, electricians, plumbers and all the support jobs."
CNBC also asked Musk about why it was taking so long to get an affordable Tesla electric car into the auto market.
Conceding that Tesla's current Model S is "a relatively expensive car," Musk said he plans to come out with a high-volume, "sort of more affordable car in approximately 2017."
Musk said he would like to have the car for sale sooner, "but the nature of technology development and the need to achieve economies with scale prevent us from coming out with a compelling, low-cost electric car right now."
MORE:
Elon Musk's growing empire is fueled by $4.9 billion in government subsidies
How It Adds Up: Three companies, $4.9 billion in government support
Readers react to Elon Musk's $4.9 billion in government subsidies
---
Must-read stories from the L.A. Times
Get the day's top news with our Today's Headlines newsletter, sent every weekday morning.
You may occasionally receive promotional content from the Los Angeles Times.