Umami says its new veggie burger tastes like meat — and bleeds like meat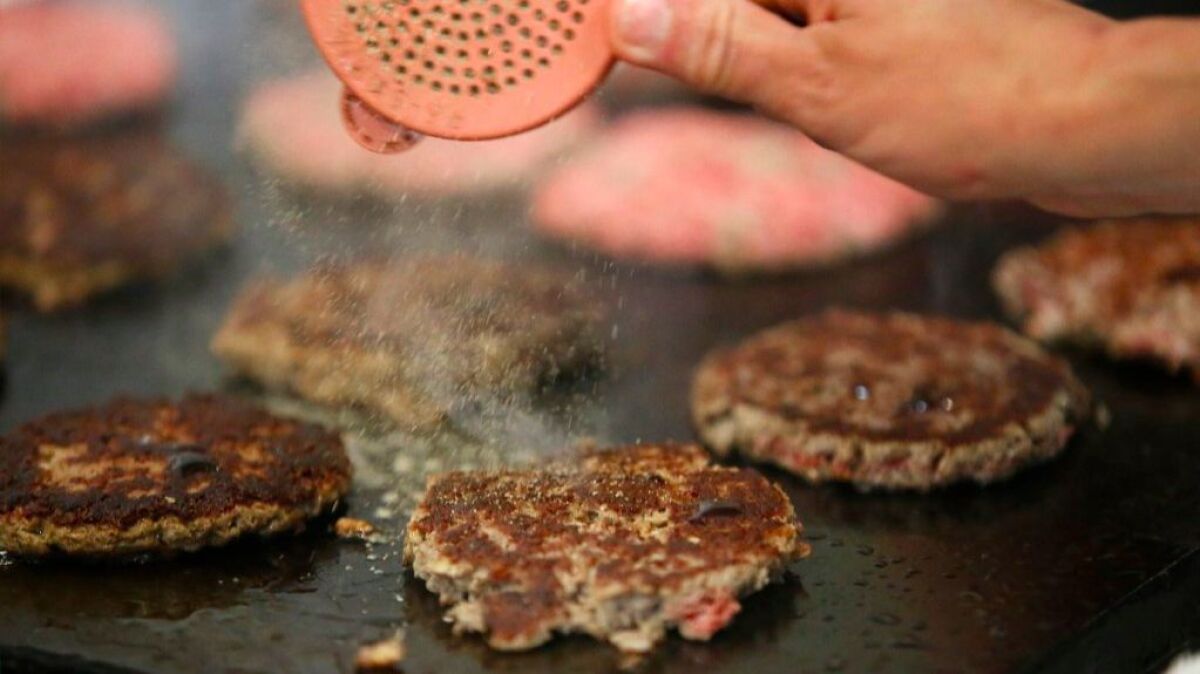 Umami Burger edged its way into Southern California's hyper-competitive burger market with an ultra-savory take on the American classic inspired by Japanese flavors such as seaweed and shiitake mushrooms.
Starting Thursday, it will undertake an even bolder move: serving fake meat so realistic it bleeds.
The cutting-edge patties are supplied by Impossible Foods, a Silicon Valley start-up that has raised $182 million in venture funding and counts Bill Gates as one of its earliest investors. The company's so-called Impossible Burger is made entirely from plants and is supposed to pack the sizzle and mouth feel of real meat, thanks to a special ingredient that makes the veggie burger seemingly bleed.
"What amazed me was how it browned and caramelized," Gregg Frazer, chief operating officer for Umami Burger, said of the first time he seared the patties on a griddle. "It performed like real beef."
The chain's take on the Impossible Burger consists of two patties and two slices of American cheese on a Portuguese bun with lettuce, tomato, pickles, caramelized onions and the chain's proprietary "umami dust" and "master sauce." The patties are vegan, but the addition of cheese means the burger isn't.
For Impossible Foods, the goal isn't to simply satisfy vegans and vegetarians with a tasty new option. Rather, the company wants meat eaters to embrace the ersatz hamburger in the hopes it can lead to a reduction in the pollution and natural resources required of raising animals for meat — and at the same time, reach a far bigger market than the 27 million Americans who say they largely shun meat in their diet.
"We don't want vegetarians to be our customers," said Pat Brown, founder and chief executive of the Redwood City, Calif.,-based Impossible Foods, which has raised $182 million in venture funding. "The only way we can move the needle is by targeting meat-eating consumers."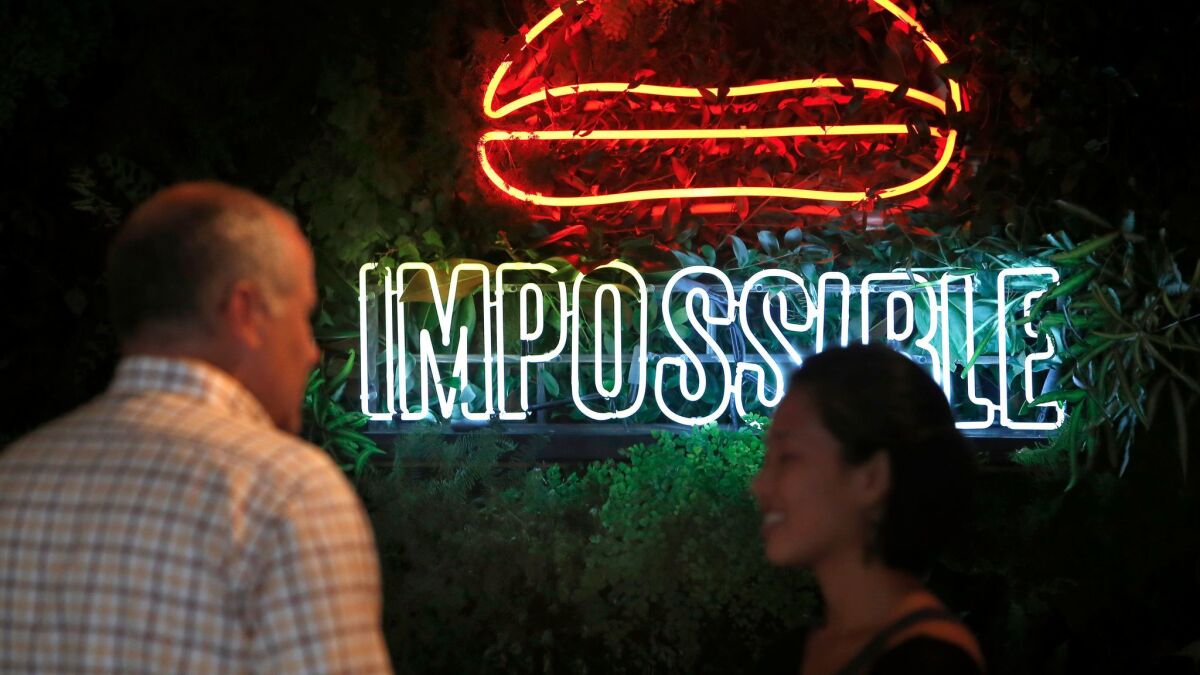 To do that, the company has had to work on shedding faux meat's reputation as an ingredient of last resort, often hidden in no-man's land in the grocery aisle next to other foods of dubious distinction like seitan.
Buttressed by other emerging brands in the mock meat category such as El Segundo's Beyond Meat (which is also backed by Bill Gates), Impossible Foods began offering its burger at a host of upscale eateries, including celebrity chef David Chang's Momofuku Nishi in New York, Jardinière in San Francisco and Andrea's at the Wynn in Las Vegas.
The addition of Umami Burger gives the brand its first big rollout of the burger in Los Angeles. Until now, the Impossible Burger was available locally only at Crossroads Kitchen, a vegan restaurant on Melrose Avenue.
By partnering with restaurants, Impossible Foods can ensure consumers are trying the burger for the first time prepared by professionals. Their job: to exorcise diners' memories of bland garden burgers.
"Our burger isn't even in the same ZIP Code of those hockey pucks of the past," said David Lee, Impossible Food's chief operating officer.
Only after winning over restaurant-goers can the company move to stock grocery stores.
"If we put it on supermarket shelves now and just crossed our fingers, meat lovers would walk right by it," said Brown, a former professor at Stanford University focused on biomedical research.
The company says the ground fake meat is versatile and has been used to make Bolognese sauce and even tartare. Chang, the New York chef, has used it as a substitute for his popular ground pork rice cakes.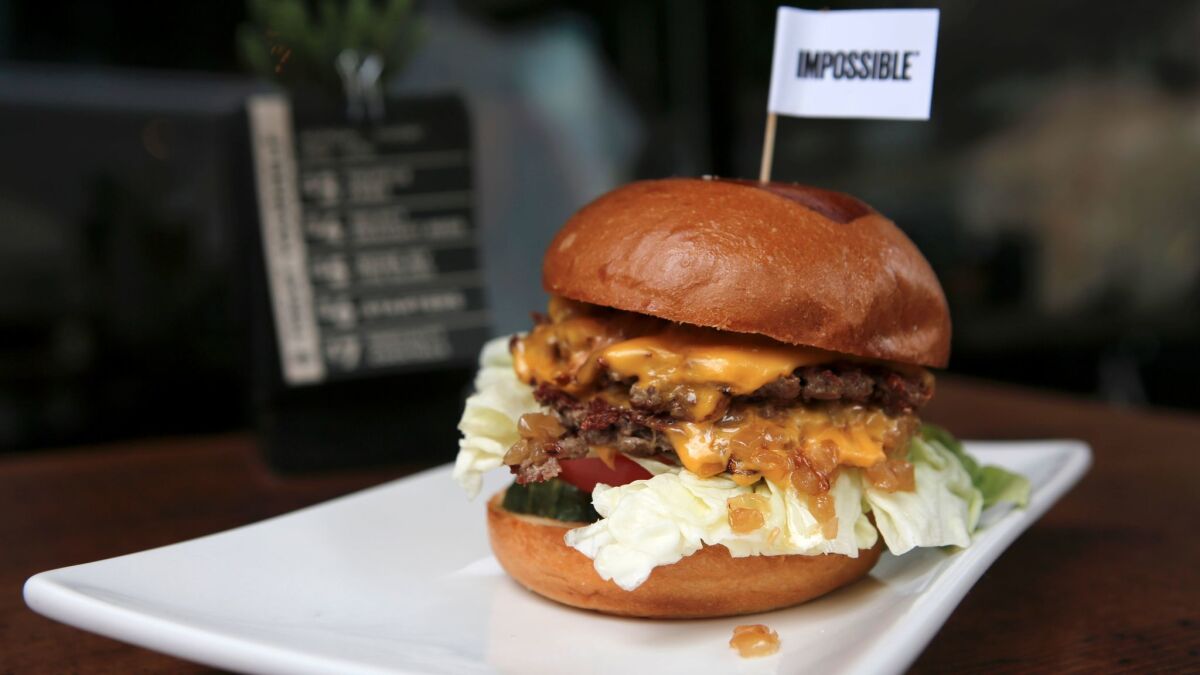 The Impossible Burger's breakthrough is that it mimics the red juices that typically ooze out of a fresh-cooked beef burger. To achieve that, Brown employed an organic compound called heme, an iron-rich molecule found abundantly in meat, but also in plants.
It's heme, Brown said, that gives meat its unmistakable taste and feel. So Brown went about producing vats of it in a lab by mixing genes in soybeans with yeast. For the final product, the heme was added to wheat and potato proteins with coconut oil. The result? A crumbly, red protein that sears on a crust and can be cooked anywhere from rare to well-done.
Quiz: Can you identify these Southern California burgers? »
The company soon will open a 75,000-square-foot processing facility in Oakland to ramp up production so that it can serve over 1,000 restaurants, if needed.
Umami Burger is offering the meatless burger for $16 starting Thursday at nine of its locations: Santa Monica, Broadway in downtown L.A., Arts District, Hollywood, Los Feliz, Costa Mesa, Anaheim, Pasadena and Thousand Oaks.
Despite the innovations, imitation meat remains a niche business. In 2016, Americans ate meat substitutes an average of three times, down from five times in 2013, according to research firm NDP Group. By comparison, Americans eat real meat an average of 73 times annually.
Servings of burgers, the most popular menu item in America, have declined in recent months — underscoring a broader problem the restaurant industry is facing attracting more customers amid rising health and labor costs, said Bonnie Riggs, an analyst for NDP.
Riggs said Impossible Foods will have to drive down the cost of its burger if the company hopes to make it mainstream. Do that, she said, and the Impossible Burger stands a better chance in a highly competitive industry.
"If it tastes like a burger and is juicy and better for you, why not?" Riggs said.
Follow me @dhpierson on Twitter
---
UPDATES:
1:405 p.m.: This article has been updated with new details, including how and where the burger will be served in L.A.
This article was originally published at 11 a.m.
Our six-week newsletter will help you make the right decision for you and your property.
You may occasionally receive promotional content from the Los Angeles Times.