Its design has been scorned, but L.A. Live has been crucial to downtown's resurgence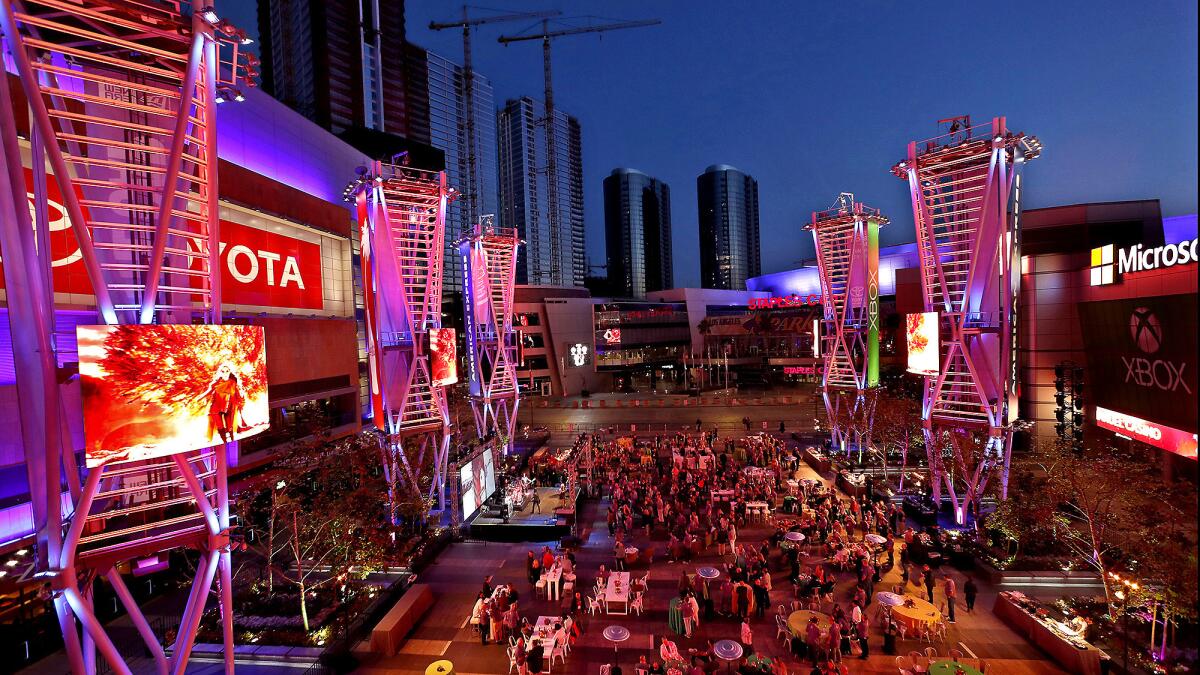 When the NBA All-Star Weekend returned to Los Angeles in February for the third time since 2004, it was no lucky fluke for the city.
It's a running joke in the basketball league, Commissioner Adam Silver said, that if team owners can't have the annual showcase in their own cities, they want to have it at Staples Center and the adjacent L.A. Live complex in downtown L.A.
"The team owners love it," Silver said, citing the $3-billion complex of hotels, restaurants, meeting rooms and other facilities. "It's turnkey to bring the All-Stars to L.A."
The trio of NBA All-Star games highlights how big events such as awards shows, concerts and movie premieres seem almost routine as L.A. Live marks its 10th anniversary. But the creation of one of the region's largest economic engines, which was built by Denver billionaire Philip Anschutz's AEG, was years in the making — and there was nothing certain about its success.
For decades, planners lamented the state of the beaten-down blocks near the Los Angeles Convention Center. The neighborhood south of the downtown Financial District had once been filled with stately Victorian homes. But by the latter half of the 20th century, it was an unwelcoming expanse of parking lots interspersed with small, run-down apartment buildings and shabby storefronts.
Officials declared it part of a downtown redevelopment zone in 1975, yet little change was visible until the construction of Staples Center and L.A. Live beginning in the late 1990s.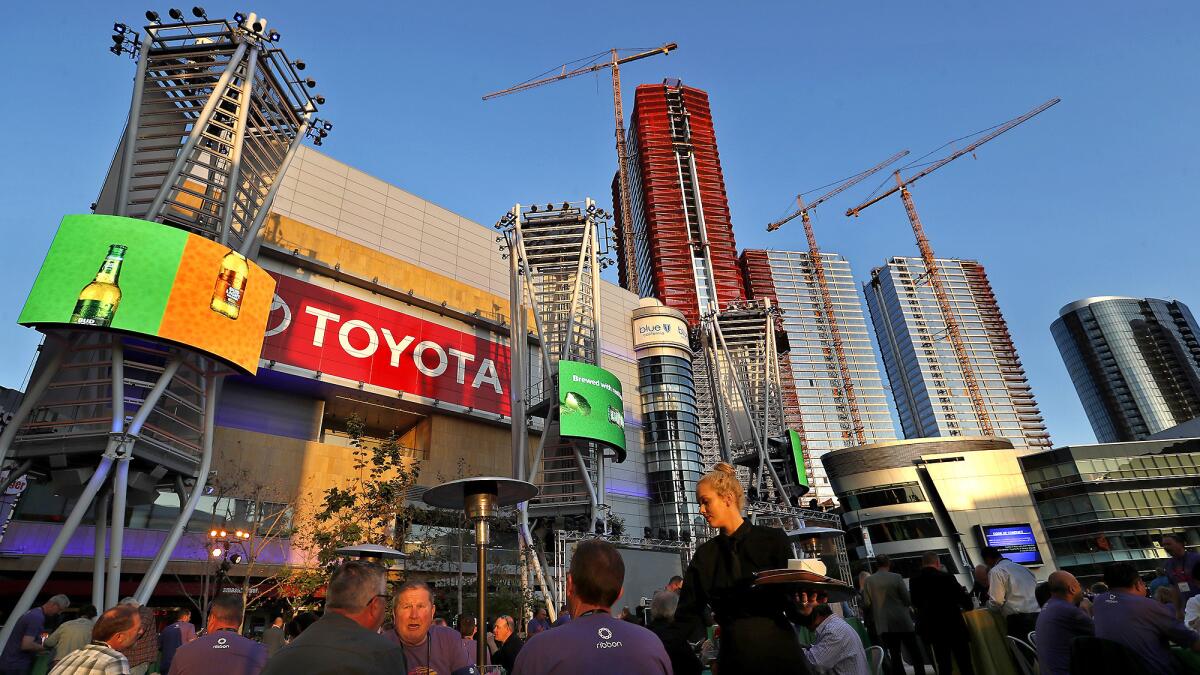 Since then billions of dollars' worth of residential towers, hotels, shops and restaurants have been completed or are under construction. Many more projects are in planning stages, and the neighborhood called South Park is now one of the city's most vibrant.
"What Staples and L.A. Live have done for downtown Los Angeles is epic," said Steve Soboroff, who had a hand in their birth and is now president of the city Police Commission.
Soboroff was an economic advisor to Mayor Richard Riordan in the late 1990s when he spotted a potential spot for an arena north of the Los Angeles Convention Center on Figueroa Street and Pico Boulevard.
He teamed with Charlie Isgar, another city advisor who was already working on plans for a new arena, and pushed the proposed site to skeptical city officials. A new arena would lift the perennially underperforming convention center, they argued.
The proposal intrigued Anschutz and Ed Roski Jr., who wanted a new home for their Los Angeles Kings hockey team. By Soboroff's reckoning at the time, they could probably make only a small profit on the $400-million arena but stood to do much better financially by developing the land around it.
"You're going to have a billion dollars of investment in the area around the project," Soboroff predicted when Staples Center was completed in 1999.
It was home not just to the Kings, but to the Lakers and Clippers basketball teams. Still, to many visitors, the experience was not much different from attending an event at the Forum in Inglewood. Most fans drove in, parked on surface lots, then drove away when the game or show was over.
It felt as remote from city life as its neighbor the convention center, which had been declared "a monument to the automobile" by The Times' architecture critic when it opened alongside the Harbor Freeway in 1971.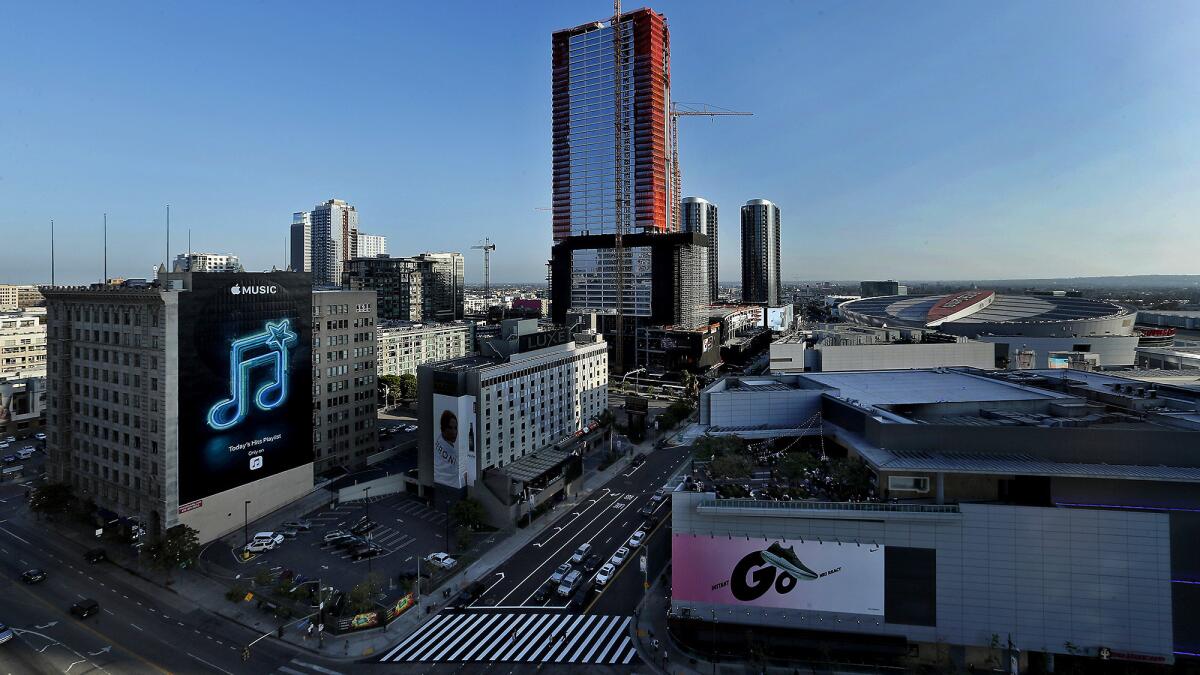 When civic leaders traveled to New York to pitch investors on the merits of downtown L.A. in 2002, real estate mogul Donald Trump weighed in.
"The downtown area has heretofore been sort of a depressing place," said Trump, who had recently bought Ocean Trails Golf Club in Rancho Palos Verdes. "It needs people. It needs life."
In 2005, Anschutz Entertainment Group broke ground on L.A. Live on 2.7 acres the city had acquired for the project. City officials agreed to help subsidize a large hotel in the L.A. Live project by letting AEG keep as much as $270 million in bed taxes to be generated by the project over nearly three decades.
By the time it was finished in 2008, L.A. Live had a 7,100-seat live theater, 2,300-person-capacity concert venue, a 54-story hotel and condominium complex, and a 14-screen movie house, bowling alley and a nightclub.
There were multiple restaurants, including two operated by celebrity chef Wolfgang Puck. Sports broadcaster ESPN set up its West Coast studio there. The Recording Academy opened its Grammy Museum.
Multilevel marketing company Herbalife moved its headquarters to L.A. Live, looking down on the public plaza interspersed with giant LED screens.
Some critics were unimpressed with the design and its glass, metal and limestone facade. The Times' architecture critic Christopher Hawthorne said the buildings have a "sleek placelessness," with "almost nothing to say to or about downtown Los Angeles."
"When you get right down to it," he added, "their architecture is fundamentally not really architecture at all but an extensive series of armatures on which the developer and its tenants can hang logos, video screens and a sophisticated range of lighting effects."
But that wasn't the intention of the architects.
With its courtyard and walkways, L.A. Live was meant to create a European-style public space that people could enjoy on foot, which was also visually compelling as seen from nearby freeways, said architect Nate Cherry of L.A. Live design firm CallisonRTKL.
With multiple points of access, L.A. Live also was intended to break up the neighborhood's long, deep blocks. They were made that way more than a century ago to support elegant homes with big yards, but the layout made it harder to get around on foot in a modern urban center.
With L.A. Live, "We tried to reknit downtown," Cherry said.
The place is indisputably busy. AEG calculates that about 20.4 million people a year visit L.A. Live and Staples Center, surpassing the estimated attendance of 18.3 million for Disneyland last year.
Sports and music are the biggest drivers of visitors. Besides the Lakers, Clippers and Sparks pro basketball teams, and the Kings hockey franchise, Staples was home to the Avengers Arena football team for eight seasons and various wrestling, boxing and mixed martial arts competitions.
The more than 8,000 concerts and other events at Staples and L.A. Live's 7,100-seat Microsoft Theater in the last decade include performances by Beyonce, Lady Gaga, Taylor Swift and Guns N' Roses, and about 10 significant award shows a year such as the Grammys, Emmys and American Music Awards.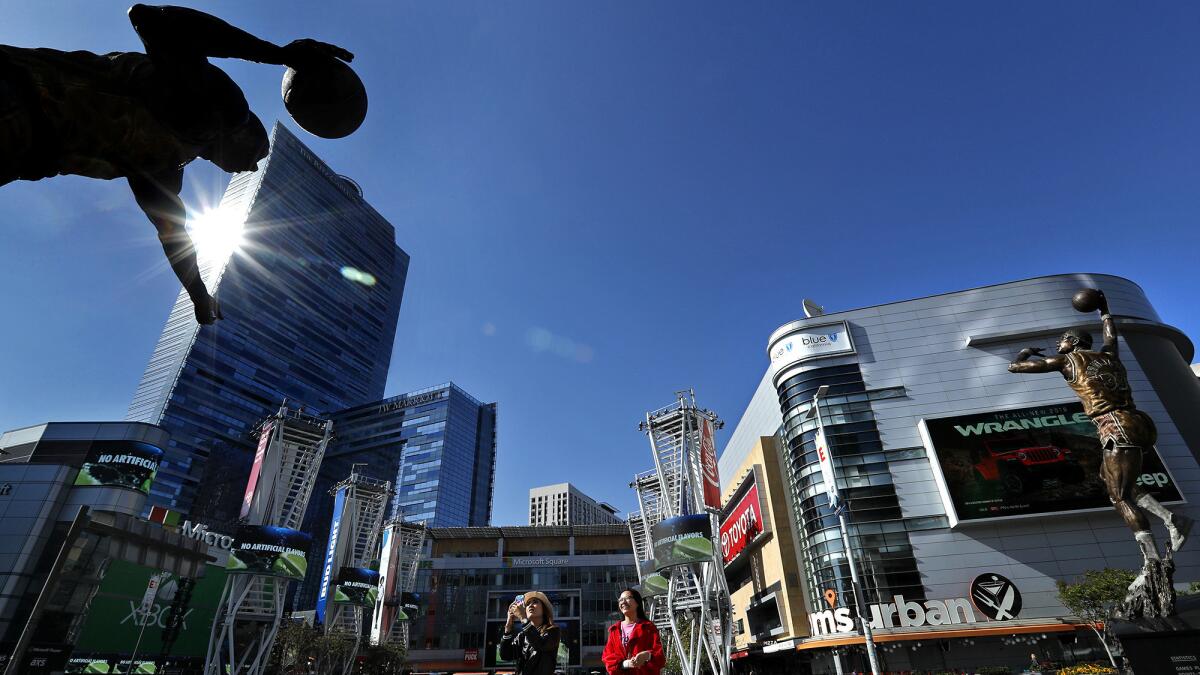 Setting up and breaking down the stages, floors and sets at the various venues keeps workers in near-constant motion, said Lee Zeidman, president of L.A. Live and Staples Center.
"We are a campus that doesn't sleep," he said. "And there are no weekends or holidays in our business."
Real estate investment in and around South Park has been intense over the last decade.
"This whole area was blighted until AEG made the commitment to L.A. Live," said Brad Hall, one of the owners of Hotel Figueroa, a 1920s-vintage inn that used to cater to tour groups in search of inexpensive lodging. The owners recently completed a $75-million makeover that transformed the 12-story tower into a posh boutique hotel where rooms are priced at $339 a night.
South Park is now enough of an entertainment destination to be "probably the most vibrant submarket in all of Los Angeles metro," Hall said.
Two $1-billion projects are in development nearby: the Metropolis condominium and hotel complex northwest of L.A. Live and Oceanwide Plaza across Figueroa Street to the east of it. Oceanwide Plaza is expected to open next year and will feature luxury condos and a Park Hyatt hotel over shops and restaurants. Developer Oceanwide Holdings Co. of Beijing hired the same architects who did L.A. Live to give the project a complementary style.
L.A. Live was "a major catalytic development for downtown Los Angeles," said Thomas Feng, chief executive of Oceanwide's American subsidiary.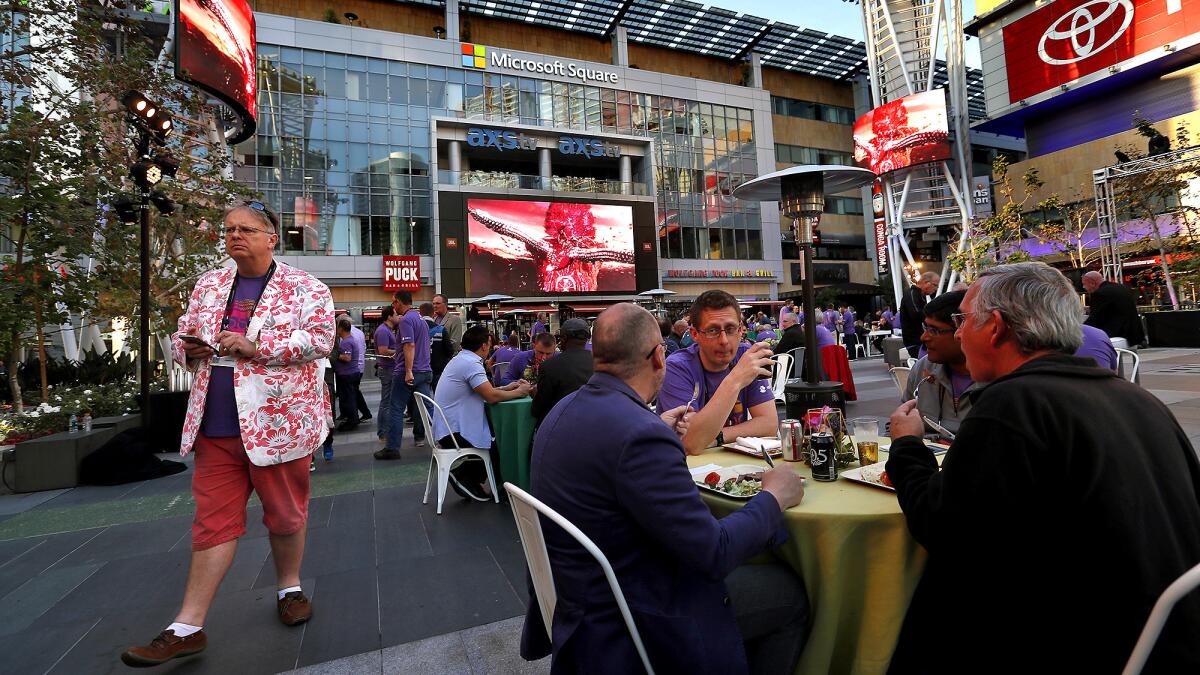 Staples Center and L.A. Live were also central to the city's successful bid to host the Olympics 10 years from now.
In 2028, the JW Marriott-Ritz Carlton hotel complex will serve as headquarters for the International Olympic Committee. Multiple events will be held nearby, including weightlifting in the Microsoft Theater, basketball at Staples Center and boxing at the Convention Center.
The chairman of the Los Angeles Olympics bid, Casey Wasserman, said the complex and other local facilities such as housing at UCLA were central to the city's pitch to the IOC.
"Most Olympic cities talk about what they are going to build," Wasserman said. "These are things that exist."
The complex will continue to expand if AEG gets its way. Last month AEG proposed a $1.2-billion public-private partnership that would add as much as 350,000 square feet to the convention center, which AEG operates for the city, and a $700-million, 850-room addition to the JW Marriott Los Angeles L.A. Live hotel with meeting space and a ballroom.
In the meantime, AEG is also setting its sights on updating its busy arena.
"As Staples turns 20 next year," Zeidman said, "we are figuring out what the new version will be."
Twitter: @rogervincent