Dow inches up as media and bank stocks rise, canceling out tech's slip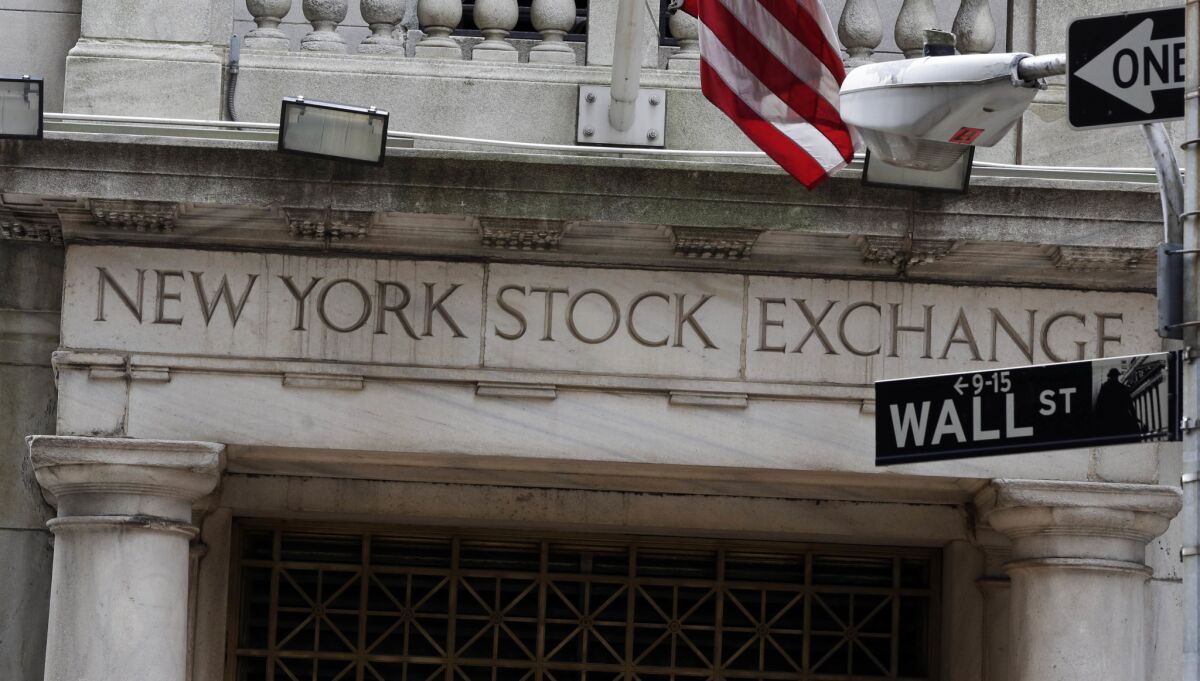 U.S. stocks finished mostly higher Monday as banks, media and energy companies climbed just enough to cancel out losses for technology companies including Facebook and Amazon.
Cable provider Charter Communications surged on reports of a possible deal with a Japanese technology company. Meanwhile, cable networks Scripps Networks and Discovery Communications agreed to combine in a deal worth almost $12 billion.
Technology companies missed out. Facebook returned some of its gains from last week, when it posted strong second-quarter results, and reports of higher expenses continued to affect Amazon's shares. Banks rose, with HSBC climbing after it disclosed its own earnings.
About half the companies in the Standard & Poor's 500 have reported their second-quarter results, and this week, Apple and others will join the fray. Steve Wood, chief market strategist for Russell Investments, said he expects strong earnings for U.S. companies, but he thinks stock markets in other regions will do better.
"The earnings cycle and the economic cycle are earlier stage and the central bank of Europe is going to be providing liquidity over the next year," he said. "It's been an 8½-year bull market in the U.S. and eight-plus-year economic expansion."
The Standard & Poor's 500 index fell 1.80 points, or 0.1%, to 2,470.30. The Dow Jones industrial average continued to build on its record highs, rising 60.81 points, or 0.3%, to 21,891.12. The Nasdaq composite fell 26.55 points, or 0.4%, to 6,348.12. The Russell 2000 index of smaller-company stocks declined 4.12 points, or 0.3%, to 1,425.14. A majority of the stocks on the New York Stock Exchange rose.
Charter Communications climbed after reports that Japanese conglomerate SoftBank is considering buying it. Reports Sunday said SoftBank wanted to combine Charter with Sprint, but after Charter rejected that idea, SoftBank may buy Charter outright. Shares of the cable provider jumped 5.8% to $391.91; investors value Charter at about $101 billion.
Read more: Charter shoots down the idea of acquiring Sprint »
Discovery Communications, which owns TLC and the Discovery Channel, announced it will buy Scripps Networks Interactive for $90 a share. Scripps, which owns HGTV and the Travel Channel, rose 0.6% to $87.41. It's up 30% in the last two weeks on reports that the companies would combine. Discovery sank 8.2% to $24.60, the biggest decliner in the S&P 500 index.
Read more: Discovery to acquire Scripps Networks »
Meanwhile, Comcast rose 2.4% to $40.45.
HSBC rose 2.4% to $50.09 after it said that higher interest rates helped it make more money from its lending business, and that it plans to buy back an additional $2 billion in stock. Capital One Financial ticked up 1.4% to $86.18.
Among technology companies, Facebook fell 1.9% to $169.25. The social media network leaped 8.6% last week. Alphabet, Google's parent company, slipped 1.3% to $945.50, and chip maker Micron Technology declined 4% to $28.10.
E-commerce giant Amazon slumped 3.2% to $98.78.
Dynavax Technologies soared 71.4% to $15.85 after a panel advising the Food and Drug Administration said study data show that the Berkeley company's Heplisav-B vaccine is safe for adults. Heplisav-B is intended to prevent hepatitis B infections. It would be Dynavax's first approved drug.
Boeing ticked up 0.5% to $242.46, continuing its rapid ascent after reports that it will make electronics used in flight control. Boeing has given the Dow a 205-point boost over the last four days. Aviation electronics company Rockwell Collins slid 6.3% to $106.53 as investors worried about the effect of Boeing's plans.
Health insurer Centene slumped 4% to $79.42 as President Trump considered ending federal cost-sharing payments, which help low-income customers buy insurance through marketplaces created by the 2010 Affordable Care Act, also known as Obamacare. Centene is one of the largest insurers on those marketplaces.
The price of oil rose again after its best week of the year. Benchmark U.S. crude rose 46 cents to $50.17 a barrel. Brent crude, the international standard, ticked up 13 cents to $52.65 a barrel in London. U.S. crude rose almost 9% last week to reach its highest price since late May.
Wholesale gasoline rose 3 cents to $1.71 a gallon. Heating oil rose 1 cent to $1.65 a gallon. Natural gas dived 15 cents, or 5%, to $2.79 per 1,000 cubic feet.
Bond prices were little changed. The yield on the 10-year Treasury note stayed at 2.29%.
Gold fell $1.90 to $1,273.40 an ounce. Silver rose 9 cents to $16.79 an ounce. Copper rose 2 cents to $2.89 a pound.
The dollar slipped to 110.24 yen from 110.60 yen. The euro rose to $1.1831 from $1.1760.
Germany's DAX lost 0.4%. The CAC 40 of France sank 0.7%. The FTSE 100 in Britain made a tiny gain. The Japanese Nikkei 225 index slipped 0.2%, the Kospi in South Korea finished little changed and Hong Kong's Hang Seng index jumped 1.3%.
---
UPDATES:
3 p.m.: This article was updated with closing prices, context and analyst comment.
This article was originally published at 7 a.m.
Sign up for the California Politics newsletter to get exclusive analysis from our reporters.
You may occasionally receive promotional content from the Los Angeles Times.