Stocks fall as U.S.-China trade war intensifies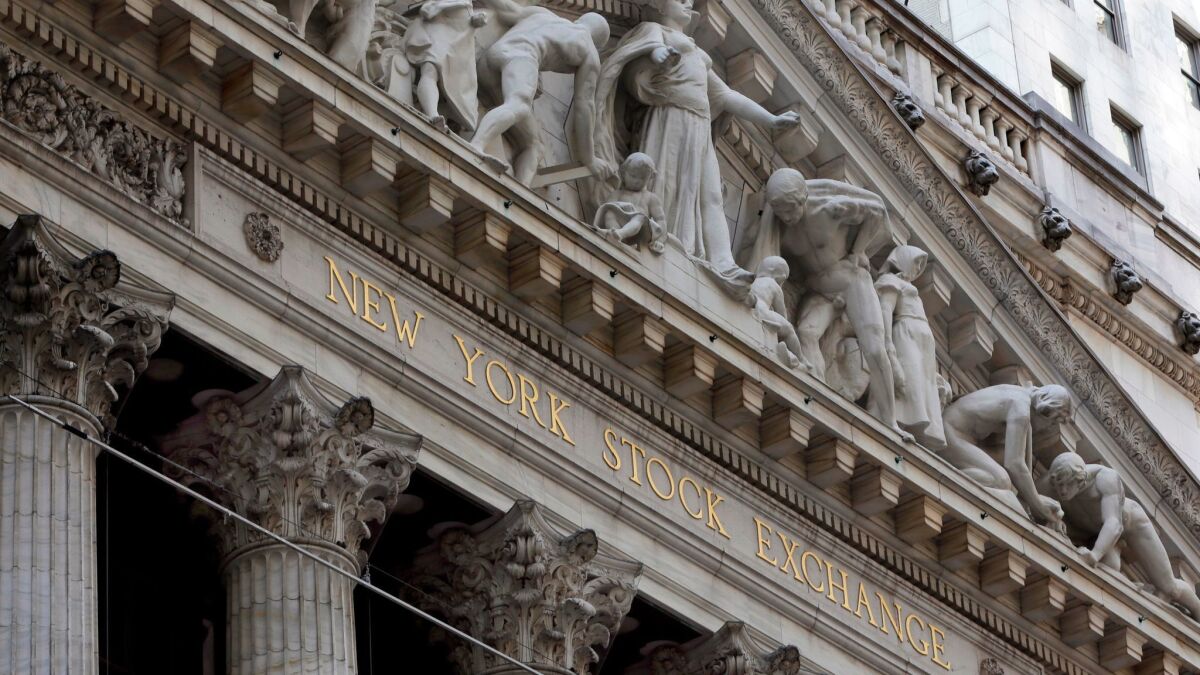 Global stock indexes sank Wednesday after the Trump administration released a list of $200 billion worth of goods that the U.S. could hit with tariffs and China said it would retaliate. The dollar jumped, and big exporters plunged.
Companies that sell computer chips, oil, basic materials and heavy machinery dropped after the Trump administration proposed a 10% tax on a wide list of imports. It is scheduled to make a decision on the potential tariffs after Aug. 31.
China's government said it will take "firm and forceful measures" if the new tariffs are enacted. That response probably would include measures other than tariffs. Trump has threatened to put new taxes on almost everything the United States imports from China.
Jack Ablin, chief investment officer for Cresset Wealth Advisors, said the tariffs can have big effects: A tariff on an import from one country can lead to broad price increases for similar items, and rising taxes and costs might lead companies to change their supply lines in less efficient ways.
"When you start adding all of that together, you end up with typically higher inflation and low productivity," Ablin said. "Higher inflation tends to rob consumers of their income, and lower productivity tends to rob companies of their profits."
A four-day winning streak for the Standard & Poor's 500 index ended, with the benchmark index sinking 19.82 points to 2,774.02. The Dow Jones Industrial Average dropped 219.21 points to 24,700.75. The Nasdaq composite fell 42.59 points to 7,716.61. The Russell 2000, an index of smaller and more U.S.-focused companies, fell 11.96 points to 1,683.66.
The decline came the day after the S&P 500 closed at a five-month high.
The new list of tariff targets from the U.S. Trade Representative includes vacuum cleaners, furniture and car and bicycle parts, but U.S.-branded smartphones and laptops were excluded. Still, chipmakers, which make large portions of their sales in China, slumped. Nvidia fell 2.3% to $247.53. Micron Technology slid 2.8% to $54.18.
Construction equipment maker Caterpillar declined 3.2% to $136.76. Farm equipment maker Deere fell 2.2% to $141.42.
The ICE U.S. dollar index jumped 0.6%, a large move. The dollar rose sharply against Japan's currency, increasing to 112.04 yen from 111.28 yen. The euro fell to $1.1674 from $1.1745.
The stronger dollar hurts exporters because it makes U.S. goods and commodities more expensive in other markets. Crude oil prices tumbled partly because of the rising dollar and partly because Libya said it will start exporting oil again, a move that would increase supplies.
Benchmark U.S. crude fell 5% to $70.38 a barrel in New York. Brent crude, used to price international oils, plunged 6.9% to $73.40 a barrel in London.
On Friday, the United States and China put 25% taxes on $34 billion in imports. China imported only $130 billion in goods from the United States last year, but it could retaliate against the U.S. through other means including regulatory moves and investigations of U.S. companies.
The trade dispute stems from Washington's complaint that Beijing steals or pressures companies to hand over technology and its concerns that plans for state-led development of Chinese companies in robotics and other fields might erode American industrial leadership.
Airlines took sharp losses after American said it expects slower fare growth in the United States. American Airlines slumped 8.1% to $35.96. United Continental slid 3.4% to $68.88.
Bond prices rose. The yield on the 10-year Treasury note fell to 2.84% from 2.87%.
The decline in bond yields helped utility companies make small gains. Utility companies tend to pay large dividends, so investors who want income often buy them when bond yields fall.
Gold fell 0.9% to $1,244.40 an ounce. Earlier this month, gold hit its lowest price since early 2017. Silver fell 1.7% to $15.82 an ounce. Copper skidded 3.4% to $2.74 a pound.
Wholesale gasoline fell 4.6% to $2.06 a gallon. Heating oil sank 5.4% to $2.10 a gallon. Natural gas rose 1.5% to $2.83 per 1,000 cubic feet.
Indexes in Europe and Asia took steep losses as investors worried that the worsening trade dispute would hamper the growth of the global economy. France's CAC 40 and the DAX in Germany both lost 1.5%. Britain's FTSE 100 index dropped 1.3%.
Japan's benchmark Nikkei 225 fell 1.2%. The South Korean Kospi lost 0.6%. Hong Kong's Hang Seng shed 1.3%.
---
UPDATES:
4 p.m.: This article was updated with closing prices, context and analyst comment.
This article was originally published at 9:15 a.m.
---
Sign up for the California Politics newsletter to get exclusive analysis from our reporters.
You may occasionally receive promotional content from the Los Angeles Times.