Early rally over Canada trade deal fades, leaving U.S. stocks mixed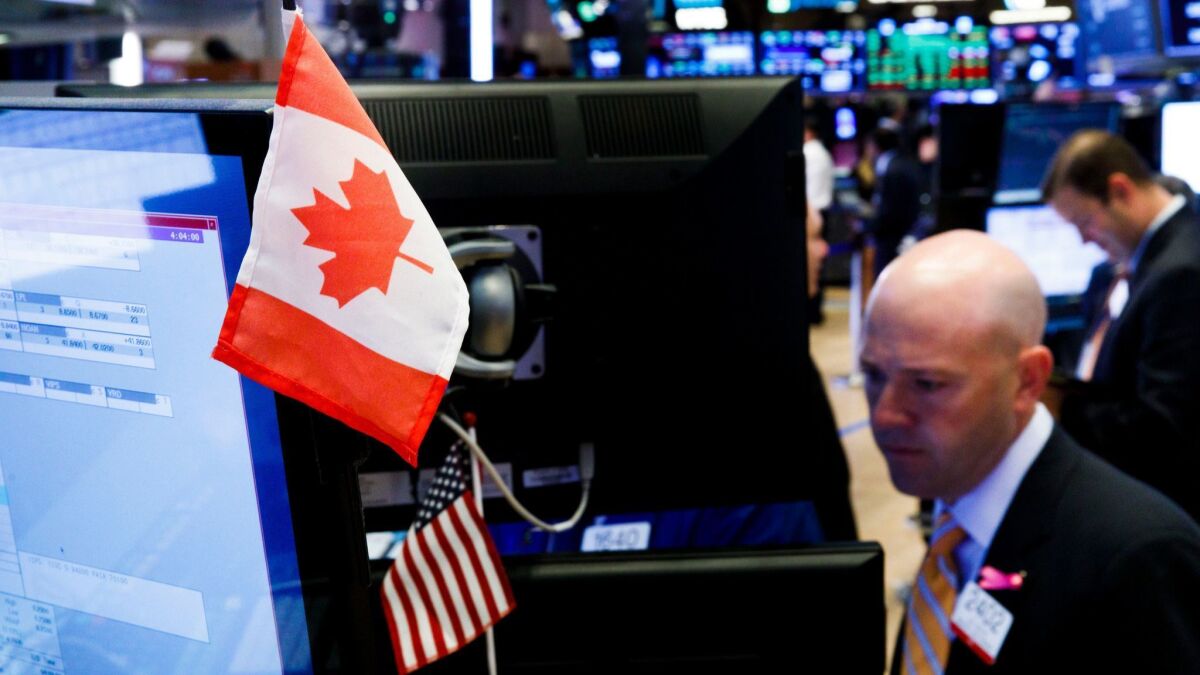 Stocks barreled higher in the early going Monday after the United States and Canada agreed to a new trade deal, but the rally ran out of momentum later in the day, leaving major U.S. indexes mixed.
Oil prices neared four-year highs, and smaller companies suffered their biggest losses in three months.
Large industrial and basic materials companies made big gains. Energy firms rose as crude oil and natural gas reached their highest prices in years. Auto companies also rose as investors anticipated that tariffs on imported cars are less likely now.
Many investors saw the new trade deal, the United States-Mexico-Canada Agreement, as an update of the 1994 North American Free Trade Agreement, not a major overhaul.
"Most investors thought the NAFTA deal would end somewhat peacefully," said Mark Hackett, chief of investment research at Nationwide Investment Management. "It's an incremental positive to get it out of the news, but it's not transformational."
General Electric soared after it ousted Chairman and Chief Executive John Flannery. Tesla reversed its big Friday loss and made its largest gain in five years after founder Elon Musk and securities regulators settled a lawsuit in a way that allows Musk to remain CEO.
The Standard & Poor's 500 index rose as much as 23 points during the day, then finished with a gain of 10.61 points, or 0.4%, to 2,924.59. The Dow Jones industrial average jumped 192.90 points, or 0.7%, to 26,651.21. The Nasdaq composite slipped 9.05 points, or 0.1%, to 8,037.30.
Mexico's main stock index rose 0.9%, and Canada's rose 0.2%. Mexico and the United States announced a trade agreement in late August, and despite a few harsh remarks by President Trump and Canadian Prime Minister Justin Trudeau, experts expected Canada would join the pact. Canada is the United States' second-largest trade partner; a deal without it would have affected the supply lines of companies in numerous industries.
The Russell 2000 index of smaller and more U.S.-focused companies sank 23.58 points, or 1.4%, to 1,672.99. That was its biggest loss since late June. The index has dropped 3.9% since the end of August while multinational companies, such as those on the S&P 500, have moved higher.
The agreement gives U.S. dairy farmers more access to the Canadian market and keeps a NAFTA dispute-resolution process that the United States wanted to eliminate. It offers protection to Canada if the United States goes ahead with plans to impose tariffs on cars, trucks and auto parts imported into the United States. General Motors shares climbed 1.6% to $34.20.
Among industrial companies, Boeing climbed 2.8% to $382.29 and Honeywell rose 1.1% to $166.44. General Electric jumped 7.1% to $12.09 after it said Flannery was being replaced by H. Lawrence Culp, the former CEO of industrial and medical device company Danaher.
Tesla soared 17.3% to $310.70 after Musk agreed to give up the chairman's role for at least three years, while Tesla will appoint two new independent directors to its board. The stock had plunged 14% Friday after the Securities and Exchange Commission filed a suit accusing Musk of misleading investors in August with tweets about plans to take Tesla private.
In a court filing, the SEC said it wanted to bar Musk from serving as an officer or director of a publicly traded company and called his actions securities fraud. Musk and Tesla will each pay $20 million to resolve the lawsuit.
Benchmark U.S. crude climbed 2.8% to $75.30 a barrel in New York, its highest closing price since November 2014. Brent crude, used to price international oils, climbed 2.7% to $84.98 a barrel in London. It's also trading at four-year highs.
Wholesale gasoline rose 2% to $2.13 a gallon. Heating oil rose 2.5% to $2.41 a gallon. Natural gas jumped 2.9% to a three-year high of $3.09 per 1,000 cubic feet.
Nationwide's Hackett said the recent rise in oil prices is a bigger problem for small companies than for larger multinationals.
Bond prices fell. The yield on the 10-year Treasury note rose to 3.09% from 3.05%.
Gold fell 0.4% to $1,191.70 an ounce. Silver fell 1.4% to $14.51 an ounce. Copper fell 0.6% to $2.79 a pound.
The dollar rose to 113.99 yen from 113.58 yen. The euro fell to $1.1575 from $1.1610.
Germany's DAX climbed 0.8%. The CAC 40 in France advanced 0.2%. Britain's FTSE 100 fell 0.5%. After a sharp drop Friday, Italy's FTSE MIB lost 0.5% on Monday as investors worried about the new government's plan to increase spending. That index has fallen 16% in the last five months.
Japan's benchmark Nikkei 225 gained 0.5%. South Korea's Kospi slipped 0.2%. Markets in Hong Kong and the Chinese mainland were closed for National Day holidays.
---
Sign up for the California Politics newsletter to get exclusive analysis from our reporters.
You may occasionally receive promotional content from the Los Angeles Times.