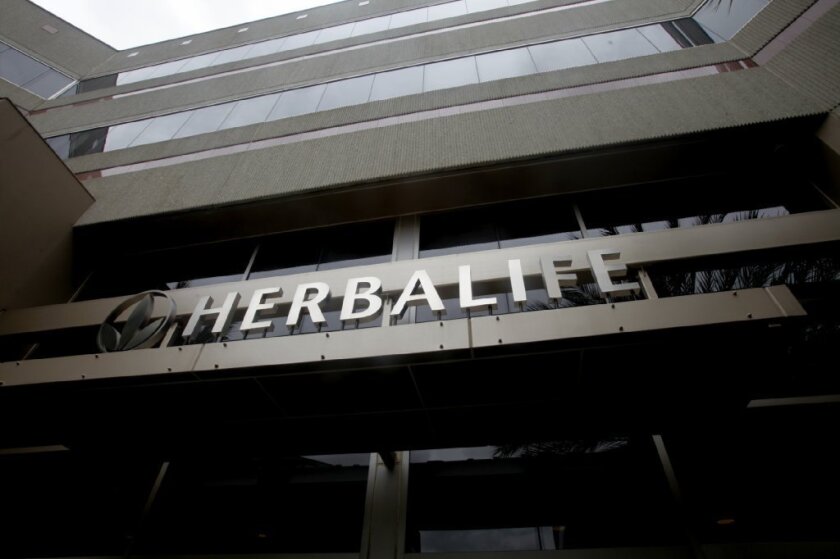 This year, even bad news has ended up boosting Herbalife Ltd. stock.
The latest example is the company's accounting difficulties. KPMG resigned as Herbalife's auditor in April after one of its partners admitted to an insider-trading scheme involving the company's stock.
KPMG withdrew its approval of Herbalife's accounting statements for 2010, 2011 and 2012, forcing the nutrition company to hire PricewaterhouseCoopers to re-audit those statements.
On Monday, Herbalife said PricewaterhouseCoopers had completed its re-audit and made no material changes to the statements. Shares of Herbalife climbed 9% on the news Monday and continued to rise Tuesday, reaching a 52-week high of $78.50.
PHOTOS: Top 10 Southern California companies
Scott Van Winkle, an analyst with Canaccord Genuity, raised his price target for the stock Tuesday to $87 from $77, saying the new audit "removes an overhang and risk from the Herbalife story."
He also said that clean financial statements would make it easier for Herbalife to begin an anticipated repurchase of its shares.
On Monday, D.A. Davidson & Co. analyst Tim Ramey said the newly approved audits provide additional evidence of the company's financial health. He said he expects the stock to be trading for $115 a share in 18 months and $150 a share in five years.
"This has paved the way for Herbalife to have a growth stock valuation," Ramey said in a research note.
Word of Herbalife's clean new audits came the same day that new research suggested vitamins and supplements have no clear benefits and should be avoided, news that ordinarily could have hurt the company's stock price.
Shares of vitamin and supplement retailer GNC Holdings Inc. were down 2% Tuesday morning. Herbalife shares were up less than 1%.
Herbalife has been under a microscope for the past year, as billionaire hedge fund manager Bill Ackman accused the company of operating a pyramid scheme. He bet more than $1 billion that the company's stock price would fall, but later reduced that position as its shares surged this year.
Ackman said he was not swayed by the new audit, noting in an interview with The Times: "Every public company that turned out to be a fraud had audited financial statements."
ALSO:
Glaxo to stop paying doctors to promote its drugs
Consumer prices flat, inflation low ahead of key Fed meeting
Tuesday is the most productive day of the workweek, survey finds
Follow Stuart Pfeifer on Twitter
---