Freddie Mac: Mortgage rates edge higher; 30-year average is 4.28%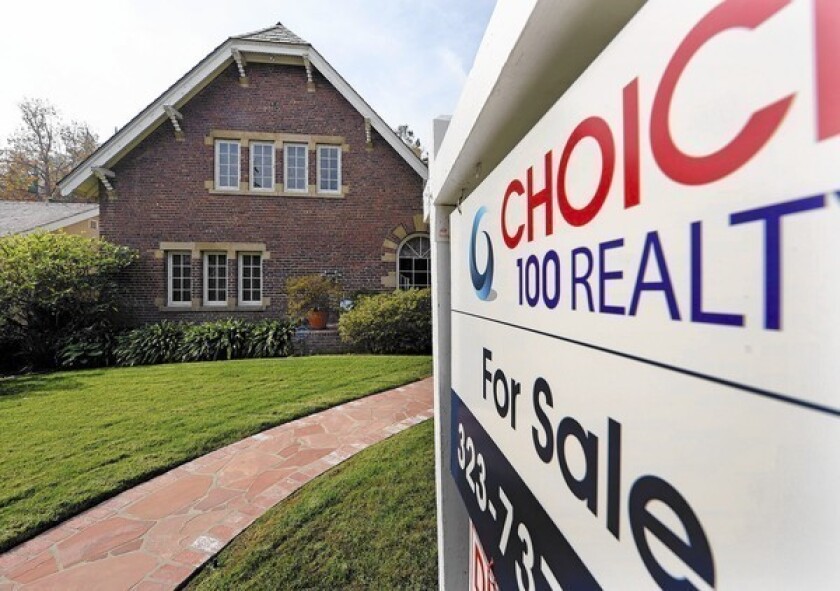 A five-week decline in fixed mortgage rates has ended, with Freddie Mac's survey showing the 30-year home loan averaged 4.28% early this week, up from 4.23% a week ago.
The 15-year fixed-rate mortgage was unchanged at an average of 3.33%, Freddie Mac said Thursday in its weekly report on the terms that lenders are offering to highly creditworthy borrowers.
Aside from a weak jobs report, which the market seemed to shrug off, there was little economic news early this week to influence rates, Freddie Mac chief economist Frank Nothaft noted in the finance company's report.
The yield on the 10-year Treasury note, an indicator for long-term mortgage rates, had risen Tuesday and Wednesday before falling back as the markets opened Thursday.
New Federal Reserve Chair Janet L. Yellen sent a reassuring message in her first appearance before Congress this week, indicating that she would continue the Fed's policy, adopted under former Chair Ben S. Bernanke, of slowly withdrawing a stimulus program intended to keep long-term rates low.
The 30-year-fixed mortgage rate dropped to record lows at the end of 2012, falling below 3.5%. It rose to the 4.5% range last year in anticipation of the Fed cutting back the stimulus, which involves buying tens of billions of dollars worth of Treasury and mortgage securities each month.
This year's decline in mortgage rates came as a welcome surprise to home buyers, who have seen housing prices in many areas rise sharply over the last year. Most observers believe that the long-term trend is upward.
"With Ms. Yellen expressing confidence that the recovery will continue and even accelerate over the coming year, it remains a fair bet that mortgage rates will move higher," said Keith Gumbinger, vice president of HSH.com, a Riverdale, N.J., mortgage market researcher.
Freddie Mac's survey, conducted weekly for more than 40 years, asks lenders about the terms they are offering to borrowers with strong credit scores and income and 20% down payments, or at least 20% home equity if they are refinancing.
The survey assumes that the borrowers would pay less than 1% in lender fees and discount points to obtain the loans; costs of appraisals and title insurance, usually borne by borrowers, are not included.
US 30 Year Mortgage Rate data by YCharts
---
Must-read stories from the L.A. Times
Get the day's top news with our Today's Headlines newsletter, sent every weekday morning.
You may occasionally receive promotional content from the Los Angeles Times.