Knight Capital's massive trading error results in $12-million SEC fine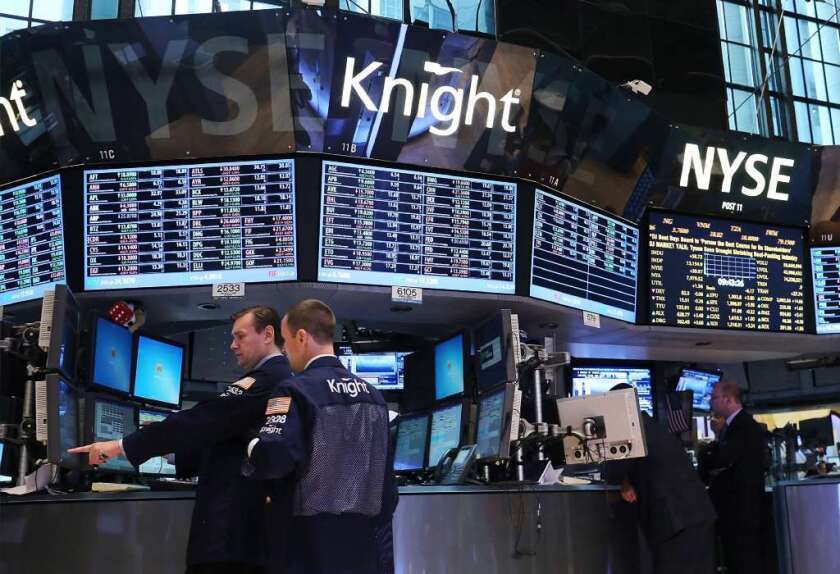 Knight Capital Group's successor has agreed to pay $12 million to settle Securities and Exchange Commission allegations that it failed to have safeguards in place that could have prevented mistaken trades that caused more than $460 million in losses last year.
The SEC faulted Knight Capital for a software glitch that caused the Jersey City, N.J., financial services firm to place millions of unintended trades within 45 minutes on Aug. 1, 2012.
The trading losses pushed Knight Capital to the edge of bankruptcy and underscored the market's vulnerability to software-driven trading mistakes. The SEC said Knight violated laws that require trading firms to have safeguards in place to prevent such mistakes.
PHOTOS: The costliest bank failures
"The market access rule is essential for protecting the markets, and Knight Capital's violations put both the firm and the markets at risk," said Andrew Ceresney, co-director of the SEC's enforcement division. "Given the rapid pace of trading in today's markets and the potential massive impact of control breakdowns, broker-dealers must be held to the high standards of compliance necessary for the safe and orderly operation of the markets."
Daniel M. Hawke, chief of the SEC's market abuse unit, said: "Brokers and dealers must look at each component in each of their systems and ask themselves: What would happen if the component malfunctions and what safety nets are in place to limit the harm it could cause? Knight Capital's failure to ask these questions had catastrophic consequences."
Devastated by the losses, Knight Capital was acquired by Chicago-based Getco, creating KCG Holdings.
ALSO:
Stocks surge on hopes for debt-ceiling deal
Holiday spending projections scaled back amid shutdown
Bank of America profit jumps to $2.5 billion as its expenses shrink
Follow Stuart Pfeifer on Twitter
---
Your guide to our new economic reality.
Get our free business newsletter for insights and tips for getting by.
You may occasionally receive promotional content from the Los Angeles Times.