Rapid home price gains make renting more attractive, study says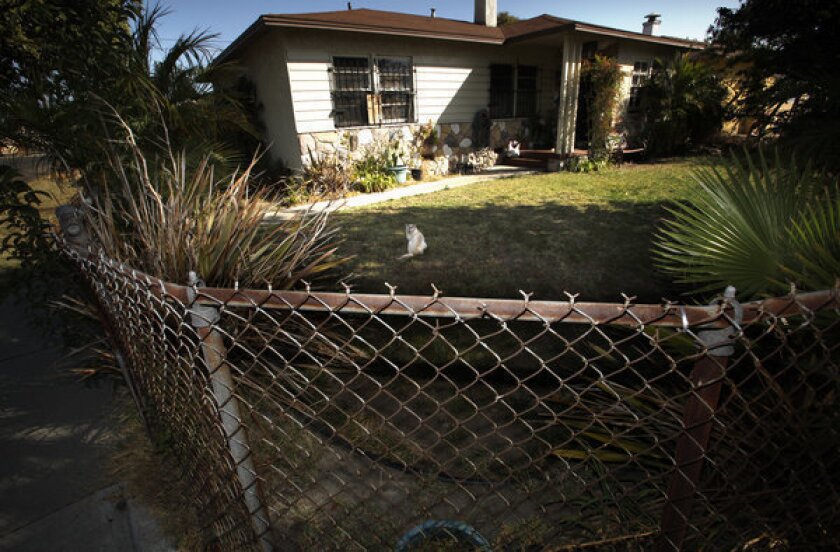 It's now cheaper to rent than own.
Across a large swath of Southern California, owning a house has become less attractive financially in the wake of rapid home price gains last year, according to a new study.
The mortgage payment on a median-priced, three-bedroom would exceed the rent on a comparable property in Los Angeles, Orange and Ventura counties, according to a RealtyTrac analysis released Thursday, based on prices from the fourth quarter of 2013.
Nationwide, there were only 29 large counties in that situation, including the Northern California counties of Santa Clara, Alameda and San Francisco. A year earlier, nowhere in Southern California was rent cheaper than monthly house payments.
In Los Angeles County, RealtyTrac reported, the monthly house payment for a median-priced three-bedroom was $1,987 — about $100 more expensive than fair market rent for a similar property, as calculated by the U.S. Department of Housing and Urban Development.
A year earlier, house payments were about $500 a month cheaper than rent.
The median price for a three-bedroom L.A. County house was $417,333 in the fourth quarter. The monthly house payment for such a home rose 40% compared with the fourth quarter of 2012.
To qualify to purchase such a house, a buyer would now need to make at least $95,389 annually, according to RealtyTrac. That's about $42,000 more than the median-household income and $27,000 more than the income needed to buy the median house a year earlier.
The widening disparity between rent and home prices underscores a growing affordability crunch across the region. Real estate experts say the high costs, without corresponding income growth, have depressed sales.
"The cost of financed homeownership is becoming dangerously disconnected with still-stagnant median incomes," RealtyTrac Vice President Daren Blomquist said in a statement.
Higher mortgage rates and swift price gains widened that gap, Blomquist said, attributing the steep price increases to "investors and other cash buyers who are not tethered to the typical affordability constraints."
In its analysis, RealtyTrac used median sales prices from the fourth quarter of 2013 and assumed buyers put 20% down and received a 30-year fixed mortgage at 4.46%. The monthly house payment includes principal, interest, property taxes and maintenance and insurance costs. Tax breaks for home owners were factored in.
The potential for home price appreciation was not included in the analysis.
---
Your guide to our clean energy future
Get our Boiling Point newsletter for the latest on the power sector, water wars and more — and what they mean for California.
You may occasionally receive promotional content from the Los Angeles Times.