Elon Musk downplays expectations for giant rocket's first flight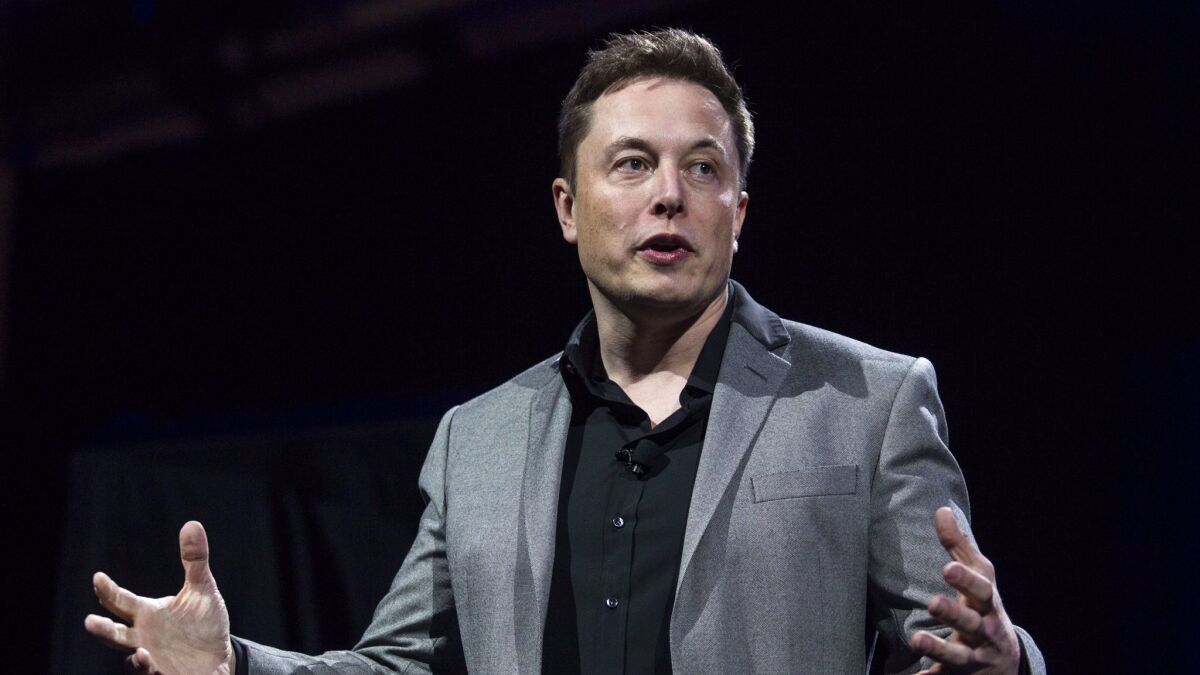 SpaceX Chief Executive Elon Musk on Wednesday downplayed expectations for the upcoming demonstration flight of the company's giant Falcon Heavy rocket, saying there was a "good chance" the vehicle would not make it to orbit in its first launch.
Musk gave insight into the Falcon Heavy development process, as well as the Hawthorne space company's other current projects, during a keynote speech at the International Space Station Research and Development conference in Washington, D.C.
During the on-stage conversation with NASA International Space Station program manager Kirk Shireman, Musk said development of Falcon Heavy has been "way harder" than the team initially thought.
The 229.6-foot-tall rocket will have 27 engines. SpaceX will attempt to land its two side boosters — which will be reused first-stage boosters from previous missions of the smaller Falcon 9 — as well as its center core.
Musk described the first demonstration flight, which is expected to occur later this year, as "guaranteed to be exciting."
"I hope it makes it far enough away from the pad that it does not cause pad damage," he said during the speech. "I would even consider that a win, to be honest."
Musk also teased a part of his updated Mars plans, which he first unveiled last year, involving launching spaceships to travel en masse to the Red Planet. Musk mused Wednesday that the Mars vehicle could be downsized a bit, making it capable of performing Earth-orbit missions, as well as the expected trips to Mars.
He said those Earth-orbit missions could be a way to pay for the cost of the system.
"It's a little bit smaller," Musk said, adding that he would likely give a fuller update on his plans for Mars at the September International Astronautical Congress conference in Adelaide, Australia. "Still big, but I think this one's got a shot at being real" on the economic front.
Musk's latest tunnel-digging exploits outside SpaceX's headquarters in Hawthorne could eventually play a role in the company's plans for the Red Planet. When asked by an audience member about whether his new firm, the Boring Co., could be a way to create habitats on Mars, Musk said that "getting good at digging tunnels" could be "really helpful."
"There would need to be a lot of ice mining and mining in general," he said, adding that tunneling could also be used to create underground habitats that could provide radiation shielding.
Closer to home, Musk gave some more details about the company's latest attempts to reuse space hardware.
SpaceX recently relaunched and recovered a Dragon space capsule that first flew in 2014. Musk said SpaceX internal accounting said preparing that capsule for its second flight cost "almost as much as building a Dragon 1 from scratch."
The company had said prior to that June flight that some parts of the capsule, such as the heat shield, had to be replaced, though a SpaceX executive said the majority of the spacecraft had flown in space before.
"This had a lot of re-work," Musk said. "But the next one, we think, has a decent shot of being about 50% the cost of a new one."
He said the company plans to recover the fairing — the clamshell covering that protects a satellite at the tip of the rocket — by the end of the year, and will try to re-fly it by later this year or early next year.
Twitter: @smasunaga
ALSO
A new generation of giant rockets is about to blast off
Elon Musk said Tesla could build Australia a power storage system in 100 days. Now we'll see
Elon Musk tweets pictures of first Tesla Model 3 production car
SpaceX will launch secretive X-37B spaceplane's next mission
Where do SpaceX and other aerospace companies find engineers? On the race track
Sign up for the California Politics newsletter to get exclusive analysis from our reporters.
You may occasionally receive promotional content from the Los Angeles Times.