NAFTA talks bog down over U.S. demands as latest round concludes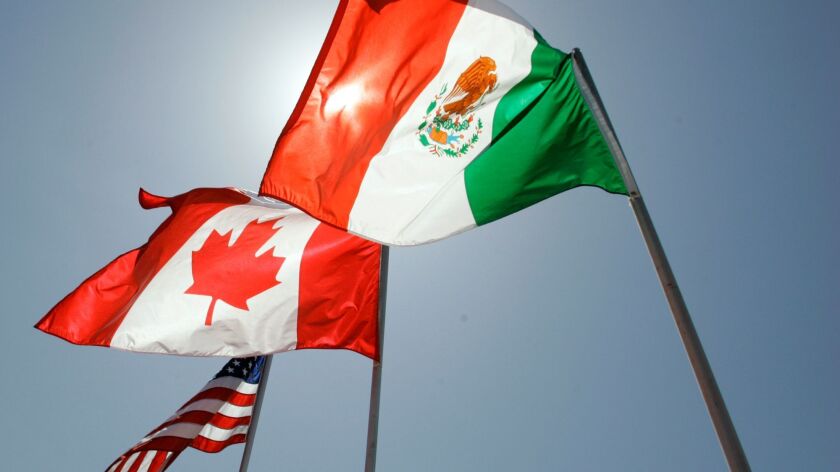 Reporting from Washington —
No one spoke about walking away from the North American Free Trade Agreement, but such sharp differences have surfaced among negotiators that the U.S., Canada and Mexico agreed to a kind of timeout and are extending talks well into next year.
After wrapping up their latest and most contentious round of negotiations Tuesday, top trade officials from the three nations were openly critical of each other's positions, acknowledging in a joint statement that "new proposals had created significant conceptual gaps" between them.
Those proposals, made by the U.S., reflect the Trump administration's determination to rewrite NAFTA in ways that it believes would reduce American trade deficits and increase job and manufacturing growth at home. But Canada and Mexico, as well as many American business interests, regard them as protectionist efforts that would undermine the value of the 23-year-old pact and cause serious disruptions to supply chains and regional economic activity.
"The agreement has become very lopsided and needs to be rebalanced," U.S. Trade Representative Robert Lighthizer said, reading a statement after the close of seven emotionally fraught days of meetings in Arlington, Va. "Frankly, I am surprised and disappointed by the resistance to change from our negotiating partners."
Standing next to him on the stage, Canadian Foreign Affairs Minister Chrystia Freeland strained a smile, then stated that the U.S. had made a "series of unconventional proposals" that was threatening to "turn back the clock" on 23 years of collaboration under NAFTA.
Mexican Secretary of the Economy Ildefonso Guajardo, reading his own statement, said "we all have our limits," and warned against making decisions today that will haunt them tomorrow.
After their joint appearance in Washington, Lighthizer, in a separate briefing, told reporters that there has been no discussion or decision on whether the U.S. would pull out of NAFTA. His boss, President Trump, has said several times that the U.S. may need to withdraw from the agreement before it could get a good deal.
Trump, however, has not given the required six months' notice for withdrawal. And despite the tough words from trade officials, the three parties agreed to take about a month off and resume talks Nov. 17 in Mexico for what would be the fifth round.
The three sides had previously scheduled seven rounds of negotiations before Christmas, with the aim of reaching agreement by year's end, to avoid the complications of Mexico's presidential elections next summer. But Lighthizer said that was never a hard deadline, and that talks could continue until March.
"Sounds like they're not ready to pull the plug yet — and that's good news," said William Reinsch, a veteran Washington trade specialist who is a fellow at the Stimson Center think tank.
At the same time, he and other analysts and observers of the negotiations remained pessimistic that those differences could be bridged.
"Right now, I'm giving it even odds," said one U.S. observer familiar with the talks, referring to the possibility of their collapse. Speaking on the condition of anonymity because of the sensitivity of the talks and his access, he noted that the U.S. had tabled several issues in this latest round where "there is no agreement and where compromise seems elusive."
Among the most contentious is a U.S. proposal that would allow NAFTA to expire after five years unless all three countries agree to renew it. Canadian and Mexican officials have privately panned the so-called sunset provision, as has the U.S. Chamber of Commerce, whose leader called it a "poison pill" proposal that could undo NAFTA because it would insert uncertainty in a pact whose aim is partly to provide stability in commerce.
The U.S. also is seeking new rules in the way autos are traded among the three countries. Currently, vehicles that are manufactured with at least 62.5% of contents from any combination of the three countries can be shipped from one NAFTA nation to another without paying duties. The Trump administration has proposed lifting that share to 85% with a new requirement that at least 50% of the content in cars be made in the U.S. for vehicles from Mexico and Canada to enter the U.S. duty-free.
Mexican officials have balked at a country-specific rule of origin, as their nation has attracted many auto parts and assembly operations in recent years that employ hundreds of thousands of workers. U.S. auto executives, meanwhile, worry that such stringent rules of origin would be a bureaucratic nightmare to implement and wreck the sophisticated, integrated North American supply chain that has taken decades to develop.
Other thorny issues that U.S. officials also pushed across the table in the fourth round included a U.S. proposal to weaken Canada's and Mexico's access to U.S. government procurement contracts and to eliminate a NAFTA chapter that has allowed Mexico and Canada to contest U.S. anti-dumping and government-subsidy tariff decisions by turning to a special panel of judges. The U.S. also is seeking to weaken the right of foreign investors to sue governments where they are operating.
Trade analysts said they expected Mexican and Canadian officials to take the U.S. demands back to their governments for consultation before the fifth round, when most of the American proposals may be formally rejected. That could set in motion a period of difficult talks to reach a compromise or, at worse, could open the way for Trump to withdraw from NAFTA, a threat that he has repeatedly made.
"If they react negatively [to U.S. proposals], it may be enough for the U.S. to say, 'Enough, we're pulling out,'" Reinsch said.
In Mexico and Canada, as well as the U.S., many are taking Trump's threats seriously.
Canada and Mexico are likely to take a bigger hit than the U.S., according to a new study by ImpactEcon, a Colorado consulting firm. But the U.S. won't be unscathed either. The report said the U.S., too, would feel a pinch in trade, investment and broader economic growth. A reversal of NAFTA, it said, would cause a loss of 256,000 low-skilled jobs in the U.S. over three to five years.
While Mexicans desperately want to keep NAFTA, which has helped transform Mexico into a manufacturing powerhouse and steadily expanded the middle class, they are also making preparations for the possibility of life without it.
Over the last year, Mexico has aggressively pursued new or updated trade deals with other countries, seeking new markets for its exports and new partners for imports.
Mexican President Enrique Peña Nieto traveled to China last month in part to discuss trade, and met with German Chancellor Angela Merkel in June about significantly broadening an existing trade agreement with the European Union.
Trade with the U.S. could continue without NAFTA. Instead of entering the U.S. duty free, Mexican imports would be subject to tax rates set by the World Trade Organization. That increase probably would be passed on to American consumers at first, but over time could make Mexico a much less desirable place to build factories, experts say.
Mexican Economy Minister Ildefonso Guajardo Villarreal insists his country's economy be able to "adapt" if NAFTA is scrapped. But leaders from his ruling Institutional Revolutionary Party are worried that the end of the deal could provoke nationalist sentiment ahead of next year's presidential election, giving an added boost to far-left front-runner Andres Manuel Lopez Obrader.
Mexican economist and financial analyst Luis Rubio said the greatest danger to Mexico if NAFTA is scrapped is loss of confidence in the nation as a place for investment.
"The importance of NAFTA [to Mexico] is that it's been an anchor of stability," said Rubio, who is based at Mexico's Center for Research for Development, an independent think tank, and Washington's Wilson Center. "The risk if NAFTA is ended won't be seen, at least initially, in foreign trade but in the ability of Mexico to attract foreign investment, and in the preservation of domestic confidence in the economy. NAFTA is the only source of confidence that the Mexican economic world can count on."
Follow me at @dleelatimes
Times staff writers Tracy Wilkinson in Washington and Kate Linthicum in Mexico City contributed to this report.
---
UPDATES:
4:50 p.m.: This article was updated with additional reaction and analysis.
This article was originally published at 12:05 p.m.
---
Must-read stories from the L.A. Times
Get the day's top news with our Today's Headlines newsletter, sent every weekday morning.
You may occasionally receive promotional content from the Los Angeles Times.