Nordstrom's new concept: A clothing store with no clothes for sale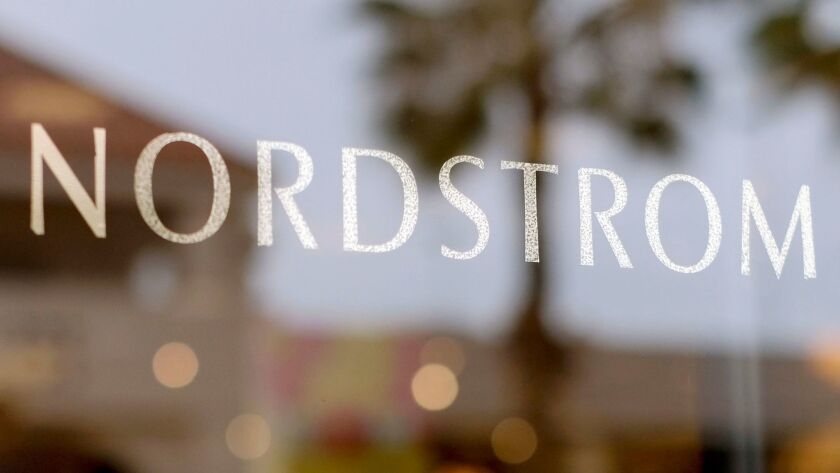 The Washington Post
What about a store with no merchandise?
That's the idea Nordstrom announced this week. The chain will be testing the concept at a West Hollywood location, set to open Oct. 3.
The store, named Nordstrom Local, will differ in a few ways from the Nordstrom stores most of us are used to visiting. Instead of being around 140,000 square feet like most locations, for example, it will be a compact 3,000. It'll also include wine, beer and, of course, espresso for shoppers.
Most notably, it won't contain any clothes for sale. The store will include some garment for shoppers to try on, but there will be no inventory to purchase on site.
Stylists will be on hand to guide shoppers to a personalized wardrobe, which customers then can order online to be delivered to the store that same day. Or the stylists will visit one of the nine traditional Nordstrom locations in the area to retrieve the purchase.
The idea is to keep shoppers from feeling overwhelmed by too many choices.
"Shopping today may not always mean going to a store and looking at a vast amount of inventory," Shea Jensen, Nordstrom's senior vice president of customer experience, told the Wall Street Journal. "It can mean trusting an expert to pick out a selection of items."
If shoppers want to wait for the clothing to arrive, they can have another drink or indulge in a manicure.
Once the clothes arrive, tailors are available on site to make alterations.
A store without inventory may seem designed to make shopping longer and more complicated, but Nordstrom argued the setup actually would streamline the process.
"As the retail landscape continues to transform at an unprecedented pace, the one thing we know that remains constant is that customers continue to value great service, speed and convenience," Jensen said in a news release. "We know there are more and more demands on a customer's time and we wanted to offer our best services in a convenient location to meet their shopping needs."
This concept is the latest volley in the fight against online retail giants.
"There aren't store customers or online customers — there are just customers who are more empowered than ever to shop on their terms," Erik Nordstrom, co-president of Nordstrom, told the Wall Street Journal.
Nordstrom isn't the first to try this. Men's clothing retailer Bonobos, for example, got its start by opening bricks-and-mortar locations where men would be fitted for clothing they later would order online. It found great success. This summer, Wal-Mart bought the chain.
As the Economist pointed out, many other apparel retailers are trying to attract customers with more than clothing. Lululemon, for example, hosts yoga classes. Louis Vuitton locations act secondarily as art museums, displaying rare pieces.
Andrews writes for the Washington Post.
---
Your guide to our clean energy future
Get our Boiling Point newsletter for the latest on the power sector, water wars and more — and what they mean for California.
You may occasionally receive promotional content from the Los Angeles Times.