Bakersfield votes to end controversial program that funds home solar panels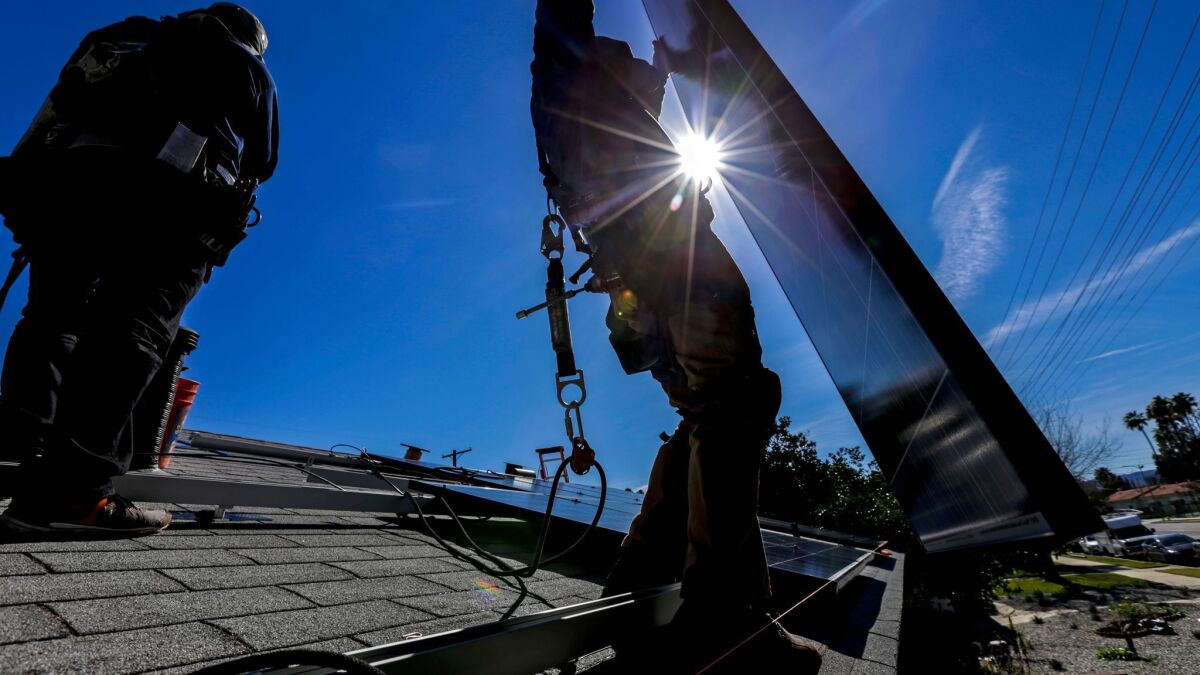 As home improvement projects to increase energy efficiency have exploded in California, so has the controversy over a property tax-based financing program that's helped spur the growth.
So-called PACE loans — which pay for solar panels, efficient appliances and other improvements — have been blamed by real estate agents for gumming up home sales, while some consumers have accused contractors of misrepresenting the financing and saddling them with loans they don't understand and can't afford.

For the record:
9:33 p.m. Nov. 28, 2022An earlier version of this article incorrectly stated that the Bakersfield Assn. of Realtors sought funds from the California Assn. of Realtors to fight local PACE programs. In fact, it was the National Assn. of Realtors.
Now, amid concerns that have prompted proposed reforms in Sacramento, some municipalities are taking a second look at their participation in the program.
On Wednesday, the City Council of Bakersfield — the state's ninth-largest city — voted to end its program, making it the second government agency this month to do so in Kern County.
"This is a program that needs fixing, and if it can't be fixed then it doesn't belong in this community," said Councilman Willie Rivera, who joined his colleagues in a unanimous decision to end the program.
Formally known as Property Assessed Clean Energy, PACE programs are typically established by local governments, which allow the privately financed loans to be repaid as line items on property tax bills.
Started in 2008 in California, residential PACE programs are also running in Florida and Missouri.
The programs can be a moneymaker for governments, which take fees for collecting the loan payments and turning them over to the lenders, which pay and manage contractors that do the work and act as salespeople. Eligibility is largely based on home equity, with income not being a factor. If PACE bills go unpaid, a homeowner could lose the house to foreclosure.
Programs have also been established in other California counties, including Los Angeles, Riverside, San Bernardino and San Diego. And the three major lenders are based in the state — Renovate America of San Diego, Renew Financial of Oakland and Ygrene Energy Fund of Petaluma.
The lenders and contractors say most of their customers come away happy and point to low loan default and delinquency rates as evidence the programs are fulfilling a public policy goal of reducing energy consumption and providing jobs.
"It's created a ton of jobs for our company. We went from eight to 30 [employees] in the short time that PACE has been here," Don Lanier of contractor Northwest Exteriors said at the council meeting Wednesday.
Renovate America, the largest PACE lender, also noted that, despite recent votes in Kern County to end the program, other municipalities are choosing to expand PACE, including in Tulare County just to the north.
Critics counter that PACE causes too many problems, including killing or delaying home sales.
That's because the loans are usually a first-lien item on a house. That means sellers often have to pay them off in full for a deal to go through, real estate agents say, because a buyer may not want to assume the loan or a lender won't want to be second in line in the case of a foreclosure.
The Federal Housing Finance Agency has even barred mortgage giants Freddie Mac and Fannie Mae from purchasing loans on homes with PACE liens, cutting out a key source of financing for people trying to buy a home with an attached PACE loan.
Because of issues revolving home sales, the California Assn. of Realtors has emerged as one of the biggest critics of PACE and has pushed for reforms, including a bill that Gov. Jerry Brown signed last year that improved and standardized disclosure requirements. The PACE industry has supported those changes as well.
The Bakersfield Assn. of Realtors went further and asked local officials to kill their programs. The effort drew allegations from a clean-energy-backed group that the Realtors engaged in improper lobbying.
An attorney for the group, the Checks and Balances Project, said he suspects the Kern County Board of Supervisors violated the state's open-meeting law, the Brown Act, when it voted last week to kill its PACE program in unincorporated areas.
The attorney, Karl Olson, said he believes the supervisors did so by meeting with the Realtors privately before the vote and agreeing to vote no. As evidence, Olson cited a grant application that the Bakersfield Realtor group wrote to the national Realtors organization seeking funds to fight PACE.
"We have held preliminary meetings with local elected officials that are willing to lead the charge on a moratorium of local PACE financing and commit the necessary votes, but are asking for political cover via a grassroots mobilization, media and arguments," Kim Schaefer, the government affairs director for the Bakersfield Assn. of Realtors, wrote last year.
Schaefer denied any violation and said she met with members of the Kern County Board of Supervisors and Bakersfield City Council individually to share the Realtors' concerns. She said PACE supporters did the same to offer a competing view.
The elected officials, she said, did not commit their votes and the wording in the grant application was only her "analysis based on positive conversations."
The interim county counsel for Kern County, Mark Nations, said Checks and Balances was taking a line in a grant application and "converting it into something it's not." He said there's no evidence of a Brown Act violation and, for one to occur, the supervisors would've had to communicate their positions to each other privately before a public hearing.
Olson disputed that characterization of the law. And Scott Peterson, executive director of the Checks and Balances Project, said the document provides fresh evidence that PACE has faced a coordinated attack by the Realtors and others to "undermine if not stop" the programs.
Peterson said his group aims to expose lobbyists who "block the growth of the sustainable economy" and has received funding from "clean-energy donors." He declined to say if PACE companies provided funding. Renovate America said it did not.
Schaefer said Realtors simply want to ensure fewer people have the same experience as Steve and Stacey Baker, who said they want to sell their house in Bakersfield so Steve Baker can take a job in another city.
The 31-year-old heavy-equipment mechanic said two deals for their house have fallen through, because no one will assume the roughly $26,000 PACE loan they took out in 2015 through Renovate America's PACE loan program, known as HERO.
"The loan salesman told me when you sell the house, the buyer will just end up picking up the loan," Baker recalled the contractor telling him. "Well that's not true."
Baker said the windows the PACE loan paid for also haven't resulted in the energy savings that the contractor, Northwest Exteriors, promised.
Lanier of Northwest Exteriors said the company doesn't guarantee a specific dollar amount in savings and salespeople are instructed to tell clients a PACE loan may need to be paid off in the event of a sale or refinance.
Greg Frost, a spokesman with Renovate America, said the Bakers signed a document informing them of that fact and said Northwest Exteriors is in good standing with Renovate. He predicted reforms either federally or in Sacramento will eventually address the concerns of the Bakersfield council.
"This is the middle of the story and not the end," he said in an email. "We believe PACE will be back in Bakersfield."
Follow me @khouriandrew on Twitter
---
UPDATES:
4:05 p.m.: This article was updated with comments from PACE borrowers, Renovate America and the Kern County counsel, in addition to more details.
This article was originally published at 12:15 p.m.
---
Sign up for the California Politics newsletter to get exclusive analysis from our reporters.
You may occasionally receive promotional content from the Los Angeles Times.