Backlog of cargo ships at L.A., Long Beach ports grows amid labor dispute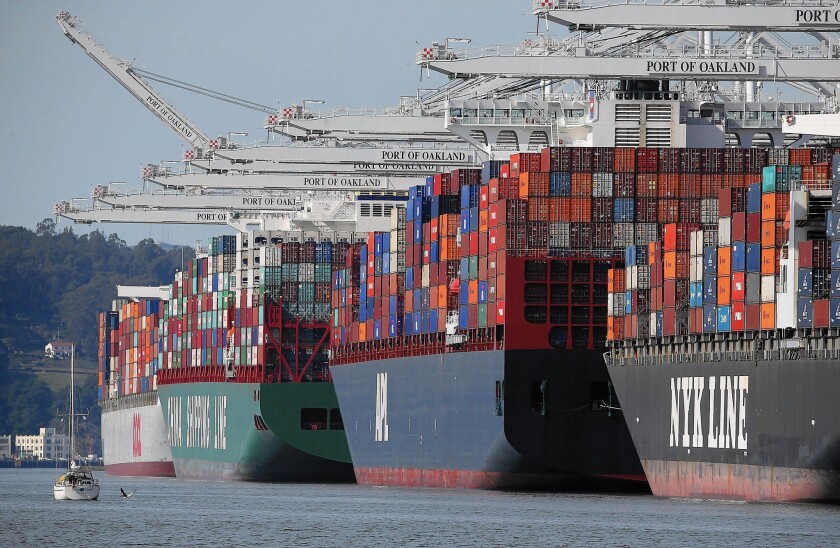 More cargo ships piled up at the Los Angeles and Long Beach ports Monday as Labor Secretary Thomas Perez prepared to meet with shipping companies and the dockworkers union to revive stalled contract talks.
The labor dispute all but closed the San Pedro Bay ports — and 27 others along the West Coast — over the holiday weekend. The trade gateways were expected to reopen Tuesday. But as negotiations have stalled, fears of a prolonged closure have grown.
In an attempt to stave off that costly prospect, Perez will meet with both parties Tuesday in San Francisco, a Labor Department spokeswoman said.
Behind the scenes, Los Angeles Mayor Eric Garcetti has been working to resolve the port problems, spokesman Jeff Millman said.
The mayor was on the phone with Perez throughout the weekend, Millman said. Garcetti has been talking to leadership of both sides and Sunday initiated a nightly call with mayors of other West Coast port cities.
In the meantime, the backlog has been growing.
On Monday morning, 33 vessels were anchored off the Los Angeles and Long Beach ports, unable to dock, three more than on Sunday, according to the Marine Exchange of Southern California. An additional 55 ships were languishing at port berths.
The floating ship parking lot is still much smaller than in October 2002, when a federal injunction ended a 10-day lockout at West Coast ports. Then, about 120 vessels were stuck at the docks or at anchorages in and around the Los Angeles-Long Beach harbor complex.
Businesses that depend on the ports have been hurting for months as the labor dispute and other factors have created a massive traffic jam along the West Coast. Firms are paying extra to divert supplies by air, or simply are waiting as their goods languish at sea or on congested docks.
Softline Home Fashions Inc. in Gardena is one such casualty.
The wholesaler's president, Jason Carr, said he has $800,000 worth of fabric, curtains and decorative pillows stuck at the Port of Long Beach. The goods, which are destined for major retailers, have been there for three weeks, he said. It usually takes four or five days to get products out of the port.
"We are strangled right now," he said. "It hurts our reputation."
Businesses such as Carr's are stuck in a dispute between well-paid blue-collar workers and multinational shipping companies, which are key cogs in global trade.
The West Coast ports handled 47% of the nation's maritime container trade last year, international trade economist Jock O'Connell said. And about 40% of U.S. container imports flow through Los Angeles and Long Beach alone.
That has businesses worldwide watching the dispute between the Pacific Maritime Assn., which represents shipping companies, and the International Longshore and Warehouse Union as they battle over a new contract for 20,000 dockworkers at 29 West Coast ports. Dockworkers have been working without a contract since July.
The two sides have agreed on major issues such as healthcare, but still undecided are rules for removing arbitrators, who settle disputes between the two sides when a labor contract is in place.
The shipping companies, who accuse the union of purposely slowing operations to gain leverage during talks, have intermittently halted the unloading and loading of ships. The reason, they say, is to help move out the backlog of cargo already on the docks and to avoid paying overtime to workers when a slowdown is in place.
The companies once again barred ship unloading Saturday, Sunday and Monday at the 29 West Coast ports — days when workers would have received overtime for the weekend and the Presidents Day holiday.
In Los Angeles and Long Beach, the employers say the union is dispatching far fewer skilled crane operators to gain leverage, hampering the ability to clear congested docks.
The union, in response, has said it is only limiting crane operators without the proper certification for safety reasons after several accidents. The union charges that employers aren't training enough operators and could fill the missing positions with their own employees, instead of workers from the union dispatch hall. It says employers have slashed work shifts to pressure the union to cave in at the bargaining table.
With the two sides at loggerheads, businesses around the country face costly decisions.
Carr, of Softline Home Fashions, doesn't want his goods stuck again in San Pedro Bay. So he may airlift an upcoming shipment from China instead.
It would cost him tens of thousands of dollars more.
Twitter: @khouriandrew
Times staff writers Christi Parsons and Peter Jamison contributed to this report.
---
Must-read stories from the L.A. Times
Get the day's top news with our Today's Headlines newsletter, sent every weekday morning.
You may occasionally receive promotional content from the Los Angeles Times.