Prudential is freed from 'too big to fail' label and the tough oversight that came with it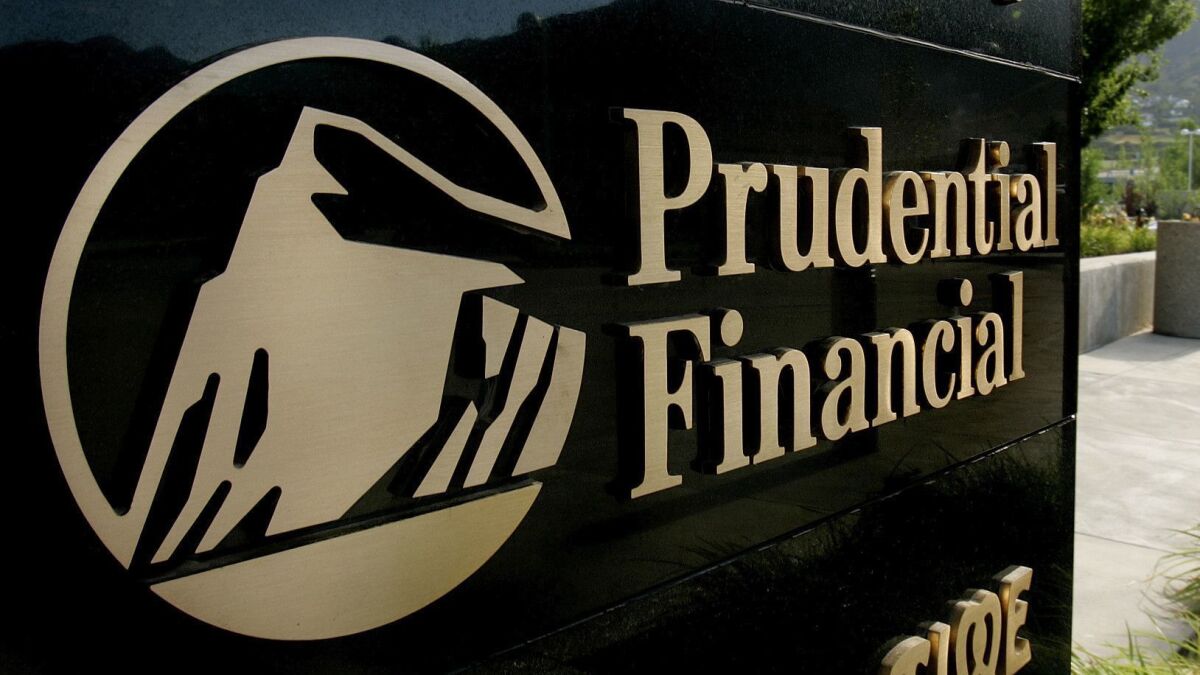 U.S. regulators agreed to stop labeling Prudential Financial Inc. as too big to fail, making the insurance company the last non-bank to escape a post-crisis designation subjecting firms to extra oversight.
The Financial Stability Oversight Council agreed in a Tuesday vote that Prudential doesn't pose a special risk to the stability of the financial system, the Treasury Department said in a statement. The other non-banks that had been deemed systemically important financial institutions — American International Group Inc., MetLife Inc. and General Electric Co.'s financial arm — were freed by council over the last few years.
The decision to scrap Prudential's designation removes an additional layer of regulatory oversight, potentially saving the life insurer millions of dollars annually in compliance costs. The Newark, N.J., company was named a systemically important financial institution in 2013, along with AIG and GE's finance business.
"This is a substantive finding that we don't present systemic risks, so we feel like we have a stable conclusion here," Prudential Vice Chairman Mark Grier said Wednesday.
The insurer said Wednesday that it supported the "appropriate conclusion that Prudential does not pose systemic risk." It said in a statement that its "longstanding belief" was "that Prudential never met the standard for designation."
The four non-banks took different paths to escaping the label. MetLife sued and won a ruling in 2016 striking down its designation. AIG was freed last year after privately telling the oversight council that it should no longer be considered a systemically important financial institution, while GE shed assets and petitioned regulators to drop the designation.
The council, which is led by the Treasury secretary and includes the heads of other agencies, was created as part of a broader effort to keep a close watch on firms whose failure could threaten the financial system. Companies' efforts to shed "too big to fail" status has been aided by a shift in the regulatory attitude under President Trump.
Although Prudential will continue to be overseen by state regulators, the move will free the company from extra costs it faced to comply with Financial Stability Oversight Council requirements. During an earnings call last year, the company said it spent $135 million in 2016 on reporting or activities related to being a systemically important financial institution. Executives have said over the last year that they didn't think Prudential would continue to be designated as it saw competitors lose the label.
Grier, who is planning to step down, has said he didn't believe the designation was a particular burden for Prudential. That's partially because New Jersey regulators will continue to have strict oversight of Prudential and because the company didn't manage its capital in anticipation of certain requirements that federal regulators might have, Grier said last year.
The decision "follows extensive engagement with the company and a detailed analysis showing that there is not a significant risk that the company could pose a threat to financial stability," Treasury Secretary Steven Mnuchin said Wednesday in a statement.
Sign up for the California Politics newsletter to get exclusive analysis from our reporters.
You may occasionally receive promotional content from the Los Angeles Times.