In blow to Los Angeles, SpaceX is moving some Mars spaceship and booster work to Texas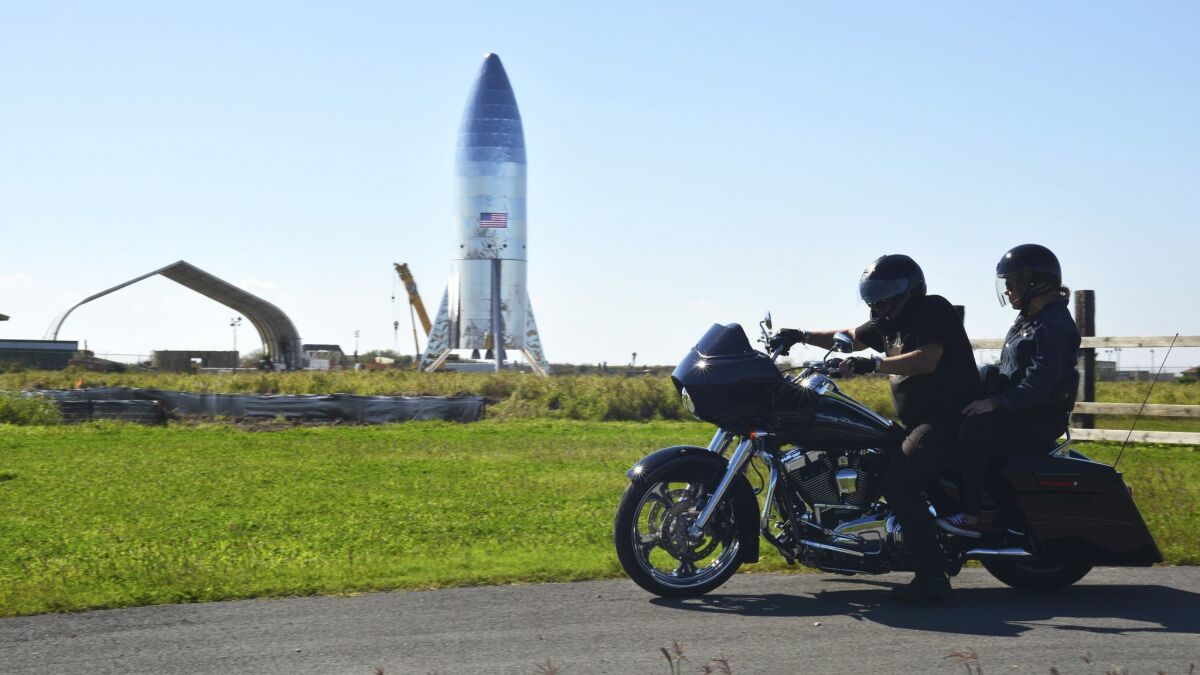 In a reversal of a deal local officials had touted as a win for Los Angeles tech, SpaceX will no longer build its Mars spaceship and rocket booster system at the Port of Los Angeles. Instead, work to build and test the prototype will be done in south Texas.
SpaceX said in a statement Wednesday that the decision was made to "streamline operations."
In a tweet, Chief Executive Elon Musk said: "Starship & Raptor [engine] development is being done out of our HQ in Hawthorne, CA. We are building the Starship prototypes locally at our launch site in Texas, as their size makes them very difficult to transport."
SpaceX has completed assembly of a prototype of the Starship hopper vehicle at its Boca Chica facility in south Texas, where it also plans to conduct tests in which the prototype will launch and go up in the air briefly before returning to Earth.
Musk has said the first of these tests could occur as soon as next month, though he hedged that "due to unforeseen issues" it could also happen two months from now.
The SpaceX statement said the Starship decision "does not impact our current manufacture, design, and launch operations in Hawthorne and Vandenberg Air Force Base" and that the company will "continue recovery operations of our reusable Falcon rockets and Dragon spacecraft at the Port of Los Angeles."
SpaceX initially leased about eight acres at the Port of L.A. that it used for recovery of Falcon 9 first-stage boosters and Dragon capsules, which arrive at shore via droneships. A new deal, approved last year, would have given SpaceX use of a 19-acre site on Terminal Island. Under the terms, SpaceX was to have an initial 10-year lease at the port with two additional 10-year extension options.
A now-former SpaceX official told the L.A. Board of Harbor Commissioners last year that production and fabrication of the Mars rocket could begin there in two to three years.
But in a letter dated Jan. 7 and provided to The Times, SpaceX Chief Financial Officer Bret Johnsen told the Port of Los Angeles the company would terminate the Terminal Island lease agreement.
The move comes just days after SpaceX, saying it needed to get "leaner," announced that it would lay off about 10% of the company's more than 6,000 employees. About 577 employees in Hawthorne are affected, according to a state WARN Act notice dated Friday.
Though Port of L.A. officials are "disappointed that SpaceX will not be expanding their operations at the Port of Los Angeles, we are pleased that they will continue their recovery operations here," spokesman Phillip Sanfield said in a statement.
Los Angeles City Councilman Joe Buscaino was told of the decision by company officials in a conference call late last week, said Branimir Kvartuc, a spokesman for the councilman.
In a tweet Wednesday morning, Buscaino said: "While I feel crushed about SpaceX pulling the Super Heavy out of the Port of L.A., I feel confident that other innovators will see the huge value they get in San Pedro."
L.A. Mayor Eric Garcetti said last year that SpaceX told the city of L.A. it preferred to have its Mars rocket and spaceship facility close to Hawthorne. A port official told commissioners last year that SpaceX had also been looking at potential sites in Louisiana and Texas.
Other commercial space firms have operations in Texas. Blue Origin tests engines and its New Shepard rocket and capsule system at its west Texas facility, and SpaceX already has a rocket development facility in McGregor, about 18 miles west of Waco.
Twitter: @smasunaga
---
Sign up for the California Politics newsletter to get exclusive analysis from our reporters.
You may occasionally receive promotional content from the Los Angeles Times.