Taxpayers may pay for secret Zuma satellite lost after SpaceX launch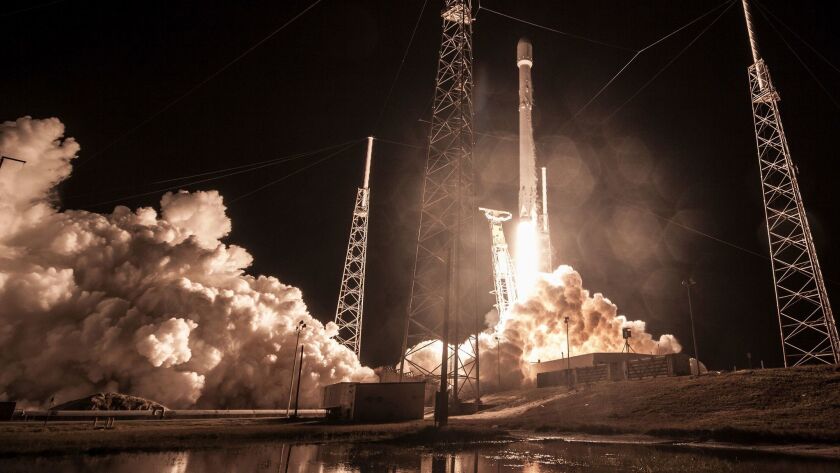 Bloomberg
U.S. taxpayers may end up paying for the missing satellite launched by Elon Musk's Space Exploration Technologies Corp. that crashed into the ocean earlier this month, part of a classified U.S. government mission dubbed Zuma.
Questions remain around the event, which appeared to be unsuccessful despite a fruitful rocket launch and first-stage landing. But SpaceX and Northrop Grumman Corp., the satellite builder, aren't likely to bear the costs. They probably have contracts with the government that limit the firms' liabilities tied to the lost satellite, according to several industry experts.
"Launching spacecraft into orbit is a risky business," said Peter Elson, chief operating officer for the aerospace team at insurance broker Jardine Lloyd Thompson Group Plc. "The policy of the U.S. government has been that they do not buy insurance. They rely on the taxpayer to foot the bill when things go wrong."
SpaceX and the Pentagon declined to comment. Northrop did not respond to requests seeking comment.
On Wednesday, the House Committee on Science, Space and Technology held a hearing on NASA's Commercial Crew Program. When asked about Zuma, SpaceX Vice President Hans Koenigsmann reiterated the company's stance — that the rocket performed as expected.
Musk and Hawthorne-based SpaceX are in a race with Boeing Co. to bring American astronauts to the International Space Station later this year. SpaceX added another $100 million to its last fundraising round, which valued the company at more than $21 billion, according to Equidate.
While SpaceX and Northrop would be covered by third-party liability insurance, which is required to get a commercial launch license from the Federal Aviation Administration, there was no damage to people or property during the launch at Cape Canaveral Air Force Station in Florida.
Because the satellite, destined for low-Earth orbit, crashed into the sea, the largest costs associated with the mishap were tied to the equipment and launch. While no one is saying what the satellite was supposed to do or how much the secret payload cost, some advanced spy satellites can cost more than $1 billion to develop, build and test.
"In essence, the taxpayer has paid for this mission," Elson said. "If the government decides to replace Zuma, the taxpayer would pay for it."
Hull and Basak write for Bloomberg.
dhull12@bloomberg.net
sbasak7@bloomberg.net
---
Your guide to our new economic reality.
Get our free business newsletter for insights and tips for getting by.
You may occasionally receive promotional content from the Los Angeles Times.