Here's why Chinese money is pouring into Temecula's wine region
David Liu made his first fortune more than two decades ago, exporting American scrap metal to his rapidly industrializing home country of China. After the financial crisis, he scored big again buying thousands of distressed apartments in the United States and selling them later for a tidy profit.
Liu is now convinced he's spotted his next major haul, this time in a seemingly unlikely place for Chinese investment. The millionaire developer is betting that the oft-dismissed wine region of Temecula is poised to break out as a far bigger destination for oenophiles and tourists given its proximity to Los Angeles, Orange County and San Diego.
"Napa Valley is bigger, but it's too far away," said Liu, 57, a former statistics professor turned real estate developer. "Here, we have 20 million people living at least a two-hour drive away. And the quality of the wine is much better than before."
Liu, an American citizen who splits his time between China and the U.S., purchased 700 acres of barren Riverside County land in the heart of the appellation that had previously been destined for tract homes.
In its place, Liu and his Arcadia-based company, Standard Portfolios, are building a sprawling wine resort and residential community tentatively named Twelve Oaks that will include a Marriott-branded hotel, a winery, event space and multimillion-dollar homes, many of which will be custom-designed and surrounded by private vineyards. Investors in China are financing the several-hundred-million-dollar project. The homes will be marketed locally as well as to buyers in China.
The project comes at a time when Chinese investment has spilled over from the traditional Southern California destinations of Los Angeles and Orange counties to the Inland Empire, where land and property is cheaper and wineries go for a fraction of the cost of their counterparts to the north (though Napa Valley has seen some Chinese investment, including from former NBA star Yao Ming).
They don't know the difference between French and California wine per se. A few knew of Napa, but they didn't know about Temecula.
— Dan Stephenson, Rancon Group founder and chairman
Twelve Oaks, which is scheduled to open in 2019, is the biggest of at least five projects backed by Chines investors in Southern California's primary wine-producing region, which consists of about 40 wineries.
Among them is the Avensole Winery, a hilltop estate owned by a former scriptwriter turned litigator, who found a group of Chinese investors to help build the now year-old business.
Another project is the proposed Europa Village, a residential, hotel, winery and event space development partly paid for with $60 million from over 100 Chinese investors through EB-5 visas — a program that allows foreigners to apply to become legal U.S. residents in exchange for as little as a $500,000 investment in a business that creates or preserves at least 10 jobs.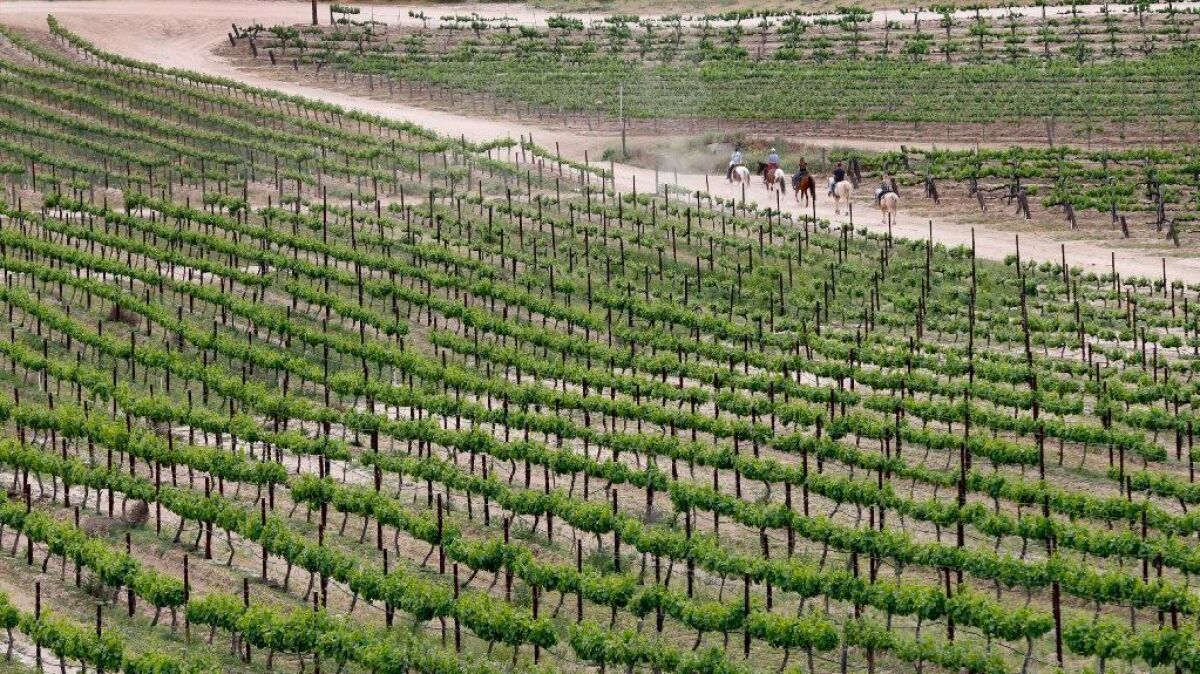 The infusion of foreign capital bolsters a plan backed by Temecula Valley wine producers to more than double the number of wineries in the area to over 100 by 2020. The expansion is aimed at significantly boosting a local tourism industry that generated about $700 million in 2015, according to the most recent statistics.
Chinese investment has slowed because of new regulations in China aimed at stemming capital flight. But over the long term, experts say Chinese companies and investors will continue to snap up assets abroad.
The addition of more wineries and investment might further help Temecula shed its reputation as just a jaunt for bachelorette parties and unpolished wines, a change that could lure more oenophiles who would ordinarily head for Paso Robles or Santa Barbara.
"Compared to Napa and Sonoma, we're like a little baby," said Terri Delhamer, a leading real estate broker in Temecula Valley, which only opened its first commercial vineyard in 1968, more than 100 years after Napa Valley's. "The fact we're attracting more capital and investment is definitely helping us. The more money you bring in to the region, the more you'll invest in quality wine, which helps us gain credibility."
For many of the Chinese investors, they not only get a chance at visas for themselves and their families, but the perceived prestige of owning a piece of California wine country — albeit not the kind celebrated in the pages of Wine Spectator.
When Dan Stephenson, founder and chairman of the Rancon Group development firm, traveled to China to recruit Europa Village investors, many of the interested parties were neophytes to the tipple. Despite an austerity campaign and a crackdown on corruption that hurt wine sales in China, the beverage remains wildly popular there as a symbol of upper-class aspirations.
"They're not the elite of the elite," Stephenson said of his audiences in China. "They don't know the difference between French and California wine per se. A few knew of Napa, but they didn't know about Temecula. It was a bit of a sales job."
Making that pitch should get easier now that the southwest corner of Riverside County has attracted more Chinese interest. A number of hotels and strip malls have been financed through Chinese EB-5 investments, dozens of homes have been sold to overseas Chinese buyers and a local education firm co-founded by former Walnut Mayor Joaquin Lim is placing hundreds of tuition-paying students from China in public schools in the neighboring cities of Murrieta and Temecula. To provide more housing for the students and others, Lim is in talks with China's third-largest home builder, Country Garden, to build a hotel in Murrieta.
"There's now enough of an Asian presence here to present investment options," said Lim, co-founder of Tower Bridge International, which had to come up with Chinese names for Murrieta and Temecula for China-based clients. The result? Molita, which means jasmine tower, and Temeigula, which means beautiful valley.
The area also has creature comforts like a Shanghainese restaurant in Temecula that serves passable soup dumplings, offering an alternative to the reliable Catonese dishes at the nearby Pechanga Resort & Casino. And, while the region may not have a 99 Ranch Market — that ultimate symbol of Chinese critical mass — it boasts a substitute called 88 Ranch Marketplace.
"I used to always introduce myself by saying 'I'm John Wang, owner of the Comfort Inn and the only Chinese in town.' I can't say that anymore," said Wang, a Taiwanese American developer who first started doing business in Murrieta about a decade ago.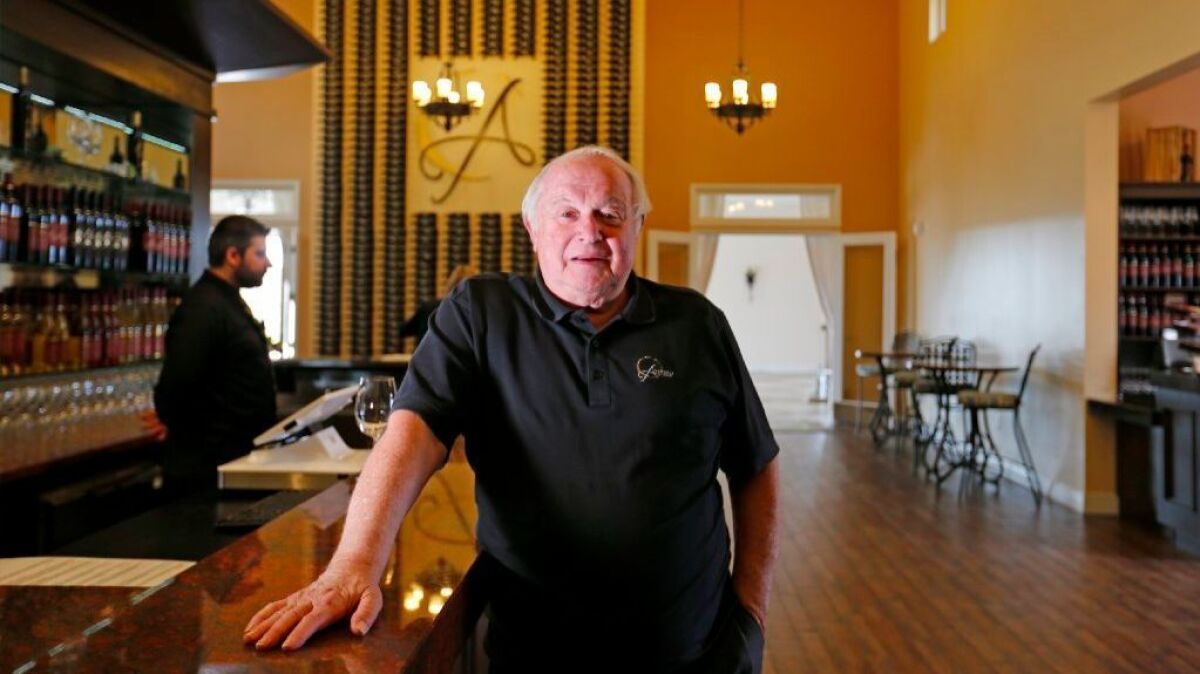 Sheldon Lytton visited Temecula Valley for the first time five years ago and was immediately taken by the rolling hills about a 2½-hour drive from his home in Calabasas. He's had a varied career, writing Westerns for TV, helping run a now-defunct film studio, serving as a counsel to the Gerald Ford presidential campaign and founding a law firm in West. L.A. So Lytton had few qualms about buying a 22-acre Temecula Valley winery estate in 2013 and making his own wine under the label Avensole, a mash-up of two Italian words meant to mean adventurous and one-of-a-kind.
Before opening, the property needed a major renovation. Lytton sought equity investors, so he turned to a Chinese American client who was an immigration consultant. She connected him with five EB-5 investors in China who now control about half the equity in Avensole. The group was invited to the winery's opening last year, which was also attended by a Buddhist monk who blessed the property and released koi fish into its pond. Avensole now features 16 acres of grapevines, a restaurant, a tasting room, an event space for weddings and 65 employees. It was designed with feng shui in mind to keep its fortunes from escaping.
"I don't think I could do a project this size without that investment," said Lytton, who knew little about Chinese culture before opening Avensole and admits his favorite Chinese food is the American variety. His go-to restaurant is Mr. Chow in Beverly Hills where an order of steamed rice goes for $8.50.
Now Lytton, 74, is contemplating making a wine with a Chinese label. He regularly sends reports about the winery to his investors in China translated by a Taiwanese American law student. And he's looking into building a helicopter pad on the winery grounds to attract wealthy Chinese visitors. If they show up, he'll give them his pitch for Temecula's continued rise.
"There's few guarantees in life, but this is pretty close," Lytton says. "So long as California continues to grow."
Follow me @dhpierson on Twitter
ALSO
Immigrants flooded California construction. Worker pay sank
American Airlines flight attendant tells angry passenger: 'Hit me. Bring it on'
As auto sales cool, there are great deals to be had — and worries of a lending bubble
---
Sign up for the California Politics newsletter to get exclusive analysis from our reporters.
You may occasionally receive promotional content from the Los Angeles Times.