AlphaBay sold drugs, guns and hacking tools online — until a sting operation shut it down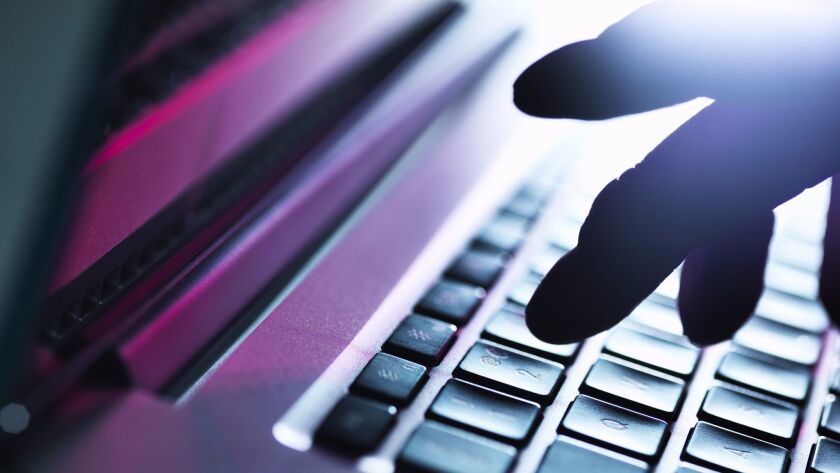 Two so-called "dark Web" sites dedicated to illegal drug and arms sales have been seized in an audacious sting operation, and the suspected ringleader has committed suicide, U.S. Justice Department officials said Thursday.
Alexandre Cazes,a 25-year-old man from Quebec who was suspected of creating an illegal online marketplace called AlphaBay, was arrested by Thai authorities this month at the Bangkok home he shares with his wife. He committed suicide by hanging while in custody July 12, said Lauren Horwood, spokeswoman for the U.S. attorney's office for California's Eastern District.
Cazes had been charged in connection with running the black market site that Horwood called "much bigger" than Silk Road, a notorious dark Web marketplace seized by law enforcement in 2013.
AlphaBay, which was started in 2014, shortly after Silk Road's demise, was "a No. 1 go-to market according to a lot of the guides," said Robert Gehl, a University of Utah associate professor who writes about the dark Web. "It was always the highest rated market, and it had a lot of volume."
Cazes' attorney, Roger Bonakdar of Fresno, said he had spoken to the young French Canadian by phone only a few hours before he was found hanged. "I'm still in shock about what they say happened," he said.
Bonakdar said Cazes, whom he described as "very affable and articulate" — and mostly worried for his family — showed no sign suicidal intent. The report from the Thai jail is "something I am baffled by, and that leaves me deeply concerned about the timing and circumstances of his death," Bonakdar said.
The forfeiture complaint alleges that Cazes had built up the site into an international bazaar with annual sales in the hundreds of millions of dollars.
The site advertised itself to potential customers as aiming to become the largest EBay-style underworld marketplace, and ultimately had as many as 10 salaried employees, including a public relations manager, and moderators who refereed disputes, according to court documents.
Prosecutors said they were able to trace it to Cazes because an email address he used for password recovery also turned up on a comment site where he had left a message in French. When Thai authorities served a search warrant on his home, they found his laptop open on the AlphaBay data center page, the complaint said.
European and American law enforcement authorities then conducted an elaborate operation designed to fool AlphaBay users into revealing themselves.
The investigators shut down AlphaBay in a manner deliberately crafted to look like a heist. They hoped that users would think that the site's administrator had absconded with their money and disappeared — a common hazard on the dark Web — and that they would take their business elsewhere.
In particular, investigators hoped that as news of the shutdown filtered through hacker sites and Web news sources, AlphaBay customers would switch to using another large and notorious black-market site called Hansa — now in the secret control of the Dutch National Police.
When AlphaBay's contraband business started turning up on Hansa, Dutch police were lying in wait. They used Hansa as a front for collecting evidence for a couple of weeks before it too was shut down.
"When I first heard about this, I thought, 'Oh, you guys have read too many novels,'" Horwood said. "But then it worked."
Cazes had been indicted on racketeering, narcotics and identity-theft related charges. Federal prosecutors Wednesday filed a civil forfeiture complaint against Cazes and his wife's assets. These include a BMW motorcycle, a Lamborghini Aventador sportscar, condos and homes around the world, as well as a hotel in Thailand.
Cazes also had millions of dollars in cryptocurrency, which has been seized by federal authorities.
Criminal complaints in South Carolina and Florida have also been filed against suspected AlphaBay vendors, Horwood said. More complaints are likely to be filed as investigators follow leads related to business conducted on the two sites, she said.
AlphaBay was accessed using Tor — a browser popular among activists, dissidents, journalists and others who seek to hide their identities online. The site made use of the cryptocurrencies Bitcoin, Monero and Ethereum, and also used Reddit, encryption, VPN and other network proxies to conduct business.
It was chiefly used for illegal narcotics sales, Horwood said, although it also served purveyors of illegal weapons and identity thieves. Stolen credit card numbers, hacking tools and toxic chemicals, for example, were among the goods being sold.
AlphaBay provided users with ways to mask transfers of digital currency payments, according to the federal indictment naming Cazes. But otherwise it functioned much like Ebay or other e-commerce sites. Users had accounts. They were able to search items by popularity. They could provide positive and negative feedback about vendors, the indictment said.
The indictment said that AlphaBay's members and associates included residents of Merced and Fresno counties.
In a news release, Justice Department officials said that AlphaBay has been connected to drug overdoses. It said an AlphaBay staff member had once claimed that the site served 40,000 vendors and more than 200,000 users.
The release quoted Atty. Gen. Jeff Sessions calling the bust "likely one of the most important criminal investigations of the year" and stating, "The dark net is not a place to hide."
But Bonakdar, Cazes' attorney, said that while AlphaBay was clearly a conduit for contraband, prosecutors had overstated the volume of business on the site in an effort to build their case against Cazes.
"There are 16 counts in the indictment and not one of them says he was actually involved in any transactions. It says he operated a website," the defense lawyer said.
In addition to Europol, Dutch and Thai police, Lithuanian, Canadian, French and British authorities also took part in the operation. In the United States, Drug Enforcement Administration, FBI and IRS investigators also participated.
---
UPDATES:
7:20 p.m. This article was updated to include comments from Alexandre Cazes' attorney, Roger Bonakdar.
2:30 p.m.: This article was updated to include comment from Robert Gehl, a University of Utah associate professor.
12:05 p.m.: This article was updated with the indictment's allegation that AlphaBay's members and associates included residents of Merced and Fresno counties.
11:55 a.m.: This article was updated with additional reporting about the sting and comment from Lauren Horwood.
This article was originally published at 8:05 a.m.
---
For reporting and exclusive analysis from bureau chief John Myers, get our California Politics newsletter.
You may occasionally receive promotional content from the Los Angeles Times.