Facebook user growth slows, and people are spending less time on the social network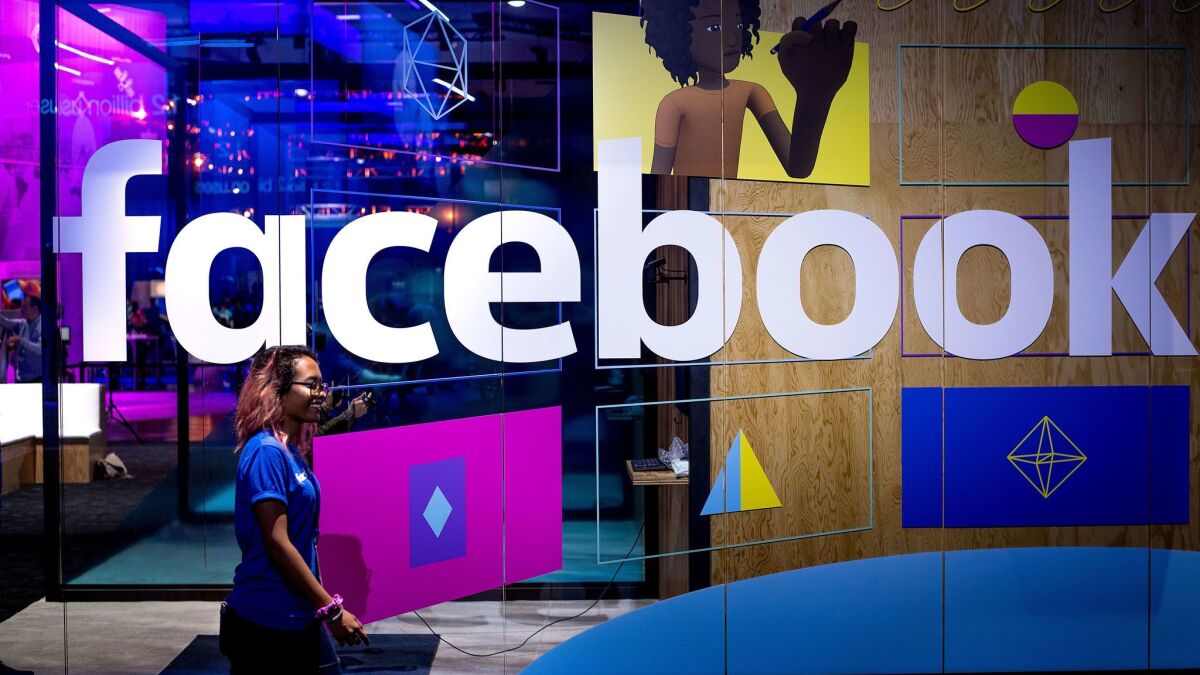 Bloomberg
Facebook Inc. said Wednesday that people are spending less time on its social network, and that fewer people are using the service daily in the U.S. and Canada, for the first time ever.
Facebook reported 1.4 billion daily active users for the fourth quarter, slightly missing a 1.41-billion average estimate from three analysts surveyed by Bloomberg. That amounted to the slowest user growth on record. Daily active users in the U.S. and Canada declined from 185 million in the third quarter to 184 million in the latest period, the company reported.
Facebook's year was marred by challenges that led Chief Executive Mark Zuckerberg to rethink the Menlo Park, Calif., company's main product, the news feed, and warn that the changes could reduce time spent and engagement on the social network. Zuckerberg said the company will focus on "time well spent" and "meaningful interactions" for users — terms Facebook hasn't said how it will define or measure.
Zuckerberg said Wednesday that Facebook made changes in the fourth quarter that cut the number of viral videos in people's news feeds. Those tweaks, and others, have already reduced time spent on Facebook by roughly 50 million hours a day, he noted.
"They've warned about a decline in one of the basic fundamental financial drivers," said Mark Mahaney, an analyst at RBC Capital Markets. "That's going to probably serve as an overhang on the stock."
Some analysts reckon declines in user growth and engagement are driven by people's frustration with their experience on Facebook, rather than by Zuckerberg's changes. "Perhaps the real reason that Facebook is making these changes is because they are alarmed by the internal statistics around reach, engagement, form factor etc.?" Neil Campling, co-head of the global thematic group at Mirabaud Securities, wrote in a note after Facebook posted its results.
Facebook shares fell as much as 5.2% to $177.10 in after-hours trading.
Fourth-quarter revenue rose to $12.97 billion, beating the average analysts' estimate of $12.6 billion and demonstrating dominance in mobile advertising.
Facebook reported net income of $4.3 billion, or $1.44 a share, in the quarter. Recent U.S. tax law changes forced the company to set aside more money to pay taxes, cutting the quarter's earnings by 77 cents a share, it said. Without that, profit would have been $2.21 a share. Analysts were looking for $1.95 a share, according to data compiled by Bloomberg.
Facebook has become more self-critical since revealing a campaign by Russia to spread political discord around the 2016 U.S. presidential election that reached an estimated 150 million U.S. users on Facebook and Instagram. The company has been cooperating with Congress and publicly questioning whether social media is good for democracy and mental health.
Russia's operation — in the U.S. and ahead of other elections around the world — was made easier by incentives on Facebook that reward attention-grabbing content. Zuckerberg is looking to tweak the news feed to emphasize news and advertising from trustworthy sources, local providers and authentic accounts.
Frier writes for Bloomberg.
Sign up for the California Politics newsletter to get exclusive analysis from our reporters.
You may occasionally receive promotional content from the Los Angeles Times.