Peter Thiel's Palantir wins $876-million U.S. Army contract for battlefield software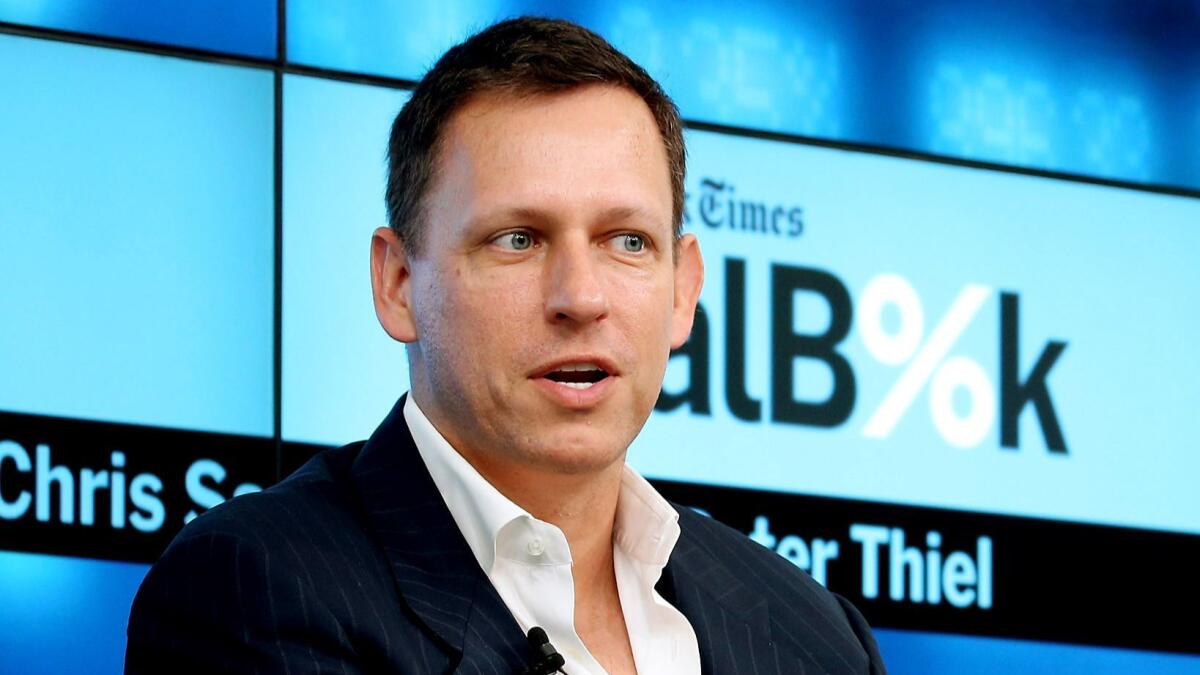 Billionaire investor Peter Thiel got a fresh victory in Washington: His data-mining start-up, Palantir Technologies Inc., has won a much-contested contract to provide battlefield intelligence software for the U.S. Army.
Palantir will work with Raytheon Co. to replace the troubled Distributed Common Ground System. They beat out seven other proposals for a decadelong, $876-million contract, the Defense Department said Thursday. Terms of the partnership between Palantir and Raytheon weren't disclosed, and the companies didn't immediately respond to requests for comment.
Thiel, the co-founder and chairman of Palantir, approved the company's move in 2016 to sue the Army over what it called an unfair bidding process. A judge found in Palantir's favor and ordered the Army to revamp the way it solicits bids for the Distributed Common Ground System. The U.S. Government Accountability Office determined that the Army's current system was over budget and underperforming.
Since the election of President Trump, Thiel has gained significant influence in Washington. He was the most prominent supporter of Trump from Silicon Valley and contributed to his campaign. Thiel helped fill positions in the Trump administration with former staff, including Trae Stephens, a onetime Palantir employee. Although he recently told the New York Times that Trump's presidency had "fallen short" in some ways, Thiel said he has no regrets about supporting him.
In addition to the Army deal, San Jose-based Palantir has been making inroads elsewhere in the U.S. government. After the company made a similar legal challenge to the Navy, officials agreed to revamp its technology procurement process last year.
Founded in 2004, Palantir is used by dozens of federal, state and local law enforcement agencies to aggregate far-flung data, find patterns and present results in colorful, easy-to-interpret graphics. Its use by police in Los Angeles, Chicago, New Orleans and elsewhere has raised ethical concerns about the potential for unfairly targeting minorities.
Alex Karp, who started the company with Thiel and serves as chief executive, said the 2,000-person company would turn its first-ever profit in 2017, based on performance early in the year. The company has declined to say whether it met that goal. Karp has also raised the possibility of an initial public offering or some other kind of transaction to let existing shareholders cash out. A research report from October suggested Palantir would struggle to retain the $20-billion valuation private investors had given it.
The Times reported in December that Thiel plans to relocate his residence from Silicon Valley to his home in Hollywood, and move his Thiel Capital and Thiel Foundation organizations to a new headquarters in L.A., according to a person familiar with his plans.