Watch how these YouTube stars make money unboxing toys
Jason Robert Keef clutches a baby doll, contorting his face into a series of expressions: shock, then excitement and finally bemusement.
He pauses for a second before grinning widely into the camera perched on a tripod.
"What's up everybody? Jason here!" he chirps. "A lot of you have been begging me and begging me and begging me to review a Baby Alive doll. She's cute, and apparently you feed her and she poops!"
With dreams of becoming a Hollywood actor dashed, Keef has instead transformed himself into a YouTube persona who specializes in unboxing and reviewing toys.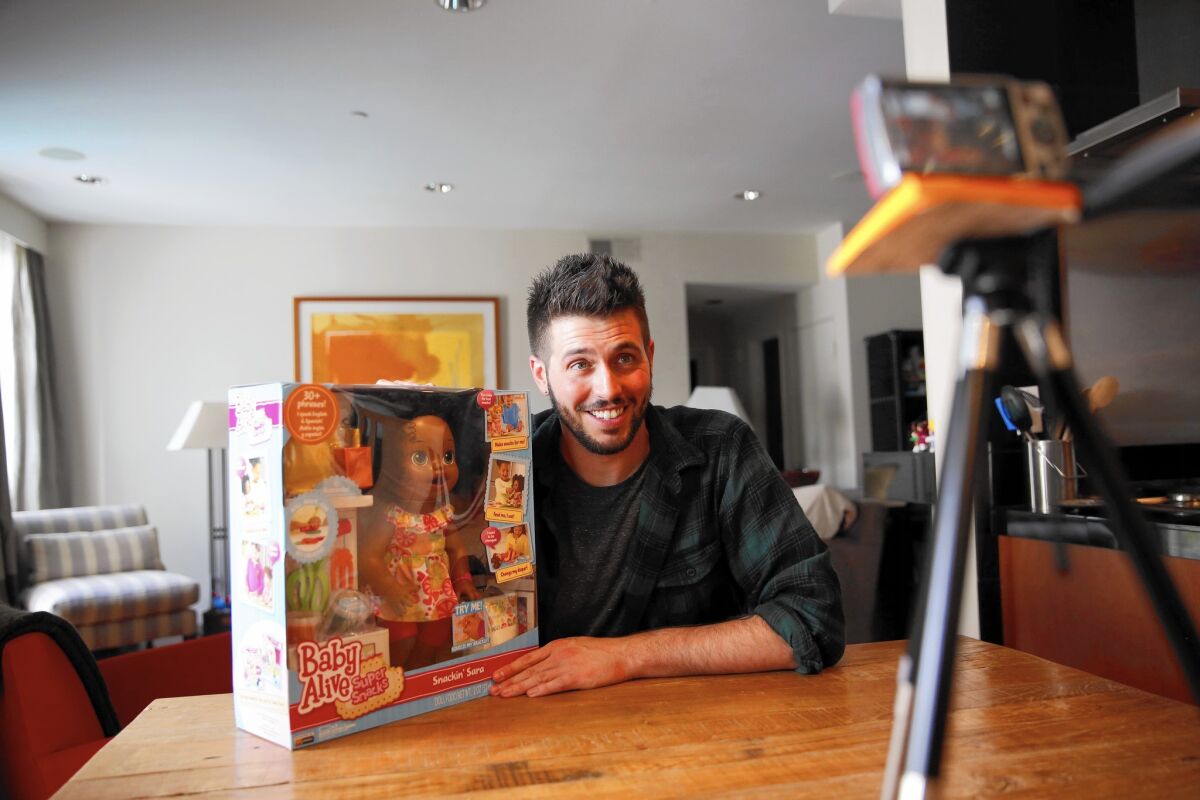 The holidays are his busiest season. For up to 12 hours a day, the 33-year-old sits at the wooden kitchen table in his West Hollywood apartment, filming and editing clips of himself unpacking toys while he gives a running commentary. His most popular video, a shopping trip to the American Girl store at the Grove in Los Angeles, has garnered more than 80,000 views.
"And that's a drop in the bucket compared to some," he said.
That's because toy unboxing has become a big business on YouTube. The odd — and hugely popular — phenomenon attracts millions of eyeballs. Some unboxers have become Internet stars, earning millions of dollars a year in ad revenue and commanding hefty fees for appearances.
In 2015, people in the U.S. watched 60 million hours of unboxing videos for everything from gadgets to makeup, attracting more than 1.1 billion views, according to YouTube. Americans spent nearly twice as much time watching toy-related videos this year compared with 2014.
In August, Disney co-opted the powerful new marketing tool to unveil merchandise tied to its latest "Star Wars" movie. YouTube stars around the world unboxed "Star Wars" playthings in an 18-hour marathon called Force Friday that was streamed online.
YouTube has become the next frontier for toy companies to master, experts said, as kids become harder to reach through traditional media like television.
Join the conversation on Facebook >>
"This is just sort of the evolution of TV commercials," said Jason Moser, a toy analyst at the Motley Fool. "It's on demand wherever they want to watch it, on whatever device they want to watch it. And to boot, it's more measurable than it ever was on TV."
Dave Brandon, chief executive of Toys R Us, said the chain has made its own toy videos that have garnered 2 million views on YouTube.
"It's such a wonderful way of conveying information, and, oh, by the way, it doesn't cost you anything," he said.
YouTube videos aren't free, but they're far cheaper than TV ads, analysts said. Toy companies still have to shoulder the cost of making their own videos or, at a minimum, they have to send free toys to YouTube stars to review.
Rashay Brown, a nurse from Hollywood, says her 9-year-old niece and 5-year-old nephew watch unboxing videos "literally every day."
"The boy especially, he'll watch the same video over and over and over again," said Brown, 25. "He always gets surprised too, but it's the exact same video and he knows what's going to happen!"
Keef got into unboxing videos a few years ago, when he first moved to Los Angeles from Alabama to pursue an acting career.
But he found L.A. overwhelming and isolating. After a while, he started going online and watching YouTube toy videos as a mental escape. He connected with an online and offline community of "self-proclaimed geeks and nerds and collectors."
"I was like, 'You exist?'" said Keef, who as a kid had a room dedicated to Ghostbuster action figures, Cabbage Patch dolls and My Little Ponies. "This is so cool. They were toy collectors, they would do Comic-Con, they collected comic books."
Keef uploaded his first video in January 2014. After a year of making at least three videos a week, the Family Video Network, a collection of YouTube channels started by the family behind the "Mommy and Gracie Show," invited him to join — which gave Keef access to toy makers who send him toys for review.
This month, he quit one of his two jobs as a massage therapist to devote more time to creating videos. So far, he earns only about $300 a month from ads that run before his videos, but he hopes to bolster his views enough so that he can start pulling in at least $1,000 a month next year. How much YouTubers earn depends on the number of views, how long people watch the ads and whether viewers click through to the actual products.
"It's not big money for me right now," Keef said. "But I want to turn this hobby into a job, and that's what I'm pushing toward."
He can afford to pursue his dream, at least for now. His friend rents out his spare bedroom to him for only $700 a month. The small space looks like it's straight out of Santa's workshop. In one corner, a trio of American Girl dolls surround a Christmas tree. On the headboard, James Dean dolls and Barbies in elaborate ball gowns are stacked on top of one another in their original boxes.
Producing the kind of content that will propel a toy unboxer to YouTube stardom is hard work.
One of the most successful, Sandra Wells of DisneyCarToys, said she worked 20-hour days for the first two years. Now her channel has 3.1 million subscribers and her husband runs his own toy channel.
Wells declined to give specifics, but she said her family makes enough money off YouTube ads for her to consider it "a full-time job" (it also at least matches her former salary as a financial analyst, she says).
The most successful unboxers have a unique style that attracts kids and stands out from the competition, said Jim Silver, editor in chief of toy review site TTPM.
"Some are all hands, only the voice and hands," Silver said. "Others are almost like watching a TV show."
Toy makers are also increasingly collaborating with YouTubers offline.
Moose Toys, an Australian company with an office in El Segundo, paid Wells to fly to New York City in August for a meet-and-greet with fans in the Toys R Us store in Times Square.
YouTube has been "a big part of the success" of Shopkins, the company's line of collectible plastic toys that take the shape of objects like popcorn and toasters, said Paul Solomon, Moose's co-chief executive. The popularity of online videos in which dolls such as Barbies are paired with the collectibles actually inspired the company to launch its own Shopkins dolls.
"YouTube was something of a catalyst for Shopkins," he said. "It's where kids are creating their holiday lists."
As for Keef, he hopes one day to reach a level where toy companies seek him out. For now, he's happy feeding his steadily growing fan base with fresh videos.
He acknowledges that some people might consider it weird that an adult would devote so much time to playing with toys intended for kids.
"In my head that does sound strange," Keef said. But "I can have my own world for myself on YouTube, and I am sharing that with a ton of other people."
Twitter: @ByShanLi
ALSO
Woman arraigned in deadly Vegas Strip crash; no plea entered
Americans in Beijing warned of terror threat; parts of city locked down
Vegas newspaper stands up to its newly unveiled owner, casino giant Sheldon Adelson