27 Images
PHOTOS: Toyotas, fatalities and sudden acceleration
Off-duty California Highway Patrol Officer Mark Saylor, center, was driving through rush-hour traffic in suburban San Diego when his Lexus took off like a runaway rocket. With him were his wife, Cleofe Lastrella, left, their 13-year-old daughter, Mahala, right, and Cleofe's brother, Chris Lastrella, not pictured.
(Detroit Free Press)
Cleofe's brother, Chris Lastrella, was in the car with the family.
(Detroit Free Press)
An off-duty California Highway Patrol officer and three family members were killed in 2009 after the Lexus he was driving accelerated out of control and crashed in San Diego.
(Detroit Free Press)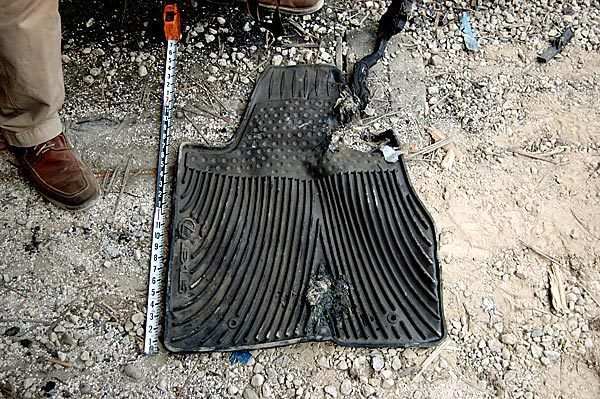 A floor mat melted to the accelerator of Mark Saylor's 2009 Lexus ES350.
(Detroit Free Press)
Tucson's Sage Janesch, 18, was returning home after visiting his pregnant girlfriend when his 2005 Prius jumped a curb on a winding freeway onramp and struck a support beam beneath Interstate 10. The impact tore off the car's roof and killed Janesch instantly, the teen's father said.
(Janesch family)
Even though Sage Janesch's 2005 Prius, above, is not a recalled model, Steve Janesch said he believed a defect may have contributed to the crash that killed his son, a former high school wrestler and rifle marksman who had aspired to become a police officer.
(Janesch family)
Noriko Uno, 66, had left her Upland home to do some grocery shopping and deposit the latest receipts from the family's sushi restaurant when her Camry suddenly accelerated to nearly 100 mph on Euclid Avenue, her family said in a lawsuit, citing police reports.
(Uno family)
Witnesses reportedly told police that they saw Uno tearing along the eastbound lane of the suburban roadway, gripping the steering wheel, her face frozen in terror as she tried to steer out of traffic and away from pedestrians.
()
On March 9, 2009, Jose Madrigal was a passenger in a 2009 Corolla driven by his wife of 50 years, Adelina Madrigal.
()
Adelina Madrigal said she was driving on Florence Avenue when the car suddenly accelerated, even as she applied pressure to the brakes. Trying to avoid approaching cars, she swerved onto the wrong side of the road, struck a car and then crashed into a concrete wall beneath the 605 Freeway. Jose Madrigal, 89, was critically injured. He died March 25 from internal injuries.
()
Cobb County, Ga., police have been unable to explain the crash that took the lives of a Nigerian immigrant from Sandy Springs, Ga., and his 6-year-old daughter. Their Toyota had run a stop sign at a T-intersection in a Marietta office park and plunged into an ornamental pond, police reported. Adegoke Aladegbemi, 57, and Adeolu Julianna Aladegbemi, 6, were still alive but unconscious when firefighters pulled them from the submerged Camry. The pair were pronounced dead upon arrival at a nearby hospital.
()
On the day after Christmas, Monty Hardy and three members of his church were proselytizing in a Dallas suburb, spreading their faith door to door. The four Jehovah's Witnesses were traveling about 30 mph on a residential street in Hardy's Avalon when the car suddenly accelerated, raced through a stop sign, crashed through a fence, hit a tree and landed upside down in a small lake, according to a police report. All four drowned.
()
Hardy and his wife Linda had recently removed the car's floor mats after receiving a recall notice from Toyota saying the mats could cause the accelerator to stick, said Randy Roberts, a Tyler, Texas, attorney who's representing Linda Hardy in a planned lawsuit against the car maker.
(Southlake Police Department)
Investigators removed from Monty Hardy's car a "black box" that records vehicle speed and gave it to Toyota for evaluation, Roberts said. Data removed from the box show that the car was traveling at 47 mph when it hit the fence and at 45.5 mph when it hit the tree, the lawyer said.
(Southlake Police Department)
Esook Synn, left, shown with husband K.C. and a young relative, was a passenger in Unmi Suk Chung's Lexus sport utility vehicle on the 10 Freeway when Chung screamed in panic, "No brakes! No brakes!" according to another passenger. The Lexus accelerated to nearly 80 mph before it crashed into a car on the Overland Avenue exit ramp and overturned, killing Synn, 69.
()
Less than a week after taking her Yaris to a Toyota shop with complaints about braking problems, Tyrene Livingston was en route to her teaching internship in East Pittsburgh, Pa., when the vehicle suddenly accelerated out of control, according to police reports and a lawsuit filed by her mother, Sandra Livingston.
(Livingston family)
Tyrene Livingston's Yaris crossed four lanes of highway at high speed, went over a curb, crashed through a guard rail and plunged into trees at the bottom of an embankment, killing the University of Pittsburgh graduate student, her mother's lawsuit said.
(Business Wire)
Troy Johnson was killed when Guadalupe Gomez of Redwood City drove his 2007 Camry for 20 miles with a stuck accelerator at speeds of more than 100 mph before slamming into Johnson's Honda Accord on Interstate 280, according to an attorney representing the victim's family.
(The Mann Law Firm)
Anne and Bulent Ezal of Bakersfield had driven to the coast for a weekend of taking in the views over the Pacific, the police report recounted. Bulent Ezal had just pulled into a bluff-top parking lot above Pismo Beach on a blustery Sunday, heading to lunch at Pelican Point Restaurant. But as Ezal steered toward an open parking space, the 2006 Camry "went out of control and accelerated uncontrollably," the retired engineer later recalled to police.
(California Department of Motor Vehicles)
The Ezals' car crashed through two barriers and plunged 75 feet into the surf, killing Anne and leaving the sedan in a crumpled mass amid the rocky shoals, according to the police report and bystanders' pictures.
(Pismo Beach Police Department)
Rescue workers cut Bulent Ezal out from behind the steering wheel of the car and retrieved 71-year-old Anne Ezal's lifeless body, lifting it up the steep slope with ropes and pulleys.
(Pismo Beach Police Department)
Pismo Beach Police attributed the Ezals' accident to "driver error." The 2005 Camry has not been recalled.
Click here for more photos.
(Pismo Beach Police Department)
Phat X. Nguyen was on his way to the gym when he lost control of his 1997 Avalon on Mission Village Drive in San Diego. He crashed into two utility poles and was critically injured. He died on May 22, 2007, of complications related to the crash, his daughter, June, said in an interview. He was 72.
(California Department of Motor Vehicles)
Koua Fong Lee was driving his family home from church when his 1996 Camry accelerated as he exited a St. Paul freeway. He said he placed his foot on the brake pedal but the car raced at an estimated 90 mph and crashed into an Oldsmobile Ciera. Three people in the Oldsmobile were killed. A Minnesota jury convicted Lee of vehicular homicide, concluding his foot had been on the gas and not the brake pedal. A judge sentenced him to eight years in prison.
(Thomas Whisenand / St. Paul Pioneer Press)
Juanita Grossman of Evansville, Ind., had just pulled out of the local drive-through pharmacy when her 2003 Camry took off. It clipped another vehicle, crossed the street and grazed a fire station before slamming into a jewelry store. Grossman was conscious after the wreck, maintaining alertness on and off for another six days before dying from her injuries.
(Grossman family)
Ethyl Marlene Foster, 67, was in a friend's Camry when it accelerated uncontrollably, crashing into a double-wide mobile home, according to a complaint filed by relatives. The accident injured the driver and killed Foster, who was crushed by the impact.
(Foster family)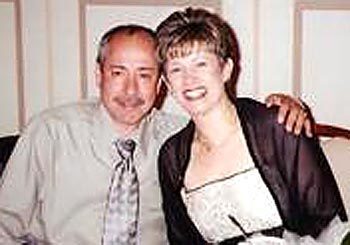 Maria Cafua, 44, shown with her husband Jose Cafua, was in the middle of her early morning commute in Wilmington, Mass., when her 2002 Camry accelerated across three lanes before being broadsided by another car in the fast lane, according to relatives and a complaint filed with the National Highway Traffic Safety Administration. The accident put Cafua in a coma. She died eight months later.
()