Trump slaps tariffs on Canadian lumber imports, escalating trade tensions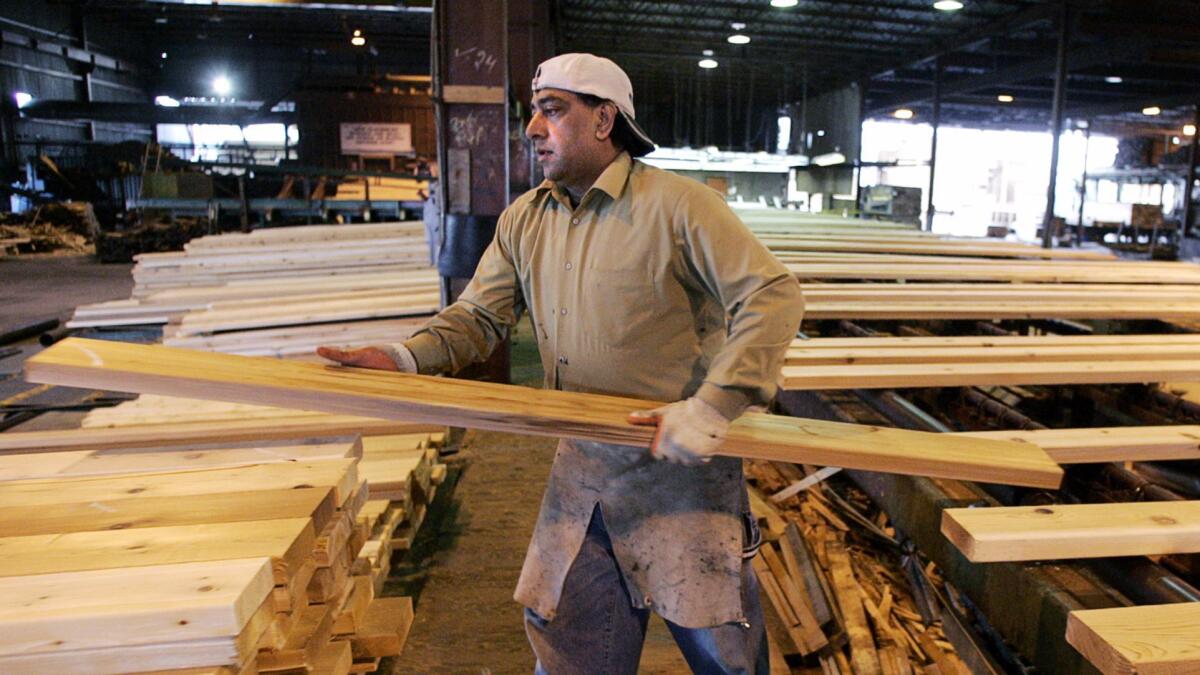 Reporting from WASHINGTON —
The Trump administration is slapping hefty duties on billions of dollars of lumber imported from Canada, marking an escalation of trade tensions ahead of the president's promised effort to overhaul the North American Free Trade Agreement.
The new duties came amid sharp rhetoric by Trump and his senior officials critical of NAFTA, first focused on Mexico and more recently on Canada, the largest purchaser of U.S. exports. In a tweet Tuesday, Trump railed against Canada's protected dairy industry.
"Canada has made business for our dairy farmers in Wisconsin and other border states very difficult. We will not stand for this. Watch!" he said. Opening Canada's dairy market is expected to be a major issue of contention in the NAFTA re-negotiations.
Later in the day, the president told reporters: "People don't realize Canada's been very rough on the United States...they've outsmarted our politicians for years."
Dairy and lumber are sensitive industries in the heartland and rural parts of America, and any moves to strengthen those domestic constituents could help the administration garner congressional support for its broader trade policy objectives. The administration's draft letter to Congress outlining its objectives for NAFTA renegotiations was met with a largely tepid response last month.
"I doubt it will be that helpful in teeing up broader NAFTA negotiations with the Canadians, but one thing it will do is rally key industry and political constituencies," said Nate Olson, a trade expert at the Stimson Center, a think tank in Washington.
Sen. Ron Wyden of Oregon, the ranking Democrat on the Senate Finance Committee, welcomed the administration's lumber ruling. His constituents in the Pacific Northwest had been among those pushing for stronger action on Canadian lumber.
This "announcement sends the message that help is on the way," he said.
During a White House briefing Tuesday, Commerce Secretary Wilbur Ross took a softer tone, calling Canada an "important ally" and "good neighbor."
But Ross, who is expected to take a leading role in renegotiating NAFTA, said that the inability of the two nations to settle the lumber dispute speaks to the trade pact's shortcomings.
"If NAFTA were functioning properly, you wouldn't be having these kinds of very prickly, very unfortunate developments back to back. So in that sense, it shows that NAFTA has not worked as well as it should,'' he said.
The U.S. softwood lumber industry has long complained that competing imports from Canada are subsidized by provincial governments, giving Canadian lumber firms an unfair pricing advantage.
Softwood lumber is used primarily for home building. Imports from Canada today account for about a third of the market in the U.S.
The Commerce Department, in announcing its preliminary ruling late Monday, said that so-called countervailing duties ranging from 3% to 24% would be applied retroactively on five Canadian lumber exporters.
Overall the duties would average about 20% and could amount to a total of around $1 billion. Additional penalties could be levied if Commerce determines Canadian lumber is being dumped into U.S. markets.
The National Assn. of Home Builders estimated that while the new tariffs would increase output for U.S. producers, they would add $1,236 to the price of an average single-family home and lead to a loss of nearly $500 million in wages for American workers.
"This will have an impact on housing," said Robert Dietz, chief economist at the home builders' group
U.S. lumber representatives disputed that the duties would have a material impact on home prices. They applauded the Trump administration action, saying that enforcing fair trade laws and leveling the playing field could increase the domestic industry's employment.
About 360,000 people work in sawmills and other jobs linked to the industry, such as truckers hauling wood, according to the U.S. Lumber Coalition.
The dispute over softwood lumber between the two countries spans decades. American lumber mills complain that most of the timber used by Canadian rivals is bought from government forests at below-market prices.
The U.S. lumber industry filed a complaint last fall with the Commerce Department after a year of unsuccessful negotiations between U.S. and Canada following the expiration of a bilateral agreement on softwood lumber.
The investigation was initiated under the Obama administration, and the Commerce Department's ruling was issued Monday to meet the deadline for reporting a preliminary finding on the case.
Despite the Trump administration's spotlight on the tariffs and messaging that it was part of stepped-up enforcement on trade, analysts at Barclays Bank said the new tariffs on Canadian lumber were not unusual and that "any administration would likely have had to take action in response to the trade association's complaint."
The U.S. and Canada could still reach a negotiated settlement that could result in a removal of the tariffs, the analysts said.
The Canadian government called the new duties "unfair and punitive," and said the industry would challenge the ruling through legal avenues. Canada could file suit with the World Trade Organization. Canadian officials argued that the tariffs would hurt U.S. home builders and ultimately American consumers.
Zoltan van Heyningen, executive director of the Lumber Coalition, called that claim "completely bogus." He said only 2% of the cost of an average $343,000 new house stems from lumber materials.
ALSO
Trump administration launches national security investigation into steel imports
FCC clears way for big TV mergers, eases broadband price limits
Dow Chemical is pushing Trump administration to ignore studies of toxic pesticide
---
UPDATES:
1:55 p.m.: This story was updated with additional trade analysis and comments.
10:20 a.m.: This story was updated with staff reporting.
This story was originally published at 7:40 a.m.