From cars to avocados, consumers could pay the price for Trump's Mexico tariffs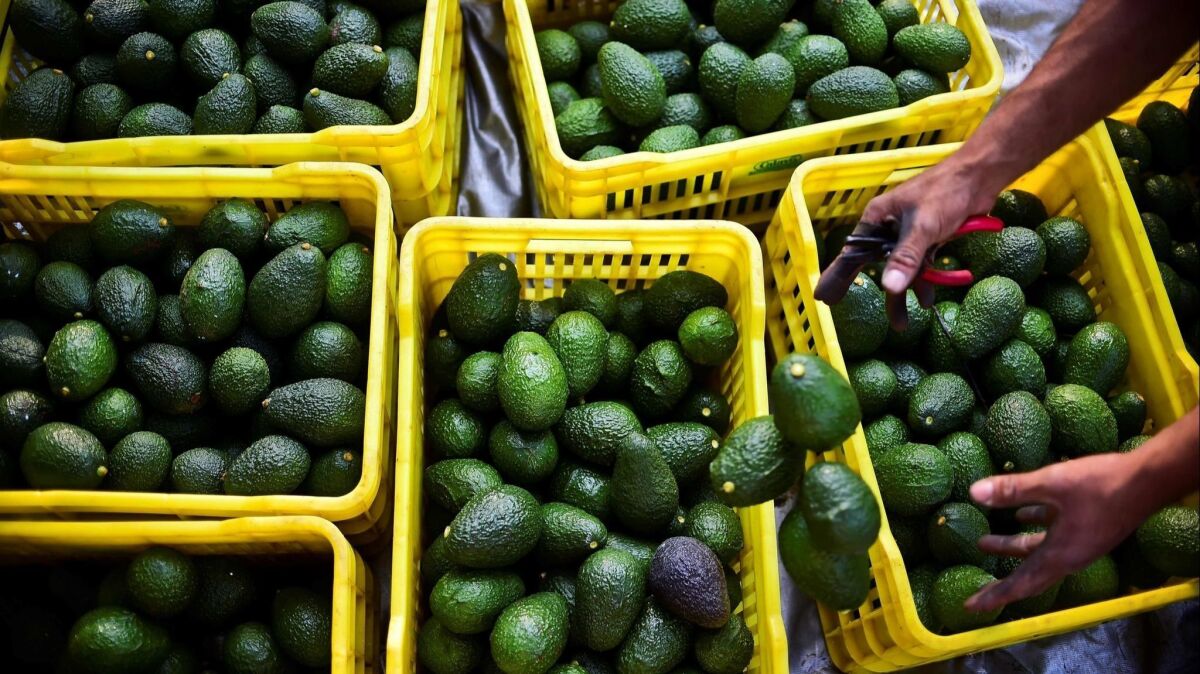 Thanks to Mexico, American shoppers have come to expect affordable produce at the supermarket, and U.S. companies have grown reliant on lower-cost manufacturing south of the border.
But should President Trump implement his proposed escalating tariffs on imports from Mexico in retaliation for undocumented immigration, costs for U.S. customers and businesses could rise.
The impact could be felt from the produce aisle to the car dealership and beyond, especially in California, the nation's most populous state, with major ports of entry, by land and sea, for Mexican goods.
"Mexico is one of the largest trading partners of California," said Jerry Nickelsburg, director of the UCLA Anderson Forecast. "Our two economies are highly integrated."
Trump said a 5% tariff would be levied on all Mexican goods coming into the U.S. starting June 10 "until Mexico substantially stops the illegal inflow of aliens coming through its territory." Those tariffs would increase to 10% on July 1 and could potentially go as high as 25% by October, he said.
If tariffs are enacted and expanded beyond 5%, experts say, California in particular would feel the consequences. Were Mexico to retaliate, many Golden State companies would suffer: Mexico is California's top export destination, accounting for 16.6% of the state's total merchandise exports.
The price of produce
Tariffs could have a significant effect on agriculture, as fruits, nuts and vegetables move across the border throughout the year.
Last year, the U.S. imported $26 billion worth of agricultural products from Mexico, including $5.9 billion of fresh vegetables and $5.8 billion of fresh fruit, according to the Office of the U.S. Trade Representative. In turn, U.S. agricultural product exports to Mexico totaled $20 billion.
A 25% tariff on Mexican goods could cost American consumers of Mexican produce such as avocados and mangoes $3 billion annually, warned the Fresh Produce Assn. of the Americas, a trade group that represents U.S. companies involved in import, transportation and sale of Mexico-grown fruits and vegetables.
"Californians and Angelenos love our avocados," said Stephen Cheung, president of Los Angeles' World Trade Center. "We import a lot of avocados from Mexico. The price will go up, and restaurants will have to consider whether to raise the price of burgers or guacamole."
Asparagus could also be affected. Asparagus grown in Mexico makes up 55%, or $426 million worth, of what's found in U.S. stores, according to a report by management consulting firm A.T. Kearney about the effect on U.S. retail of NAFTA that was done in partnership with the Food Marketing Institute, the National Retail Federation and the Retail Industry Leaders Assn. trade groups.
Farms in California, Washington, Michigan and other states produce only 10% of the current supply of asparagus, and lower production costs in Mexico have made the vegetable more affordable for U.S. buyers, the report said.
"If the $426 million worth of asparagus that we import from Mexico was subject to a 25% tariff, we're talking about a substantial increase in the price of asparagus," said David French, senior vice president of government relations at the National Retail Federation.
In 2017, Mexico ranked fifth among California agricultural export destinations, according to a report by the state's department of food and agriculture. Dairy products topped the list that year with $447.5 million worth of exports, followed by fresh grapes and processed tomatoes.
Driving up car costs
It's not uncommon for auto parts to cross the U.S.-Mexico border multiple times as vehicles head toward final assembly, meaning a potential tariff could be levied several times on the same product, industry experts said. Vehicles manufactured in Mexico often contain sub-components, such as electronics, that were made in California, said Jock O'Connell, the international trade advisor at research and consulting firm Beacon Economics.
"There's a lot of production-sharing that goes on between the U.S. and Mexico," he said.
Several automakers, including General Motors Co., Volkswagen and Nissan Motor Co., have production facilities in Mexico. GM, for example, produces vehicles such as the Chevy Silverado and GMC Sierra trucks in Mexico, said Jessica Caldwell, executive director of industry analysis at Edmunds. VW produces Jettas, Golfs and Tiguans there. Automakers established facilities in Mexico largely because of the free trade agreement between the countries, she said.
At least 14% of vehicles sold in the U.S. were produced in Mexico, according to calculations last year from Edmunds. The Alliance of Automobile Manufacturers trade group said in a statement Friday that its industry relied on the "North American supply chain and cross-border commerce to remain globally competitive."
"The idea of Mexico to these companies is really important because it's where they put the roots down of their business thinking there would be free trade across the board," Caldwell said. "And of course, this jeopardizes that."
For GM, the Silverado and Sierra trucks are especially vital because the automaker can profit more from a truck than a smaller vehicle, she said.
The potential tariffs come during a particularly difficult time for automakers, as many are cutting back and trying to chart their futures as the industry looks toward electric vehicles, autonomous cars and the new economics of ride-hailing.
"I see this as really dangerous to the auto industry as a whole," Caldwell said of the tariffs. "It's really hard for them to absorb financial loss that's greater than what the market is already naturally dealing them."
Costlier gadgets
Tariffs could also be a blow to electronics companies that manufacture equipment and source components in Mexico, including many based in California.
San Jose-based Hewlett Packard Enterprise Co. manufactures some personal computers and printers in Mexico. A tariff on goods made in Mexico would have a worse financial effect on HPE than the levies on goods made in China, according to a source interviewed by Bloomberg. Smaller contractors that manufacture for big tech companies, such as Flex Ltd., based in San Jose, also have operations in Mexico.
Texas-based Dell Technologies is among companies already transferring some production from Asia to Mexico in the wake of Trump's trade war with China. Dell, which had already been making servers in Mexico, relocated some desktop computer manufacturing from China.
"One possibility, if this tariff goes through, is that we'll have to raise prices," Dell spokesman Steve Gilmore told Bloomberg. "We have a global, flexible supply chain with more than 25 production facilities.… That allows us to pivot very quickly."
National impact
The effect on the national economy is difficult to determine, said Sung Won Sohn, a Loyola Marymount University economist.
If a 25% tariff on Mexican imports is imposed, U.S. economic growth could shrink by 0.4% to 0.5% annually, he said. And states other than California could be affected — the Texas Assn. of Business condemned the tariffs in a statement Friday, saying the economic consequences on the state could be "swift and severe."
Initially, consumers may not see too much of a price hike on cars in dealer lots or on new electronics products since many companies may be temporarily willing to eat increased costs to protect their market share, Sohn said.
But in the case of autos and auto parts, margins are not high and automakers may not be able to sustain higher costs for long, he said. Should they take effect, tariffs lasting longer than six months probably would mean any U.S. importer of goods from Mexico would have to start passing on costs to consumers.
"It all depends how permanent this is," he said. "Ultimately they have to make money."
Times staff writer Geoffrey Mohan and San Diego Union-Tribune staff writer Rob Nikolewski contributed to this report.
---
Sign up for the California Politics newsletter to get exclusive analysis from our reporters.
You may occasionally receive promotional content from the Los Angeles Times.