Lawsuit alleges Ulta resold used cosmetics as new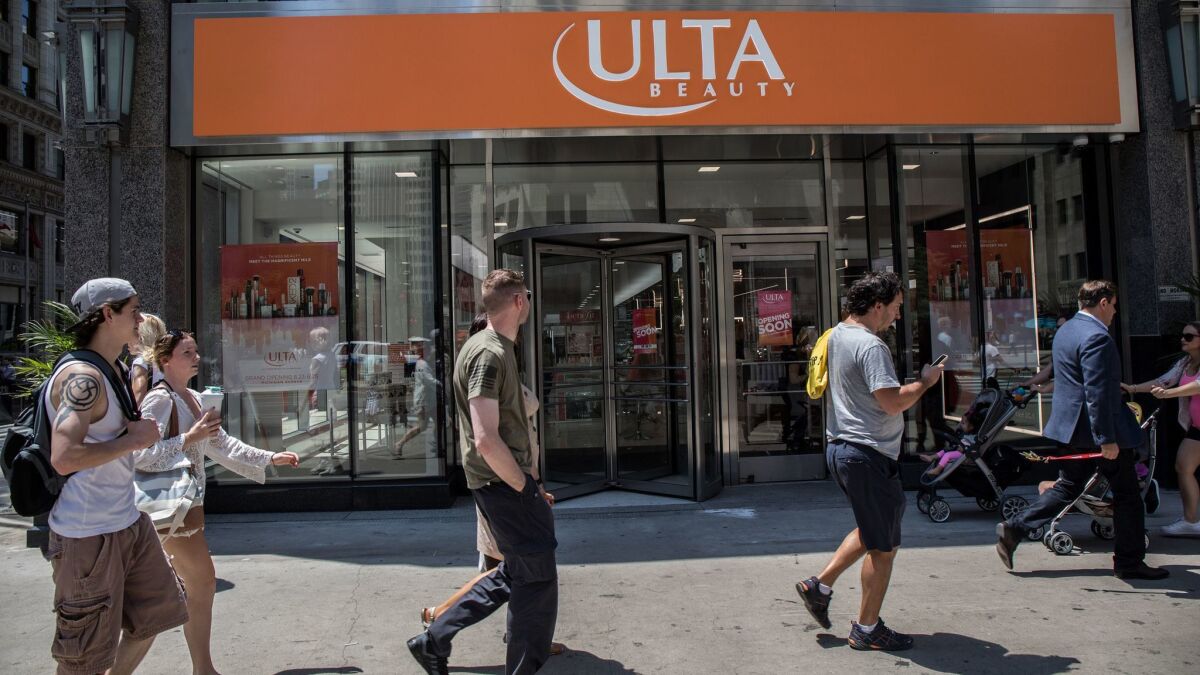 Chicago Tribune
A Los Angeles woman is suing Ulta Beauty, alleging that the cosmetics retailer had a practice of reselling used makeup as new to unsuspecting customers.
The lawsuit, filed last month in a federal court in Chicago, seeks class-action status over what it claims is Ulta's "widespread and surreptitious practice" of repackaging returned cosmetics and mixing them back on the shelf to sell at full price with unblemished products.
"Every customer who has purchased cosmetics at Ulta since this practice began was put at risk of unwittingly purchasing used, unsanitary cosmetics and this risk reduces the desirability and value of all cosmetics sold by Ulta," the lawsuit alleges.
The lawsuit was brought by Kimberley Laura Smith-Brown, a Los Angeles woman who said she bought dozens of cosmetic items, including eyeliner, mascara and, most recently, lip balm, at an Ulta store in Sherman Oaks over the past six months — before reports of the alleged practice of reselling used makeup surfaced last month on social media.
"We are aware of the lawsuit, and intend to vigorously defend against the allegations," Ulta Beauty spokeswoman Karen Twigg May said Friday in an email. "Our policies, training and procedures are aimed at selling only the highest-quality new products in our stores and online. The health and safety of Ulta Beauty guests is a top priority, and we strive to consistently deliver an optimal experience every time they shop with us."
Neither Smith-Brown nor her Chicago attorneys responded Friday to requests for comment.
Launched in 1990 and based in Bolingbrook, Ill., Ulta bills itself as the largest beauty retailer in the U.S., selling cosmetic, fragrance, skin care, hair care and other products through more than 1,000 retail stores and its website. The company had a net income of about $410 million on sales of nearly $4.9 billion in 2016, according to its most recent annual report.
The allegations about reselling returned cosmetics arose Jan. 9, when Twitter user @fatinamxo, who claimed to be a former Ulta employee, posted several messages about the alleged practice.
Her Twitter feed lit up with posts from others who claimed to be Ulta employees, with some supporting her contention and others rejecting it. Customers mostly expressed shock and displeasure.
Efforts to reach @fatinamxo through Twitter on Friday were unsuccessful.
Smith-Brown and her attorneys are seeking to form a class that would extend to everyone who purchased cosmetics from Ulta Beauty retail locations, since every sale is "tainted with the possibility that the customer is purchasing used, dirty cosmetics," according to the lawsuit.
The lawsuit raises but is not based on the possible health concerns of reusing makeup. Instead, it is accusing Ulta of unjustly enriching itself by misrepresenting used products as new.
The suit asks for undisclosed damages and other relief.
Channick writes for the Chicago Tribune.
---
Sign up for the California Politics newsletter to get exclusive analysis from our reporters.
You may occasionally receive promotional content from the Los Angeles Times.