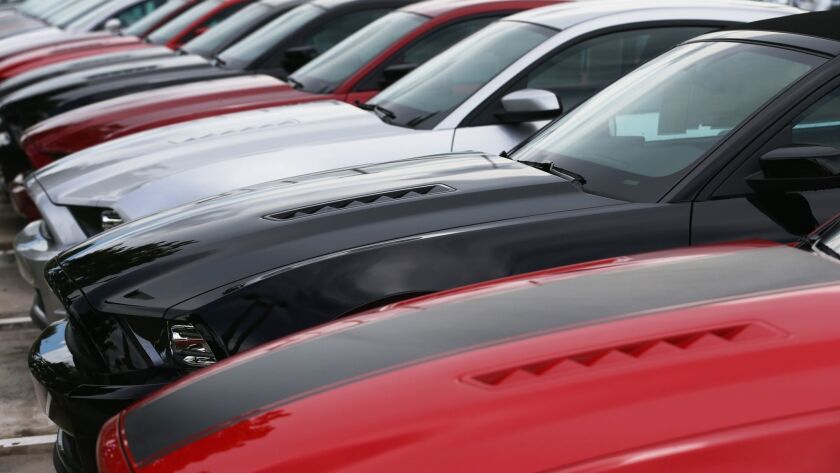 America's secondhand-vehicle market is throwing some economists and auto-industry analysts for a loop.
Prices for used cars and trucks fell 3% in September from the prior month, matching September 2003 as the biggest drop since the 1960s, a Labor Department report showed Thursday. That contributed to a gauge of underlying U.S. inflation, the core consumer price index, coming in below estimates.
But the government data tell a different story from Manheim Consulting's Used Vehicle Value Index, which set a record for the third straight month in September. Manheim, the largest vehicle re-marketer and auction network in North America, said the rapid shift in consumer demand toward sport-utility vehicles and away from sedans may be contributing to the disconnect.
"This is one of the weirdest CPI reports that I can remember," Stephen Stanley, chief economist at Amherst Pierpont Securities, wrote in a report Thursday. He called the government's used-vehicle price figure "entirely at odds with the underlying reality in that market" and cited wholesale-auction data.
Manheim's index is an indicator of what auto dealers are paying for used-vehicle inventory in the wholesale market. By contrast, SUVs may not be a fully represented contingent of the fixed basket of used vehicles that the government measures, said Zo Rahim, a manager of economics and industry insights at Manheim parent Cox Automotive.
"The used market continues to see share increased in the light-truck mix," Rahim wrote in an email. "Our mix is much richer and aligned with what sold at auction."
Another possible reason for the sharp drop in the Labor Department's gauge is a new methodology implemented in January: The index switched to a one-month change from a three-month average. The transition followed an increase in the sample size of prices, while the average had previously been used to smooth volatility from the smaller sample, according to a fact sheet on the calculations.
The seasonally adjusted 3% drop in the index was the most since September 2003, while the unadjusted price gauge fell 4.2%, the most since January 1974, according to BLS data compiled by Bloomberg.
In addition to the new statistical-reporting procedure, the outsize move also likely reflects seasonal effects in the industry at a time when new models are arriving in dealerships, according to Omair Sharif, an economist at Societe Generale SA in New York.
"Used-car prices typically drop in September due to the model-year changeover," Sharif wrote in a note. "In the past, this was smoothed out over three months, so you would see prices fall in each of the three months from September to November."
That usually worked out to a 4.5% drop over the three-month period, while this year's data, without the smoothing effects, captured that decline in September, he said.
---