Across much of Southern California, home prices are setting records. But the crunch still lingers for the Victor Valley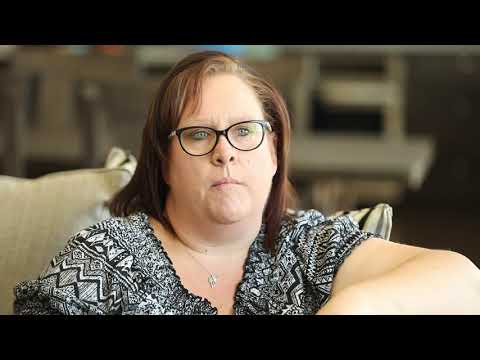 When the housing market collapsed 10 years ago, the Victor Valley was particularly hard hit. Today, new homes are selling again in Victorville, yet the percentage of rentals has grown.
When the housing market collapsed 10 years ago, the Victor Valley took the blow full force.
Weeds overtook lawns. Vandals broke windows and stole copper pipes. Squatters took up residence in bank-owned homes.
Things got so bad at one point that a bank taking over a partially built project decided to demolish unoccupied houses rather than try to sell them.
Even the gated community where Diana Carloni lived had a handful of foreclosures and vandalized vacant homes. "No community was immune," Carloni recalled.
Today, the recovery in the Victor Valley — as in much of small town America — is incomplete. Carloni in many ways exemplifies that. She managed to hold on to her home and now her neighborhood is tidier. But the house she purchased for $525,000 is still worth $100,000 less than what she paid in 2007, according to Zillow. She doesn't expect to get right-side up anytime soon, and expects to put off her plans to downsize and retire from her job as an attorney.
Across much of Southern California, home prices are setting new records. The median price for the region that includes Los Angeles, Orange, Riverside, San Bernardino, Ventura and San Diego counties hit an all-time high of $537,000 in June, more than twice what it was when it hit bottom in 2009.
But in inland stretches like the wind-swept Victor Valley, some 80 miles northeast of downtown Los Angeles, the lingering effects of the housing crash are more deeply felt.
Home values remain far below their peak of the last decade. In ZIP Codes here, 4% to 6.4% of homeowners with a mortgage are still underwater, compared with just 1.6% in L.A. County. The share who are renters has surged, reflecting the foreclosure wave that tore apart neighborhoods.
To this day, some houses still look worn, as absentee landlords skimp on upkeep such as painting and gardening. Real estate agent Angela Knight of Century 21 Desert Rock notices a lingering psychological effect as well. Residents, recalling the vandalism, are now more likely to lock their gates or install security cameras.
"We … saw such strange things during the recession," Knight said.
Have you rebounded? Track the recovery of home prices in Southern California »
To be sure, there are signs of recovery in the Victor Valley. Unemployment in Victorville — the largest city in the area, which includes Hesperia and Apple Valley — has fallen to 6.2%, from a high of 16.3% in 2009. Companies at the Southern California Logistics Airport, a former Air Force base the city turned into a distribution hub, are hiring forklift operators, mechanics and packers.
Agent Linda St. Martin of Coldwell Banker Home Source said most of the homes on her cul-de-sac are now spick and span, compared with half a few years ago.
In February, Cracker Barrel opened its first California restaurant-store in Victorville. The local newspaper reported that throngs of fans lined up before sunrise.
"I just feel very positive about the progress we have made," Victorville Mayor Gloria Garcia said. The city is spending more money on street maintenance after allowing repairs to lapse during the downturn.
In July, the city turned another corner when it settled a long-running case brought by the Securities and Exchange Commission, which alleged Victorville and its airport authority defrauded investors by failing to reveal that projected tax revenue used to repay bonds was based on inflated property values.
"We got back on our feet," said Joyce McCord, a 48-year-old nurse, who recently purchased a new house in Victorville. She said she's even making more money than during the go-go days of last decade, when she worked as a dispatcher for the Fire Department.
Home prices, though, are still off the heights of the mid-2000s, when a steady stream of renters from Los Angeles and Orange counties poured over the mountains in search of affordable homes in brand-new subdivisions.
In 2005, a new 1,500-square-foot condo in the Koreatown section of Los Angeles was going for $620,000. But if you could swallow a two-hour commute, a 2,000-square-foot house was available in Victorville for less than $300,000.
For a while, that ticket to the American dream paid off. In each of Victorville's ZIP Codes, the median sales price rose annually by double digits, reaching the low to mid-$300,000s, according to data from CoreLogic.
Then, in 2007, prices started to fall. Eventually, they tumbled more than 65%. Even today, after six years of steady recovery, prices remain about 25% below the bubble-era high.
The very different recoveries of Southern California's coastal cities and inland areas reflect simple supply and demand, economists said. Places like the Victor Valley have fewer jobs, and thus fewer people seeking to move there.
The dynamic was a major reason prices in inland stretches tended to fall further during the downturn. It also explains why some parts of the Los Angeles area — ones that were hit as hard as the exurbs — saw values recover.
In the 90222 ZIP Code in Compton, known as the Hub City because of its central location in L.A. County, the median price was $380,000 this spring, within 1% of its bubble-era high.
In the Jefferson Park neighborhood in South Los Angeles, where prices tumbled 60% during the downturn to $224,500, investors have swarmed in to purchase and renovate Craftsman homes, sometimes putting them back on the market at prices that approach seven figures. In the second quarter, the median price for that neighborhood was $755,000, 34% higher than the $562,500 peak in 2007.
Last decade's boom was accelerated by risky lending. That allowed far more people, and developers, to flow "over the hill" to inland areas.
"It was a ticking time bomb," said Christopher Thornberg, director of the Center for Economic Forecasting and Development at the UC Riverside School of Business. "I just hate people that look back at those numbers and say, 'I can't believe we haven't recovered from that.' There is no recovery to that, because it never was real."
When Edwin and Celeste Perkins first arrived in Victorville in 2005, developers were paving over desert scrub to put up thousands of new homes each year. The couple from Riverside bought their first house, a tan 2,200-square-foot, two-story tract home, for $279,000.
They had to use their imaginations to envision their neighborhood.
"This was dirt when we came out here," said Celeste Perkins, now 64 and retired. "There was a real big sense of optimism. 'We are all going to be homeowners. … We are all going to have the equal amount of pride in our property — because we own it.'"
Two years later, Victorville was anointed the second-fastest-growing U.S. city. It had added more than 45,000 residents in just seven years, growing by 72%.
By the time Carloni, the attorney, purchased her Apple Valley home in summer 2007, the air was already coming out of the market. Even so, she and her husband were confident things would stabilize and closed the deal before selling their old house in Spring Valley Lake, an unincorporated area just outside Victorville. They were wrong.
Carloni wound up renting out that house instead, taking an $800-a-month loss because the rent wasn't enough to cover the mortgage. "We couldn't get a buyer for seven years," she said.
Real estate agent Jennifer Caracciolo said she was making $160,000 a year during the bubble. But work dried up and she lost her home. To make ends meet, Caracciolo worked for the banks, selling foreclosed homes and making sure they were cleaned up for new tenants or owners.
Sometimes it was a big lift. Before one disgruntled homeowner left, Caracciolo said, he placed 10 pounds of raw meat in a room and locked the door, leaving it to rot in the 110-degree July heat.
Old Town Victorville was already hard-pressed as retailers moved closer to the new tracts on the city's outskirts. With the collapse of home values and the ensuing recession, even more vacant storefronts sprang up along the main drag of 7th Street.
"It looked like hell up here," Caracciolo recalled. "People just looked beaten."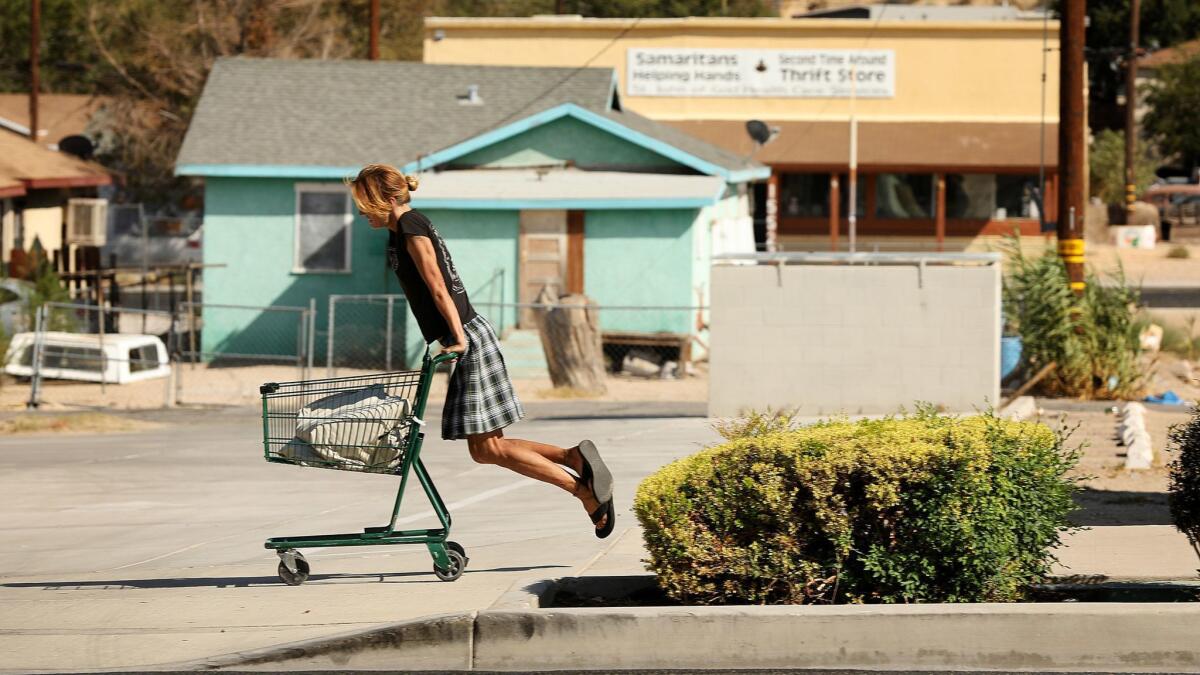 Even with its partial recovery, the city has seen a dramatic shift in home ownership. Renters made up 48% of households in 2016, up from 33% in 2006, according to Zillow. Los Angeles in that time saw only a 4-percentage-point rise. Caracciolo herself reflects that change; in addition to selling homes, she now runs a property management company that caters to the influx of investors and renters.
Some homeowners lament the rise in rental homes, saying constant turnover means they don't know their neighbors as well. "There is not the same community spirit," Carloni said.
New renters say, though, that they're looking for the same lifestyle that drew home buyers in the 2000s.
"I love it up here," said 53-year-old Jennifer Grissom. She and her husband arrived from San Bernardino five years ago, leaving behind a two-bedroom apartment for a house built in 2005. The neatly kept home, down the street from the Perkinses, has three bedrooms, 1,700 square feet and, for a lawn, drought-resistant rock.
"It's quieter, less violence, better schools for the kids," Grissom said, referring to the niece and great-nephew the couple is raising.
During the recession, Grissom's husband, a trucker, couldn't find enough work. Now they benefit from a persistent trucker shortage and rising demand from confident consumers ordering goods online.
Local officials are working to attract more logistics jobs, having seen the booming industry transform Inland Empire communities on the other side of the Cajon Pass. Across Riverside and San Bernardino counties, the transportation and warehouse sector has added 53,300 jobs since 2012, 17% of all the jobs added.
The signs of recovery are perhaps most apparent off the corner of Highway 395 and Bear Valley Road. That's where the Texas bank leveled vacant houses back in 2009. Today, developer D.R. Horton is building on the land again.
On a recent Tuesday afternoon, workers put up wood frames and finished roofs on a handful of large houses.
Wind-whipped flags welcomed drivers turning off dusty Bear Valley Road. Some of the finished homes sported blue-and-red signs that read like a cautious attempt to stoke the next wave of buying fever: "Sorry... too late. Sold."
Additional credits: Video edited by Robert Meeks. Animated graphics by Swetha Kannan. Produced by Justin L. Abrotsky.