Volvo's Polestar takes on Tesla Model 3 with an all-electric sedan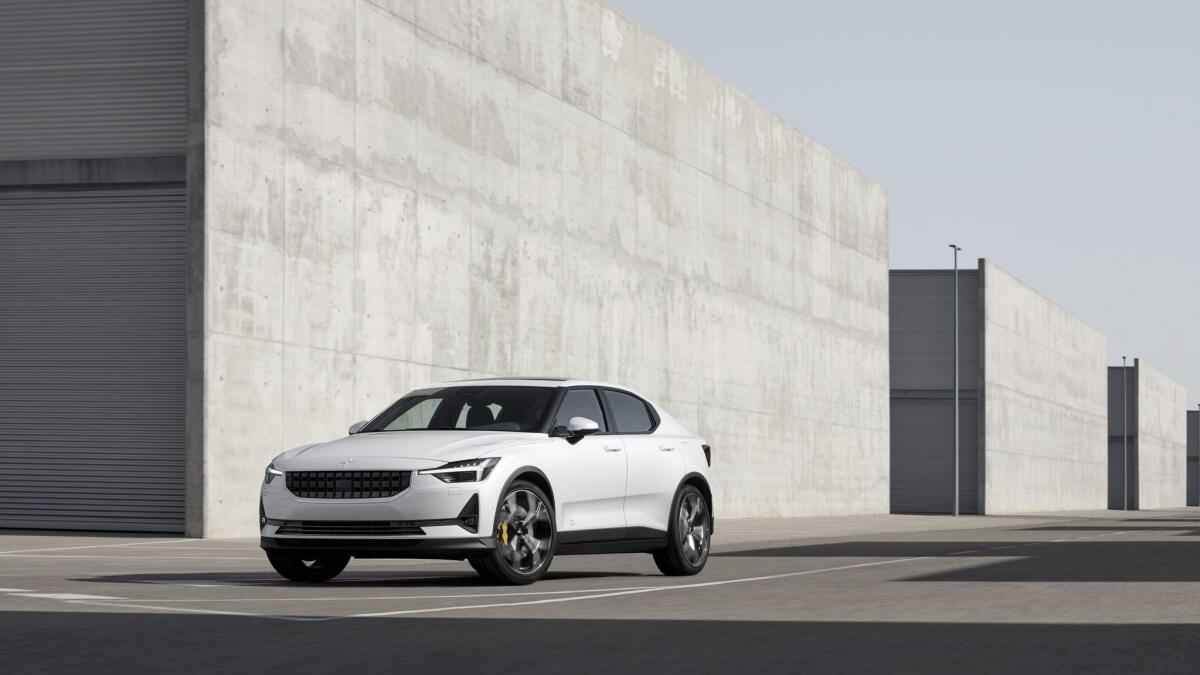 Tesla Inc. has just started building a factory in China with plans to start churning out Model 3s by the end of the year.
If that happens, the cars will face head-on competition from the Polestar, a subsidiary of Volvo, which is owned by Geely Holding Group Co., the largest domestic automaker in China.
Polestar on Wednesday announced the all-electric Polestar 2, a five-seat sedan, manufactured in southeast China and set to go on sale primarily in China, Europe and the United States starting in 2020.
California, which has a relatively more established charging network for electric vehicles and is Tesla's biggest market, will be a major target of the Polestar 2.
But its success in the U.S. depends in part on trade negotiations.
"It is hard to imagine the Polestar 2 coming to U.S. shores from China without facing a stiff duty. Reciprocity is the new normal," said Michael Dunne, who heads the China-centric ZoZo Go auto-industry consulting company in San Diego.
With a 70-kilowatt-hour battery, a range of 310 miles and an expected base price of $63,000, the car will compete directly with the long-range version of the Model 3, which carries a similar price and the same range. Federal and state incentives would drop the Polestar's price in California by $10,000.
Pitting the car directly against Tesla "makes it a bit more understandable and clear to the public what this car is," said Thomas Ingenlath, Polestar's chief executive.
Ingenlath declined to give exact numbers but said the global target production volume for the Polestar 2 is 50,000 to 100,000 units annually. Last year, Tesla sold about 145,000 Model 3s, mostly in the U.S., and it is expanding into Europe and China.
Polestar, formerly Volvo's performance vehicle division, is a separate brand with a separate reporting structure within Volvo, which is now focused exclusively on all-electric vehicles under its Chinese ownership.
For Volvo, the move to electric cars is "a transition," Ingenlath said, but with Polestar the company is building a new vehicle from scratch.
"We go full hearted into it and can embrace that kind of vehicle in a different way," he said.
Pre-orders are available online, and in accordance with Polestar's plan to sell only via an internet boutique, prospective customers need to head to no-commission "guide shops" the company plans to set up in order to take a test drive.
It's a sales model that Tesla pioneered, rather than using traditional car showrooms and dealerships. Polestar is now iterating upon it with all-inclusive pricing that combines costs such as insurance and maintenance into a single monthly payment. Volvo dealers will provide maintenance, parts and repairs.
The first Polestar North America retail space is slated for California at the end of this year. The company declined to say where in the state.
Like the Model 3, the Polestar 2 features a large center touch screen, although the company won't be as aggressive about moving instrument controls to the screen. Windshield wipers, for example, will be controlled with a steering column stalk, in the traditional manner.
The car's digital information and entertainment components are based on Google's Android operating system, including Google voice controls. In most cars, Auto Android and Apple CarPlay are added to a car's own computer controls. In Polestar cars — and some upcoming Volvo models — Android will form the basis of the entire system. Apple CarPlay can be added by the owner.
The company was circumspect about battery suppliers, except to say Polestar 2 batteries will be sourced in South Korea. Combining Geely with Volvo and another Geely electric car venture, Lynk & Co., will provide "purchasing power to build up battery production."
Polestar's first car, the Polestar 1, is a gasoline-electric hybrid. Starting with the Polestar 2, all the brand's vehicles will be pure electric.
Asked about manufacturing quality and efficiency, Ingenlath said, "We have experience and knowledge within the backbone of our parent company, Volvo. That will help us not run into production hell."
"Production hell" is the term Tesla CEO Elon Musk used to describe manufacturing problems in 2018 that forced Tesla to move some Model 3 production to a tent outside the main building at its Fremont, Calif., assembly plant.
Geely has vaulted to prominence in China and become an influential player in the international car market under its 55-year-old chairman, Li Shufu, who took a small motorcycle company and built it into the largest non-government auto company in China.
In 2010, Geely bought Volvo from Ford and by all accounts rescued it from irrelevancy. Under Shufu, Geely also took a majority stake in sports car maker Lotus and last year bought Massachusetts flying car start-up Terrafugia.
Only two automakers in China are bigger: a linkup of a state-run company with Volkswagen, and another with General Motors. Geely sold 1.5 million cars in 2018 and nudged sales up 2% in January even though China's overall automobile sales are in decline, the first such setback in nearly 30 years.
Bloomberg contributed to this report.